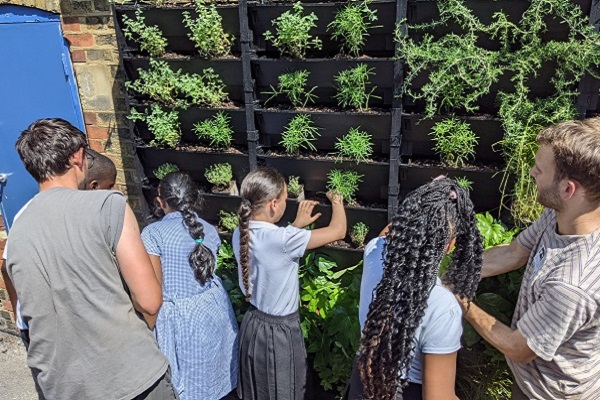 The council gave local community group CREW Energy a grant in 2020 from the Wandsworth Local Fund to install the walls at Smallwood and Hillbrook Schools in Tooting.    
The Smallwood wall was installed at the end of the summer term, and the Hillbrook wall is being installed this week.  
The aim is to help schools mitigate the effects the effects of air pollution in playgrounds close to surrounding streets and to provide the pupils with more access to nature and greenery. The hope is that this pilot scheme can be extended to other schools in the future.  
Harry Holding Garden Design, which has previously featured on an episode of Grand Designs, provided their expertise and installed the green walls. At Smallwood children helped plant out the entire lower section of the 7m by 2m wall.  
Over the next year or two the green walls will develop to provide an uninterrupted covering of green, attracting bees, butterflies and insects. 
Cabinet member for education and children's services Cllr Will Sweet said: "Thanks to CREW Energy for arranging for these fantastic green walls. They are a great resource for the children and will help support their learning as well as their mental health and wellbeing."  
Cabinet member for finance, corporate resources and climate sustainability Cllr Kim Caddy said: "Actions to mitigate climate change are now embedded into all areas of the council's work, including grant funding, so we were delighted to support this project from CREW."  
CREW Energy has been delivering low carbon solutions, energy advice and community outreach across the borough since 2015. It has previously worked with the council to provide advice to local people as part of the  Wandsworth Environment and Sustainability Strategy (WESS), including taking part in a Climate Conversation session last year on the topic of energy, which you can watch online.  
Other work with schools being carried out as part of the WESS includes developing travel plans to encourage walking and cycling, and bringing in school streets to keep streets outside schools traffic-free at drop-off and pick up time. 
The Wandsworth Local Fund (WLF) is a charge the council makes on developers to pay for the infrastructure needed to support the development. 
Recent rounds have included a new emphasis across the council's work on supporting the delivery of the WESS including commitments to encourage active travel, improve air quality and increase biodiversity. In the most recent round of funding other green schemes were give grants, including 'living pillars' in Putney and Clapham Junction and 50 new bike hangars around the borough. Find out more.