Wandsworth's Environment and Sustainability Strategy Gets Refreshed
Published: Thursday, February 11, 2021
Wandsworth Council has declared a climate emergency, setting the targets of being a carbon-neutral organisation by 2030.
As part of this decade-spanning strategy to tackle climate change in the borough the council has committed to reviewing and updating its climate change action plan – the Wandsworth Environment and Sustainability Strategy (WESS) - annually.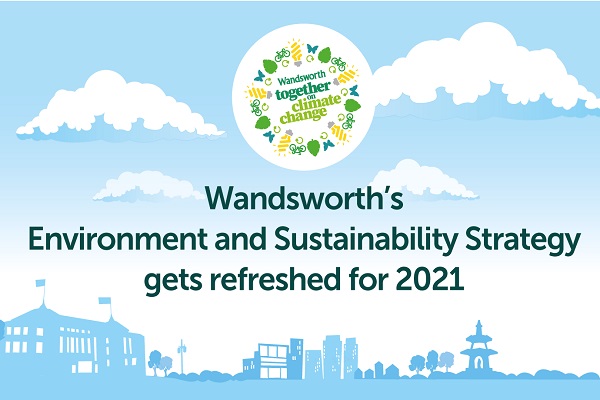 Last night the 2021 refresh of the WESS went to the Finance, Resources and Climate Sustainability Committee to be approved as well as a full update against actions delivered in 2020.
The WESS highlights the approach to becoming carbon neutral as an organisation, balancing the carbon emissions made with 'offsetting' activities such as planting trees and new technologies such as carbon capture.
Key actions from the WESS refresh include plans to develop a Decarbonisation Strategy for council buildings, a plan to switch vehicles to zero-emission options, as well as actions on supporting the green economy, reducing emissions from social housing, a food waste trial and more tree planting.
Cllr Rory O'Broin, Cabinet Member for Finance, Corporate Resources and Climate Sustainability, said: "Refreshing our action plan annually is a key step in implementing our broader strategy.
"Each year, we learn more about our carbon emissions and with that new data, we are able to optimise our strategy further as we drive the borough forward to a carbon-neutral status in 2030.
"2021 will see effective carbon-reducing actions implemented, including the development of our 'Decarbonisation Strategy' which will provide detailed plans to decarbonise our buildings targeting our highest emitting buildings and setting out a clear path to reducing the council's overall emissions."
Transport, a key feature in the 2020 WESS, has been improved upon for the 2021 refresh. Notably, the council will develop plans for moving to zero-emission vehicles across its entire vehicle fleet.
The council has also recently developed its cycling strategy into the Wandsworth Walking and Cycling strategy which seeks to implement actions that will encourage sustainable travel in the borough.
Wandsworth's natural environment has also taken a front seat in the refreshed WESS. The council recently released its first Biodiversity Strategy to help maintain and protect the borough's biodiversity and refreshed tree strategy will be produced by September 2021 to sit alongside the new Biodiversity strategy.
The tree strategy will include an extensive tree planting programme with a further 600 trees planted by April 2022 as well as 1,000 new street trees. The council has also recently installed 750 tree gators to help new trees grow.
The battle to reduce waste in the borough will be amplified with a food waste collection trial service. The trial will launch alongside a composting trial via the free supply of 100 home composting containers.
Later in the year, Wandsworth Council will host its second Climate Summit to coincide with the COP26 summit, a national event to promote the climate change emergency.
Cllr O'Broin added: "Despite the challenges of the pandemic, delivery of the WESS has strengthened and we have maintained resources to ensure it remains a priority for Wandsworth. Wandsworth Council looks forward to working 'together on climate change' with our residents".
What did we achieve in 2020?
Progress made since the launch of last year's WESS and accompanying action plan, the council has made substantial progress on implementing the plan – an approach that has been externally validated and shown to be robust.
One of the most impactful carbon-reducing actions from 2020 was switching all council-electricity over to zero-carbon sources such as wind and solar panels. This action is partnered with a new contract to conduct energy audits on council-owned buildings which will help develop the 'Decarbonisation Strategy'.
To help residents experiencing poor energy efficiency in their homes, the council secured £500,000 from the Green Homes Grant to provide home improvements to those in most need. The council was one of only 56 councils across England to receive the funding.
Wandsworth Council has had further success with Green Homes Grant funding, recently being awarded an additional £548,000 which will allow the council to continue the delivery of the scheme through until September 2021.
Another major milestone was hosting the first Wandsworth Climate Summit which saw over 650 residents and prolific environmental groups participate across 13 online events. The events covered a multitude of climate-centric topics, such as 'green energy' and circular economy.
Transport was a significant focus for the council in 2020. The council received £55,000 in funding from the Department for Transport and were able to purchase 13 e-cargo bikes for local business. They also installed new Bike Hangers in 21 streets in addition to the 40 already installed. Cycle corridors are also being rolled out to encourage more sustainable transport in the borough.
Additionally, Wandsworth continues to have the highest number of EV chargers in the borough and the highest number of the successful 'School Streets' programme in inner London, with 20 in place to date.
Wandsworth's car club has also been booming, with 38,000 residents having a car club membership, a year on year increase of 30%.
The Council's waste and recycling approach for operational buildings was actioned in 2020. An Office Waste Strategy was developed, alongside a plan to reduce single-use plastics across Council buildings.
Read the Wandsworth Environment and Sustainability Strategy.