Update on Putney High Street environmental improvement project
Published: Friday, February 5, 2021
A report to councillors says that work is progressing well on a series of measures worth around £4m to improve Putney High Street by improving air quality and making it a more pleasant destination for visitors and shoppers.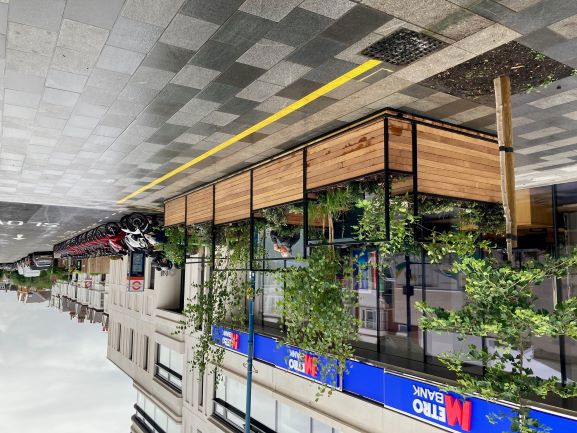 Phase one of these works is on course to be finished by May, Councillors were told last night (Thursday) - with a second stage of additional environmental improvements expected to get underway soon after.
The first phase has already delivered the following improvements.
• Widening and repaving the eastern side of the pavement between Disraeli Road and Putney Bridge Road.
• Improving pedestrian safety by providing 'Copenhagen Crossings' at side streets.
• Repaving the area outside the railway station.
• Constructing a loading bay outside Tesco to prevent delivery vehicles blocking the road.
• Introducing a 20mph speed limit
• Installing 'parklets'.
• Upgrading and modernising street lights.
• Uplighting St Mary's church and Putney Bridge.
• Providing more cycle parking, including two-tier stands with space for dozens of bikes on Disraeli Road plus installing cycle contraflows in Disraeli Road and Felsham Road.
• Planting new street trees and installing a 'city tree' that filters air and removes pollutants.
• Decluttering by removing unnecessary signs and railings and upgrading street furniture.
Between now and the end of May the programme will see the completion of further enhancements including the widening of the eastern footway between Felsham Road and Putney Bridge Road, providing a Copenhagen crossing at Werter Road, working with TfL to improve the pedestrian island at the junction with Putney Bridge Road, continuing to remove guard railing and unnecessary street clutter and exploring the feasibility of additional parallel cycle and contraflow routes.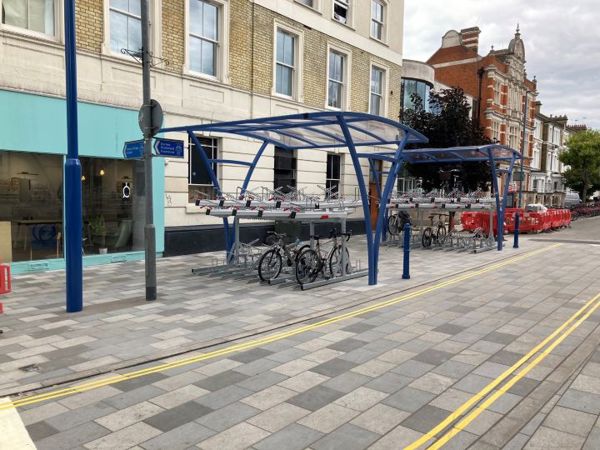 Disraeli Road cycle stands
Funding for all these works has come from council budgets, with contributions from the Putney BID and also a grant from the Government's Future High Streets Fund. The council applied for this funding to help revitalise the town centre and help it overcome the challenges of vacant retail space, traffic congestion and air quality.
The next phase of works which are set to get underway later this year and which have been part funded by a new £1.058m Government grant will include:
• Redesigning the Lower Richmond Road junction – to improve pedestrian and cycle flows through the junction and between the high street and the riverside with increased priority and crossing facilities. This includes reducing the number of signalised pedestrian crossing stages and traffic islands to make the crossing simpler and easier to navigate.
Changes at this junction on will also look to incorporate improvements for cyclists particularly those turning left from Lower Richmond Road onto Putney Bridge, as well as on the bridge itself. Further investigations will also be carried out to explore opportunities to create quieter and safer routes north and south so cyclists can avoid the busy high street.
• Putney Embankment Extension - Utilising planned Thames Tideway legacy work to connect the High Street to the River Thames more directly and enhance existing waterfront areas.
• Relocating the taxi rank - from outside the railway station to another nearby location where their presence does not contribute to congestion and delays in traffic flows.
• Lobbying TfL to simplify the busy junction of Putney High Street/Upper Richmond Road to make it safer.
Subject to the outcome of further funding bids, the council is also keen to repave the western side of the high street between The Upper Richmond Road and Lacey Road and to also resurface the road surface between the South Circular and Putney Bridge.
Transport spokesman Cllr John Locker said: "We've already seen the positive impact the changes completed so far have had on the high street. They have improved the physical and visual environment and helped improve air quality.
"Phase one is now nearing completion and soon we will embark on phase two which will deliver further upgrades, especially for pedestrians and cyclists.
"Our aim is to make the high street cleaner, greener and safer by tackling congestion and encouraging alternative forms of travel and we have been helped in pursuing these goals by the many local people, businesses and stakeholders who have shared their ideas with us and shown great support and enthusiasm in helping us deliver this landmark project."