Community's wishes granted with new management model agreed for playing fields
Published: Friday, February 5, 2021
Councillors have approved a pioneering management scheme for a popular set of playing fields in West Putney which will see the local community given a much greater say in their running.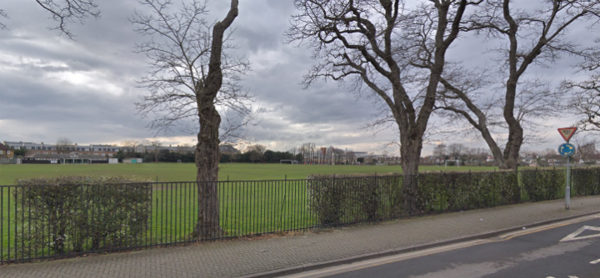 Residents in West Putney and Roehampton who have formed a community trust will now play a much greater role in the management of the Roehampton playing fields in Dover House Road.
Councillors have approved a scheme in which the council's leisure, culture and open spaces contractor Enable LC will work in partnership with the newly formed Roehampton Playing Fields Community Trust.
The trust will be given a four-year lease on the site, with the aim of delivering a range of improvements to ensure they remain popular and well used by local sports clubs, teams and schools.
Under the terms of the lease the trust and Enable will be in charge of its day-to-day management, using the income derived from its use to fund improvements at the 12-acre space.
This close involvement of the local community follows a widespread public consultation which showed that local people were ready and prepared to step up and play a full role in the running and management of the playing fields.
A report to councillors who approved the new arrangements on Tuesday stated: "A key focus of the operational plan is to increase use of the site whilst retaining use by existing user groups. This can be achieved through improvements to the quality of the playing grounds, cricket facilities and restoration of facilities including the tennis courts and netball courts.
"There is a strong commitment to increase participation, in line with the Active Wandsworth Strategy and through the identification of gaps in service which will encourage a more active community who live within the surrounding vicinity of the playing fields."
The report added: "There is the potential, through Enable, to encourage development and depth to the range of activities available through the facilities on site and to expand the offer to target inactive people, facilitate use from schools, educational use and supporting early years development and outreach work.
"An increase in participation will be possible through physical improvements to pitch quality, tennis courts and ancillary facilities and encouraging general use of the site including outdoor gym facilities and play based activities."
The playing fields currently offer:
• Five tennis courts
• Two adult size grass football pitches
• Five junior football pitches (some of which also offer Lacrosse)
• A grass cricket wicket and an artificial cricket wicket (available in the summer sports season)
• A grass athletics track
• A rounders pitch
• A changing pavilion with up to eight changing rooms, associated toilets, foyer, kitchen and external grounds equipment stores.
The council's parks and open spaces spokesman Cllr Steffi Sutters said: "Our overarching aim is to provide better facilities for our residents, schools, sports clubs and community groups.
"Local people told us they wanted a greater say in the running of the playing fields and so we have devised this new community model that gives local people this opportunity.
"There is an acceptance on all sides that the playing fields do need significant capital investment, which the trust and Enable argue they are well placed to deliver. The nature and status of both means they have more chances of accessing external funding sources for site improvements and community programmes that are not available to the council.
"What will be most important to the clubs and teams that currently use the site are assurances that they can continue to do so and this agreement guarantees that. Our most important objective throughout this whole process has been to ensure that the playing fields continue to provide to all the existing users, and hopefully new ones too, the kind of high-quality sports and training facilities that meet the needs of local schools and sports clubs in the years ahead."