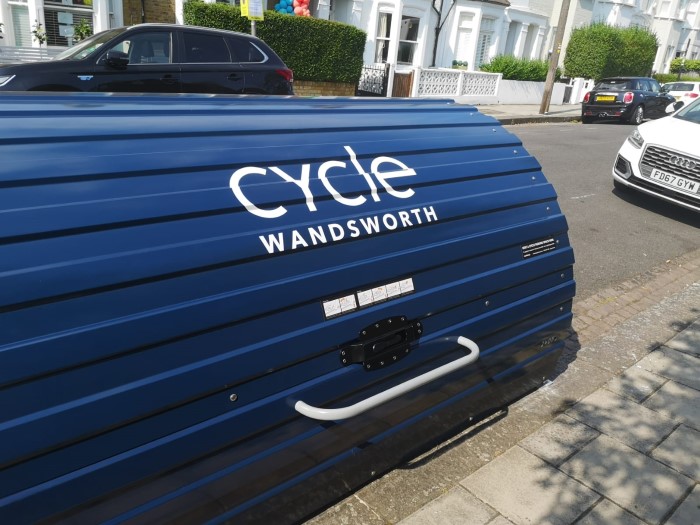 The list has been drawn up following requests from local residents and will now be the subject of a consultation process. This consultation is scheduled to get underway in the next few days.
Each hangar would have room to safely store six bikes – providing spaces for almost 670 bicycles.
If all are approved they would bring the total number of publicly available bike hangar locations available in Wandsworth to almost 170. There are already 21 residential streets with bike hangars, plus another three dozen on the borough's housing estates. And most new private housing developments are also required to provide their residents with secure bike storage as a key condition of their planning consent.
The latest round of proposed locations are as follows. Some locations are set to have more than one hangar installed.
Putney, Southfields and Wandsworth - Schubert Road; St John's Avenue; Felsham Road; Norroy Road; Astonville Street; Longfield Street; Merton Road; Penwith Road; Ravensbury Road; Aslet Street; Bucharest Road; Fieldview; Godley Road.
Earlsfield – Aldren Road; Atheldene Road; Delia Street; Freshford Street; Littleton Street; Steerforth Street; Tranmere Road; Waldron Road.
Battersea and Clapham Junction – Vardens Road; Abercrombie Street; Eckstein Road; Gayville Road; Honeywell Road; Leathwaite Road; Kelmscott Road; Mallinson Road; Shelgate Road; Wakehurst Road; Montefiore Street; Queenstown Road; Warriner Gardens; Altenburg Gardens; Fontarabia Road; Forthbridge Road; Gowrie Road; Sugden Road; Jedburgh Street; Trott Street; Thirsk Road.
Balham and Tooting - Broxash Road; Cathles Road; Cavendish Road; Dinsmore Road; Hillier Road; Kyrle Road; Ramsden Road; Ravenswood Road; Shipka Road; Byrne Road; Carminia Road; Dafforne Road; Elmfield Road; Huron Road; Stapleton Road; Fernthorpe Road; Ribblesdale Road; Salterford Road; Avarn Road; Chasefield Road; Franciscan Road; Sellincourt Road; Airedale Road; Boundaries Road; Gosberton Road; Nevis Road; Oakmead Road; Tantallon Road; Brudenell Road; Garratt Terrace; Khartoum Road; Mandrake Road.
In addition to these on-street hangars, another 15 are set to be unveiled on housing estates to join the more than three dozen already in place.
Transport spokesman Cllr John Locker said: "We've received many requests from residents who want bike hangars in their streets. Having analysed these requests and evaluated suitable locations close to where the demand exists, we have drawn up a list of 74 new locations where we now plan to install hangars, subject to final consultation with residents.
"We are keen to support cycling which is why we have made it easier for people to request hangars via our website. It is especially important for residents who don't have gardens or enough room inside their homes to securely store their bikes.
"Making it easier for local people to switch to two-wheeled transport is a key element of our commitment to tackle climate change which will be at the heart of all town hall policies between now and 2030."
To find out more about how the council is working to tackle climate change visit www.wandsworth.gov.uk/climatechange.