Families learning new digital skills in latest phase of Power to Connect's pioneering project
Published: Wednesday, August 25, 2021
The council and Battersea Power Station are continuing to build on their highly successful joint venture to tackle digital exclusion across the borough and are now offering new skills sessions to local families.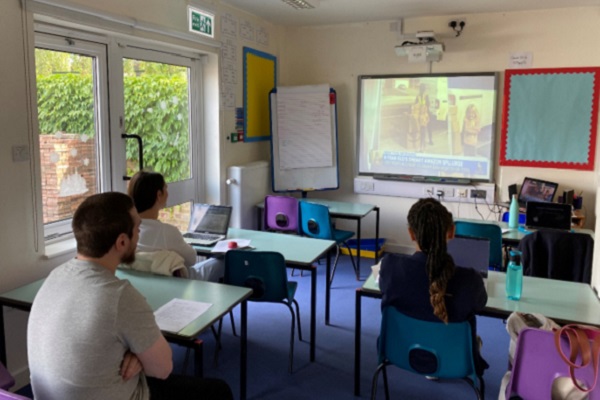 In the very early days of lockdown the council and the power station teamed up to create their Power to Connect scheme to provide schoolchildren in Wandsworth with the digital equipment and skills to continue their learning.
Since its formation in April 2020 Power to Connect has delivered more than 1,320 tablet devices and laptops to 72 Wandsworth schools and community organisations along with £10,000 worth of data top up vouchers and wi-fi dongles to lower income families.
The partnership with Battersea Power Station forms just one part of the council's wider efforts to offer digital support to families in need. In total the council has overseen the provision of more than 7,200 laptops and tablets to local families throughout the pandemic.
Now that families have the hardware to help them explore the digital world the initiative is being expanded to make sure families have all the skills and expertise to explore the digital world.
The first series of digital skills session were held in June at St George's primary school in Battersea. The parents whose children were given laptops and tablets were present and taught about privacy settings, social media and online safety.
And these sessions are set to continue next month when more parent will be invited to attend classes at St George's.
Cllr Will Sweet said: "I'm enormously proud of what we were able to achieve during lockdown with Power to Connect. More than a thousand Wandsworth families whose children didn't have a laptop or a tablet were able to continue their learning online as a result of this partnership. It's helped make a huge difference by keeping them on top of their lessons and up to speed with their learning.
"Its great too that we are able to help their parents build their digital skills too with the latest phase of this project."
Isabel Oakley Chapman, Director of Power to Connect, added: "We are thrilled to be expanding our work at Power to Connect and delivering digital skills sessions in schools.
"Many families received laptops during the pandemic and due to social distancing, it was tricky to support families who wanted extra support with online safety, digital skills and keeping their children safe online. As we work with more schools across Wandsworth in September 2021, we will definitely be looking to recruit more volunteers to help us deliver this Digital Skills training to support more families, through schools. Thank you to St George's for working with us on our first session!"