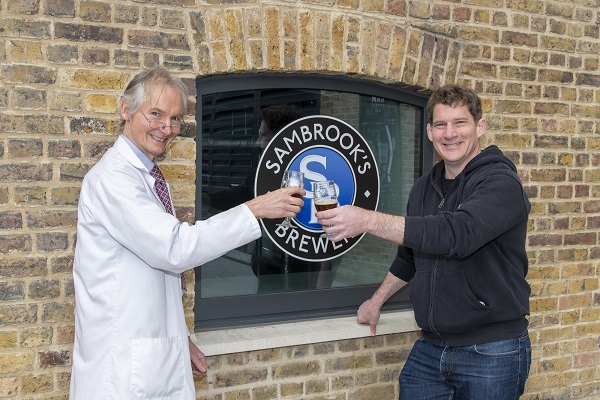 The independent brewery has pulled the first pint in its new home at the Ram quarter – formerly the Young brewery site in Wandsworth High Street – ensuring that a 500 year history of beer making on that site continues well into the 21st Century.
The company has relocated from its former home in Battersea to launch its new brewhouse and bottle shop, with a taproom to follow late this year. Customers can now purchase beers from its new headquarters via the company's website.
The first Sambrooks beer to be brewed on the site is its original 'Wandle Ale', named after the river which runs through the Ram Quarter and through the town centre as it winds its way from the Thames to Croydon.
Alongside its state-of-the-art brewing facilities, Sambrook's is opening a heritage centre that will show the area's unique history. From mid-May, visitors will have the chance to look 'behind the barrels' at how its ales are made, enjoy tours and try their hand at beermaking with a 'be a brewer for the day' experience.
Company founder Duncan Sambrook said: "We always wanted to celebrate traditional beermaking with a modern twist, and where better to do it than at the home of British brewing. Our first brew on site marks a major step forward in our plans at Ram Quarter. Our new home means we can provide an expanded experience for our customers and continue to make the great beer that they know and love us for."
The news has also been welcomed by the Mayor of Wandsworth cllr Jane Cooper who said: "Beer making has a special and cherished place in the history of Wandsworth, and I'm thrilled that this important tradition lives on at the Ram site."
Taotao Song, CEO of Greenland (UK) which developed the site added: "From the start of our redevelopment we knew the importance of protecting and celebrating Ram Quarter's unique brewing legacy. It is a challenging time for the hospitality and retail sector, and especially for independent brands, but we saw the value that Sambrook's unique offer can bring to Ram Quarter. We're delighted to be supporting Sambrook's as part of our work to create a new destination in Wandsworth. Raise a pint to Sambrook's – and this next step for Ram Quarter and for Wandsworth!"
Beer making has taken place uninterrupted at the Ram Quarter since at least the 1530s, including throughout both world wars. It was feared that this unbroken tradition might be lost when Young's sold the site for redevelopment in 2006. Greenland worked with former Young's employee John Hatch to keep a nanobrewery going during construction, with the aspiration of finding a new commercial brewer who could safeguard the site's legacy in the long term.