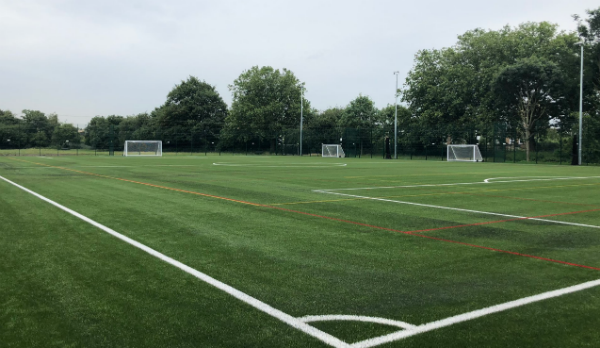 The new 3G artificial grass pitch is in the south west corner of the park and will be used mainly for football - but will also support other team sports like rugby and cricket.
And in a further improvement to the facilities, a modern new changing pavilion has also been built as a replacement for the park's previously vacant and obsolete one.
Further improvements are also being proposed at the northern end of the park where nearly £200,000 has been set aside to pay for new play equipment and landscaping works.
The new playing surface has replaced four junior size grass pitches which were regularly deemed unplayable in the winter months because of heavy waterlogging.
Installing an all-weather pitch and adding floodlights means local teams, schools, sports clubs and community groups will be able to use the facility for up to 80 hours a week - compared with the ten-hour limit recommended for grass pitches by the Football Association.
Improving access to sports in this part of the borough is also a key public health priority for the council.
Wandsworth's environment spokesman Cllr Steffi Sutters said: "This is great news for sports clubs in Battersea who will have a really excellent all-weather pitch on their doorstep. It will no doubt be heavily used by many young people who want to play football and other sports and stay fit and healthy.
"If we want children and teenagers in the area to be active and engage in healthy sporting activities then we need to do what we've done here and provide really good quality facilities."
The £2.1m cost of the scheme was secured from The Football Foundation, which provided £480,000 and The London Marathon Charitable Trust which approved a £150,000 grant. The remaining £1.4m came from council budgets.
The council is also planning to build a brand-new state-of-the-art leisure centre in this part of Battersea as part of its regeneration proposals for the York Road and Winstanley estates.