The Leader of Wandsworth Council, Cllr Ravi Govindia has launched a campaign to erect a statute of John Archer, London's first Black Mayor. This follows a request from the community group to commemorate the trailblazer.
The honorary statue will allow the borough to recognise and celebrate John Archer's achievements and use his life and times as a learning tool to inspire future generations.
Who was John Archer?
John Archer's father was from Barbados and mother from Ireland. Archer moved from Liverpool to Battersea in 1890's to begin carving his esteemed political career in the now borough of Wandsworth. Initially, Archer served as a councillor in the Latchmere ward, successfully campaigning for a minimum wage of 32 shillings a week for council workers.
In 1913 John Archer was elected mayor where he declared:
"You have made history tonight. For the first time in the history of the English nation a man of colour has been elected as mayor of an English borough. That will go forth to the coloured nations of the world and they will look to Battersea and say Battersea has done many things in the past, but the greatest thing it has done has been to show that it has no racial prejudice and that it recognises a man for the work he has done."
After his tenure as Mayor, Archer moved to an international platform. He became the first president of the African Progress Union in 1918, going on to chair the Pan-African Congress when it met in London in 1921.
At the time of his death in 1932, Archer was the Deputy Leader of Battersea Council. His funeral was held at the Church of Our Lady of Carmel in Battersea Park Road, and he was buried in the council cemetery at Morden.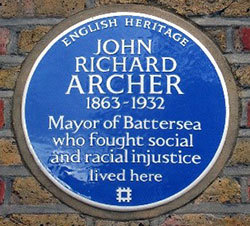 A blue plaque commemorating John Archer can be found on 55 Brynmaer Road.
Beyond the statue
The journey to erect the statue will include a range of engagement with the community, working with local people to select the artist. Engagement will focus on Battersea, including local groups and school pupils. As well as erecting a statue, the project hopes to develop an accompanying arts and heritage trail, using Archer's life .
Resources