Following the success of the event in the summer to celebrate 50 years of resident engagement, we held a Residents Conference on Tuesday 11 October 2022.
Attendees
The Residents Conference was aimed at residents who are involved in the work of the department through membership of a Residents Association or by being a Housing Community Champion, including those involved in the borough's resident management organisations.
The Residents Conference was attended by 44 residents and opened by Councillor Dikerdem, Cabinet Lead for Housing and Brian Reilly, Director of the Housing and Regeneration department.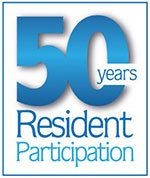 Professional led training
Tpas, a specialist housing training provider facilitated the day and offered training sessions, which were largely themed around the government's Social Housing White Paper and the subsequent Social Housing Regulation Bill and its implications for social housing providers and their residents.
Residents were also able to attend workshops of their choice, which included:
A discussion around the cost of living crisis
This gave attendees the chance to understand some of the challenges residents will be facing and what is needed to support them during the coming months.
Thinking Works, the non-profit organisation who delivers our Warm and Well service, also attended one of the sessions to share their advice and best practice.
Understanding scrutiny
Attendees were able to explore what a good housing service looks like, the regulatory framework around scrutiny and how to apply scrutiny tools to housing services.
View the Understanding scrutiny presentation
Becoming an effective team and building wider engagement
Attendees were given examples of what a good team looks like and how to build trust within a group. This also included how to hold effective meetings and how to reach out to achieve wider engagement.
View the Becoming an effective team and building wider engagement presentation
If you would like a copy of the workshop material that was presented during the Residents Conference, email alex.jones@richmondandwandsworth.gov.uk.
Community groups
Community groups across the borough also attended and hosted stalls, which gave residents the opportunity to speak to them about the work they do to support their local community. It was also an opportunity for residents to network with their peers and the community groups so that their ideas and best practice could be shared.
Feedback
The feedback received from those who attended the conference was very positive, with attendees reporting that the conference was highly engaging and valuable in helping them to support their residents and the community.
We would like to thank you if you were able to attend, and we look forward to seeing you again at next year's Residents Conference.
If you have any ideas on what training you would like to see offered in the next Residents Conference contact your Resident Participation Officer or email alex.jones@richmondandwandsworth.gov.uk.