Claire
Claire moved into her new shared ownership home in October last year, just in time for her first Christmas with baby boy Jaiden. Claire is living in a 2-bedroom apartment in Balham.
"I was previously living in my family home in Southfields, but with a baby due it seemed time to find a place of my own."
"I was ready to have my own space and make my own family home. I have lived in Wandsworth my whole life and wanted to stay in the area, but I couldn't afford to buy a home outright. I found out about shared ownership on the council's website – so I registered with them for one of these properties".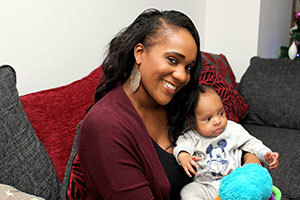 Shereena
A young mum of three from Battersea is delighted to be moving into a three-bedroom house with her three children in coming weeks.
Shereena is one of six families who will be moving into a brand-new home in Rowditch Lane that were identified for the re-housing of residents, from the first phase of the Winstanley and York Road Regeneration Scheme.
Shereena told us: "I had been living in a block of flats on the York Road Estate for the last seven years with my three children…This new home has really given us an opportunity to start afresh. There is a lot of space for the kids to play, I have my own little garden and a driveway to park my car. It is perfect for us."
These new homes form part of our 1,000 Homes programme – a housing development project, where the council is building new homes right across the borough, providing greater housing choice for the people of Wandsworth.
Helping residents meet their housing aspirations is at the heart of our new Housing and Homelessness Strategy and we look forward to welcoming more residents into their new homes over the coming months.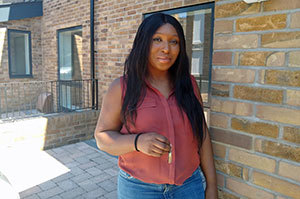 Mr Francis
Mr Francis moved into his three-bedroom property in 1995 but when his children flew the nest he wanted to move to a smaller property but did not want to leave the community where he made friends and felt at home.
Although Mr Francis didn't want to move away from the area he'd lived in for so long, it was becoming more and more difficult for him to maintain his current home than a smaller property. Four months later we found Mr Francis a one-bedroom property in the block of flats he already lived in.