New Biz on the block: Juici Jerk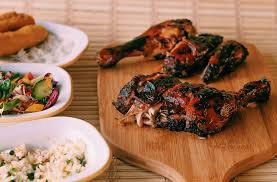 Juici Jerk is a local food business launched by brothers Troy (26) and Jarrell (29) Johnson. The brothers previously worked in hospitality and retail before launching the business two years ago, with the aim of offering a contemporary Caribbean dining experience with an urban twist. Last month, they launched Café Juici at the Trident Business Centre in Tooting.
When did Juici Jerk launch?
We launched Juici Jerk in 2017 from our mum's kitchen in Tooting.
How did the idea come about?
When we were growing up, mum's house was a place our family and friends associated with good food – which was either cooked by mum or by us. One day Jarell and I came up with the idea to start selling a few meals on a Friday, and it took off from there.
What would you say was one of the most challenging aspects of launching the business?
Raising the funds was definitely challenging. We started the business with just £500, but we paid close attention to the income and outgoings, which helped and did not pay ourselves anything in the first year.
If you had the opportunity to do it again, what would you do differently?
At the moment, we have no regrets. Everything that has happened, good or bad, has been a valuable lesson.
What are your two most popular dishes?
Boneless jerk chicken thighs and Mac and Cheese.
Do you provide outside catering or deliveries?
Yes, we thoroughly enjoy catering for events and that side of the business has really picked up over the past six months.
Which entrepreneur do you most admire and why?
Stormzy. Although he might not be considered your typical entrepreneur because he is a music artist, what he is doing is using his platform to achieve results much bigger than music. If we can achieve just a fraction of what he is doing, we will be content.
Where do you see Juici Jerk in five years time?
We really enjoyed our recent experience of trading at a street food market, so in the next five years we would love to see Juici jerk having multi locations across London in street food markets and eventually a sit down casual restaurant.
What three tips would you give to someone thinking of setting up a food business?
Persistence, giving up always seems easy especially when things go wrong, but from experience these are sometimes the biggest lessons. Hard work, if you are willing to put the hours, in the rest will naturally flow. And a strong support system, whether this is inside your team or just your family and friends they will be key to your success.
Juici Café is at the Trident Business Centre, 89 Bickersteth Road, SW17. Opens Monday to Friday from 8 to 4pm.
Juici Jerk (collection and delivery service) from Tuesday to Saturday from 12 to 10pm. Prices range from £3 and go up to £25 for platter meals.