356 Garratt Lane, 
Earlsfield, 
London, 
SW18 4ES
About Tara Theatre
An architectural jewel in London opened by Mayor of London Sadiq Khan in 2016, Tara Theatre elegantly fuses architecture of East and West to create a memorable setting for intimate weddings. A registered ceremony venue, the building provides a uniquely photogenic all-in-one space for your big day. 
Accommodating up to 100 standing and sitting guests on plush red seats surrounding a dust-free earth floor, the theatre's exposed brick walls can be painted by lighting to suit the occasion. Antique Indian doors throughout the building are complemented by oak wood floors to create a distinctive atmosphere. 
Located less than one minute's walk from Earlsfield train station, trains to and from Waterloo and the south west run every five minutes, the journey from central London to Tara taking no more than 15 minutes. 
The theatre is fully accessible, with seats for wheelchair users and those with mobility difficulties. Its upper floor studio provides a discreet private space and can double as a catering area. The theatre also has a changing room with controlled access, allowing you to make a grand entrance directly into the theatre should you so wish. Its generous foyer hosts a bar area and opens into the outdoor patio garden.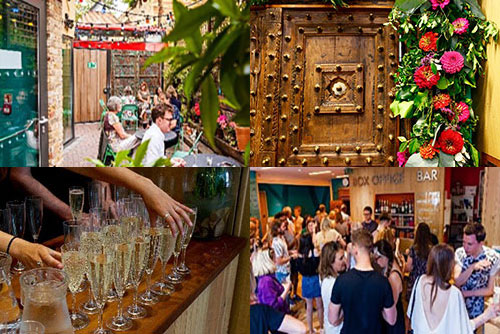 Contact
Email: devashree@tara-arts.com
Phone: 020 8333 4457
Website: https://www.tara-arts.com/hires
Address:
356 Garratt Lane, 
Earlsfield, 
London, 
SW18 4ES