Just over three weeks to go before launch of London's new Ultra Low Emission Zone
Published: Thursday 14th March 19
With less than a month to go before a new charge will begin to be levied on some motorists in central London, residents and businesses are being urged to familiarise themselves with the new rules.
On Monday, April 8, the Mayor's new Ultra Low Emission Zone (ULEZ) will come into effect and apply to all vehicles entering the area of central London covered by the existing congestion charge zone.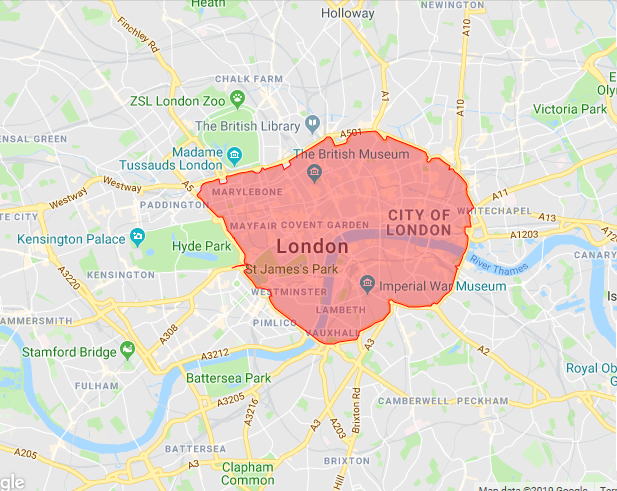 New rules will apply to drivers entering this zone from April 8
New exhaust emission standards will come into force affecting all vehicles that enter the zone. Those that don't comply will need to pay a daily charge - £12.50 for cars, vans and motorcycles and £100 for buses, coaches and lorries.
The congestion charge will also continue to operate. The daily fee for non-exempt vehicles entering the charge zone will remain at £11.50.
This means that non-compliant cars entering the zone on weekdays between 7am and 6pm will need to pay £24 per day.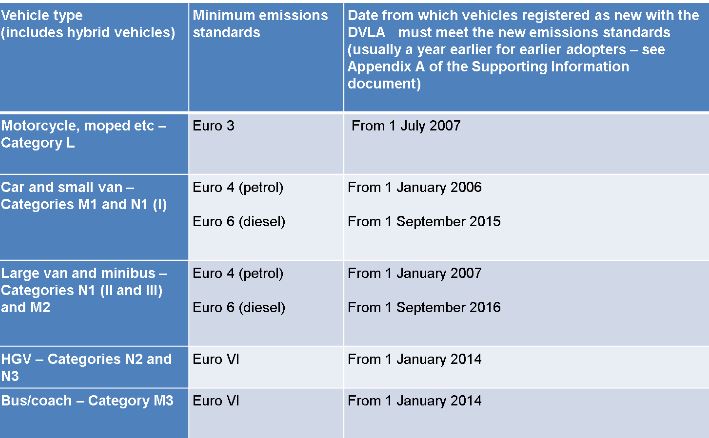 Which vehicles will be affected
At all other times of the week only the ULEZ element will be levied. These new rules will apply 24 hours a day, seven days a week.
Non-compliant vehicles include:
• Motorbikes that do not meet Euro 3 standards (roughly the equivalent of not being more than 12 years old in 2019).
• Petrol cars and vans that do not meet Euro 4 standards (roughly the equivalent of not being more than 13 years old in 2019).
• Diesel cars and vans that do not meet Euro 6 standards (roughly the equivalent of not being more than four years old in 2019).
• Buses, coaches and lorries will need to meet or exceed the Euro VI standard or pay £100 a day.
Drivers can use TfL's online checking tool to see if their vehicle meets the ULEZ's emissions standards.
Charges for non-compliant vehicles
The introduction of the ULEZ in central London is set to be followed in 2021 when the Mayor plans to roll out the zone to cover a much larger part of the capital – including much of Wandsworth.
Under the Mayor's proposals the zone will expand in October 2021 to form a new boundary with the South Circular Road. This means half the borough will be within the zone and half outside it.
This would affect anyone driving within a zone whose southernmost boundary was marked by the Upper Richmond Road, Wandsworth High Street, East Hill, Wandsworth Common Northside, Battersea Rise, The Avenue Clapham Common West Side and Clapham Common Southside. Anyone driving north of these roads would need to comply with the new ULEZ regulations. The northern boundary of the ULEZ would be the North Circular Road.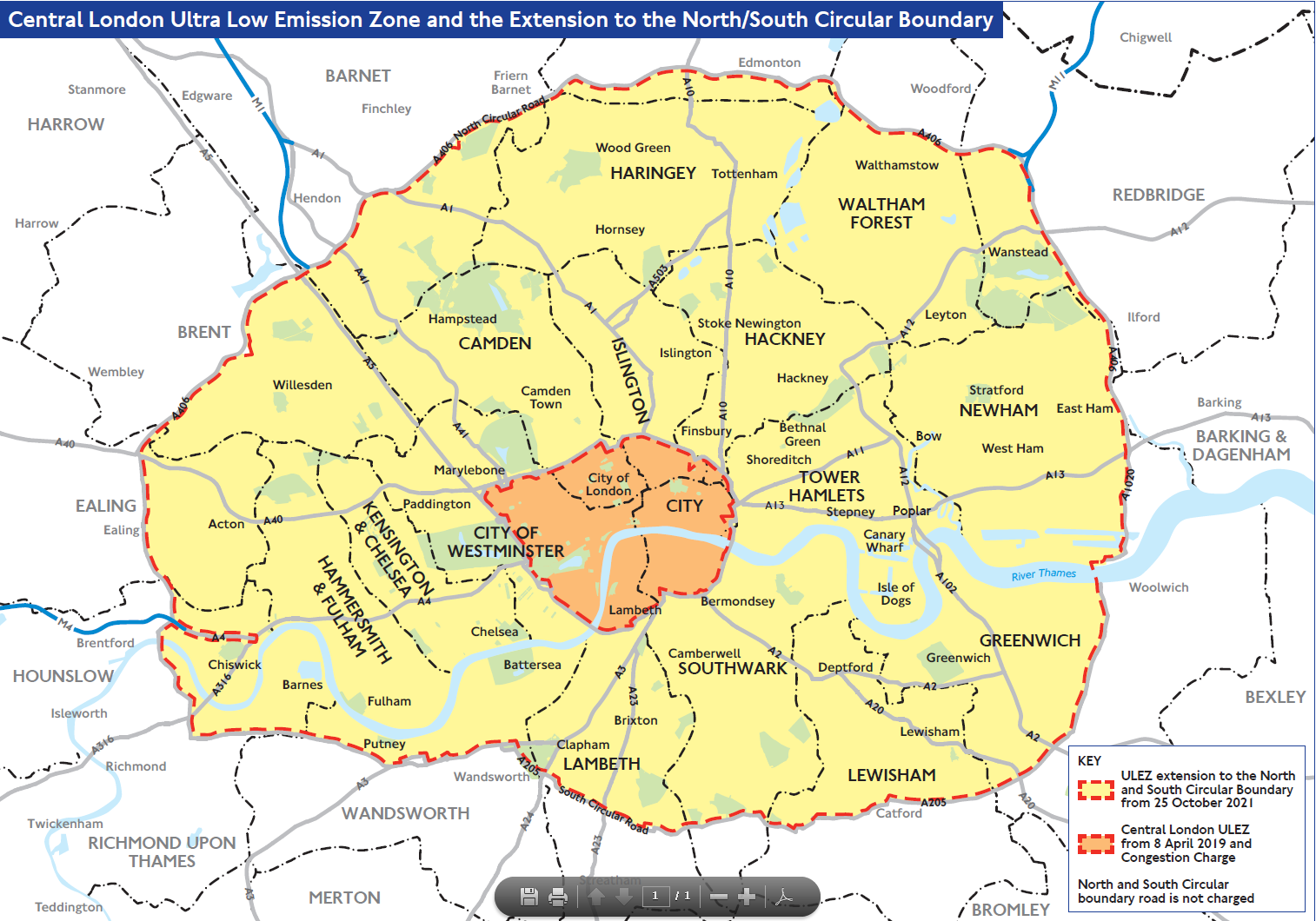 In 2021 the ULEZ will be extended to cover a much larger area of London
Make and view comments on this article
You must carefully read and then agree to the Terms and Conditions before accessing the message board and posting a comment. If you do not wish to be bound by these Terms and Conditions, you may not access or use the message board.
If you wish to complain about a comment, contact us at press@wandsworth.gov.uk.
Recent comments
Extremely concerned about the cost implications for Wandsworth residents with the ULEZ charge to come in 2021.
Susan
6 April 2019
I, too, miss being able to comment on our local news stories. I guess someone must have abused the privilege.
Alison
5 April 2019
yet another attack on the car owner what about the residents, family visiting, the disabled care workers Not putting solar panels on houses, installing ground heat pumps having a transport system you can actually get on and sit down and a whole host of other measures against pollution. and where is the money coming from for drivers to buy a new car and how much more are people going to have to pay workmen who already charge extortionate prices, this an attack on the poor and the middle earners Time to leave his ivory tower and look at the wages people are living on THINK AGAIN
lesley griffiths
22 March 2019
Due to the fact that my Volvo at 20 years old was not going to pass another mot I bit the bullet and bought a plug in hybrid car. On battery alone I can travel to work and back at a cost of approx £1.30 for a 24 mile round trip. I have almost forgotten what A petrol station is. Obviously on longer journeys I will need to use petrol. But if stuck in traffic there are no fumes coming from the exhaust. When I passed my driving test 41 years ago I would have laughed if anyone had suggested that I would have fallen in love with driving a hybrid but I have and it's helping with air quality and saving me money.
david morgan
22 March 2019
I can only presume that this is a yet another scam to get more and more money out of the motorist, sadly it will hurt the poorest in the community, but Mayor Khan knows it will put millions into his councillors pockets and that really is all he really is concerned with, for every penny he increases on transport charges will only result in increases to the consumer, I do not buy the green argument as vehicles already have to pass government MOT tests, and naturally have become cleaner over the years not more pollutant, I know as soon as this is acccepted all city's will want to follow not on principle but just on money making, quite appalling.
Peter French
22 March 2019
In the following lines of the article setting out which vehicles do not comply with the ULEZ requirements "Non-compliant vehicles include: • Motorbikes that do not meet Euro 3 standards (roughly the equivalent of not being more than 12 years old in 2019). • Petrol cars and vans that do not meet Euro 4 standards (roughly the equivalent of not being more than 13 years old in 2019). • Diesel cars and vans that do not meet Euro 6 standards (roughly the equivalent of not being more than four years old in 2019)." the word "not" needs to be deleted form each of the phrases in brackets. As it stands the information given is the opposite of what is intended.
Richard Kirkby
22 March 2019
Why could we not comment on Wandsworth Council News - yesterday 21/3/2019???
Liz Denton
22 March 2019
I am not against an emission charge or the expansion of the ULEZ per se but I AM against THIS implementation. It is completely unfair on low mileage drivers of older cars. What we, and the council, need to be doing is lobbying the Mayor's office to change this draconian daily flat rate system on older cars into a per mile charge on ALL vehicles. It would then not penalize excessively those who for example only ever drive short distances in the zone (especially those who live just inside its boundary). As it stands it is hugely unfair and actually does not tackle the emissions problem because slightly newer cars have NO restrictions whatsoever and will almost certainly pollute more overall than occasional drivers of older cars.
Caroline
20 March 2019
I hope Wandsworth council would consider extending the 2021 zone to apply to the whole of Wandsworth, not just a northern sliver. Cleaning our air is at least as important as trying to keep the our sky quiet (from Heathrow landings).
Richard S.
18 March 2019
Penalising the hard working motorists - while bringing in 2 private bus services (never see any passengers in them) - trying to cancel the No 19 bus - allowing a car (1 petrol, 1 electric) hire company free parking in Wandsworth - had 2 cars at the electric charge point for nearly 2 weeks in Vicarage Crescent. Would make more sense to limit the size of HGVs allowed within the South Circular - I'm worried about their weight going over our very old bridges crossing the Thames - they can't get under the railway bridge by Battersea Heliport and do no end of damage to 'street furniture' reversing.
Liz D
17 March 2019
I thoroughly support the expansion of the ULEZ. It can't come soon enough! Pollution on Putney High Street is dreadful. I would welcome the lower levels of traffic. I have to rely on the buses, which means I have no choice but to breathe in polluted air. Rich car-owners complain about paying £12 to visit the tip. However, I have no car at all. I had to borrow a supermarket trolley and WALK to the tip.
Alison
16 March 2019
I can't believe Wandsworth is letting this zone happen in 2 years time. Most people with a car that is Pre 2015 are going to be hit with this charge. It is unbelievable. We need to change it, the only want to do that is to write to the council in numbers. Waiting for 2 years to complain is not going to change things, are you happy to fork out for a new car or £12 a day otherwise ?
Simon
16 March 2019
Although the ULEZ will not be implemented in Wandsworth for another 2 years, it would mean that some key facilities for residents would be within the new zone. The recycling centre "tip" for example in Smugglers Way. This means that we would have to pay £12.50 each visit just to cross the South Circular by a few hundred metres to recycle our rubbish. I hope Wandsworth is making appropriate plans to avoid penalising Council tax payers in this way, and is preparing for a likely increase in fly tipping.
Andy
15 March 2019
What point is making a comment when it isn't printed??
Liz
15 March 2019