Get to know your library: Full of shaggy dog stories
Published: Thursday 14th March 19
Comment
As part of our #gettoknowyourlibrary celebration of Wandsworth libraries we're focusing on the wonderful variety of groups, events, resources and services they have to offer.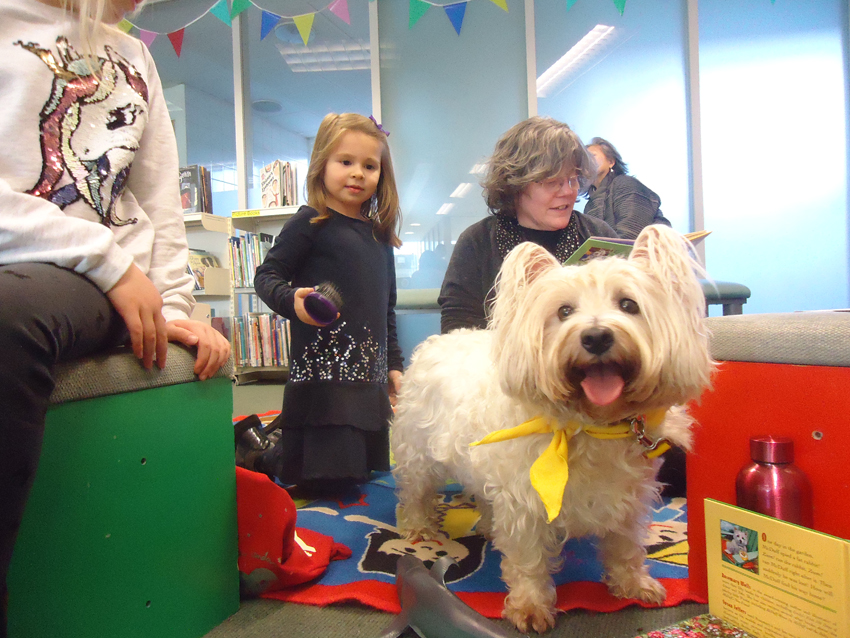 Isara, Kate Stevens and Starlett
Pim only popped into Putney Library to buy a parking ticket.
"And then I saw a poster saying 'Bark and Read with Starlett the Therapy Dog' so I thought we'd see what's going on," she said. "Today I'm looking after Isara, who's four, and she just loves animals."
Upstairs Pim and Isara discovered the first ever therapy dog session that Putney Library has hosted. Aimed at children, it gives those with English as a second language, or perhaps those who struggle reading aloud, the chance to read to Starlett the non-judgemental dog.
Similar events in schools have shown that some children respond much better to reading to dogs than adults and the fact they can pet and brush Starlett just adds to the fun.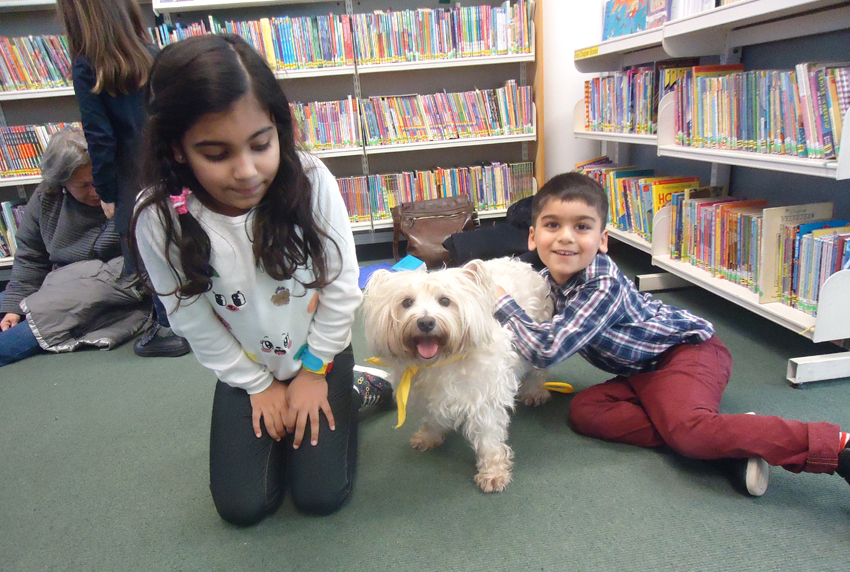 Anjali, Starlett and Yash
"I'm based with a group called Therapy Dogs Nationwide and Starlett and I work through a scheme called Bark and Read," explained Starlett's owner, Louise Crowley. "Starlett is a West Highland Terrier and a really good listener. We go to schools and visit the elderly in care homes and back in the day Starlett might not have been allowed in a library so it's really good they allow her in now!"
Children took it in turns to read to Starlett or just pet her throughout the 90 minutes she was in the library.
"I thought it would be lovely for the children to come along and meet Starlett because it's just nice for them to read on their own without any intervention," said Jiga, attending with Anjali, aged six and Yash, aged five. "An adult might correct them or say, 'Oh - what did you notice there?' but here they can just get to read what they want and how they want! It's a great idea."
Kate Stevens, children's librarian at Putney Library, agreed and says she is hopeful this might be the start of a number of events involving Starlett and Louise.
"The children have really enjoyed it and Starlett is very good natured," she said. "It's good to have them here today because it shows children there are other ways of relating to their reading. It's not a parent or teacher telling them that they have to do it which can sometimes seem to be a bit of a chore. We are very open to hosting things that encourage children to read and have a successful Summer Reading Challenge where youngsters read lots and think about what they've read. Every week we also give reading support where a volunteer comes in and sits with the children one-on-one. It's all about giving them confidence."
To find out more visit: www.thekennelclub.org.uk/barkandread
We would love to hear about what makes your favourite Wandsworth library. Simply send us and Wandsworth Libraries a tweet to @wandbc & @wandsworthlibs and remember to include the hashtag #gettoknowyourlibrary
Find out more about the range of activities and groups on offer at: www.wandsworth.gov.uk/libraries
Make and view comments on this article
You must carefully read and then agree to the Terms and Conditions before accessing the message board and posting a comment. If you do not wish to be bound by these Terms and Conditions, you may not access or use the message board.
If you wish to complain about a comment, contact us at press@wandsworth.gov.uk.
Recent comments
There have been no comments made on this news item.