Residents asked if they want lorries banned from Magdalen Road
Published: Friday 1st March 19
Residents living in in Magdalen Road, which links Earlsfield with Wandsworth Common, are being asked if they want to ban lorries driving past their front doors.
People living there are being asked to take part in a consultation which could see Heavy Goods Vehicles (HGVs) weighing more than 7.5 tonnes banned from travelling down their street.
The ban would apply 24 hours a day to all large lorries unless they had a legitimate reason to be there, such as making a genuine delivery to an address or a coach carrying pupils to and from one of the nearby schools. Refuse lorries and other essential vehicles like fire engines would obviously be permitted.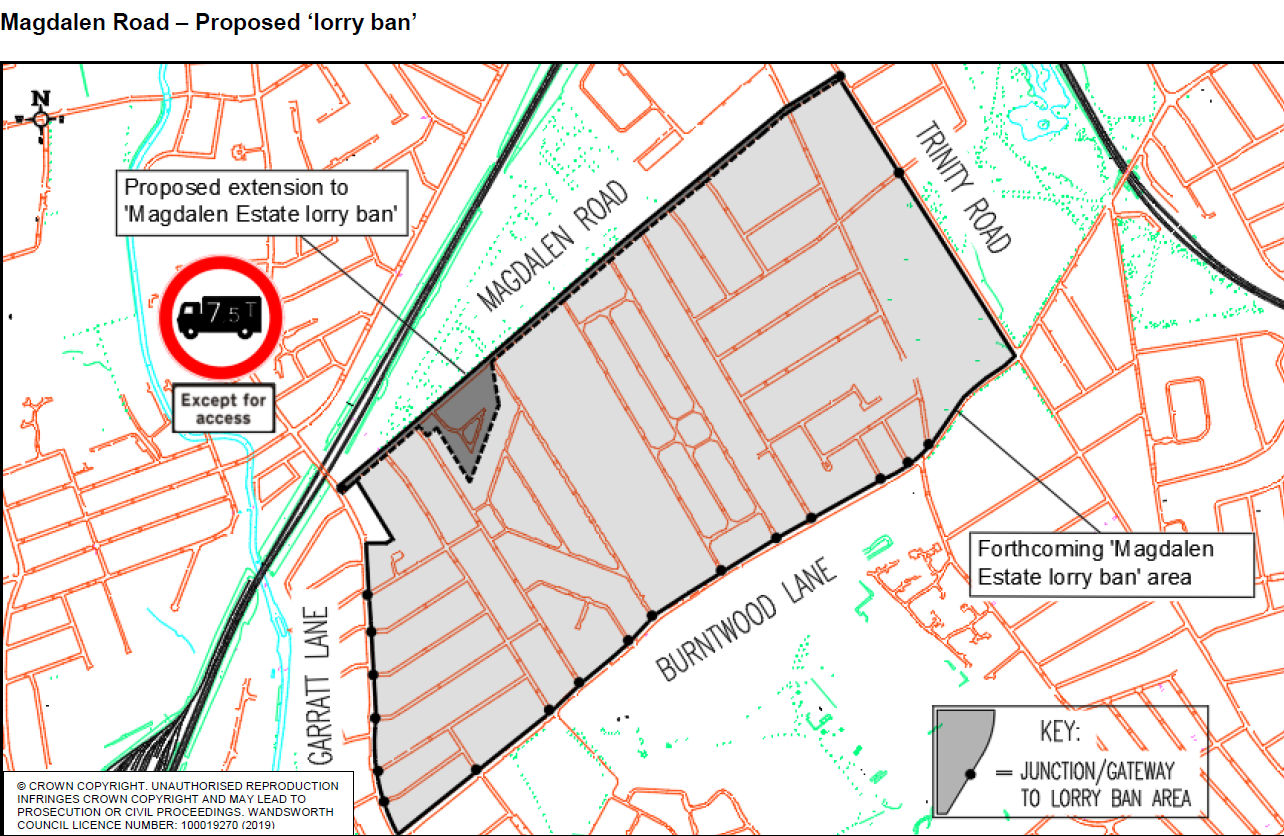 The proposed change has been drawn up in response to feedback from local people who were asked in the autumn for their views on banning HGVs from entering a swathe of quiet residential streets in an area of the borough known as the Magdalen Road estate.
This ban, which is now proceeding, will prevent HGVs using streets bounded by Magdalen Road, Trinity Road, Burntwood Lane and Garratt Lane as a cut through.
In order to prevent residents in Magdalen Road suffering the effects of any displaced HGV traffic, the plan is to now extend the exclusion zone to include their street too.
Transport spokesman Cllr Jonathan Cook said: "It's important residents in Magdalen Road take part in this consultation and tell us what they think.
"Our view is that extending the wider area's lorry ban to Magdalen Road makes sense, but we must first ask local people to have their say."
Make and view comments on this article
You must carefully read and then agree to the Terms and Conditions before accessing the message board and posting a comment. If you do not wish to be bound by these Terms and Conditions, you may not access or use the message board.
If you wish to complain about a comment, contact us at press@wandsworth.gov.uk.
Recent comments
Unfair proposed restriction as simply displaces lorry traffic to other roads to the detriment of those residents. Lengthens journeys and concentrates emmissions, both of which make the situation worse. These residents who campaign for their area to be protected never care about those who deal with the result of their campaigns, if successful. There is little traffic volume on Magdalen road and only has housing on one side for most of it's length. Very weak case for including Magdalen Road. The side roads make sense, but not Magdalen Road.
H Pleasance
10 March 2019
As I live in Earlsfield Rd I would like to see a limit on SKIP lorries as they dont bother to slow down over the bumps in the road when they do the empty skips bounce up and down.
j.kimber
4 March 2019
After April most lorries will be Euro 6 compliant in terms of emissions never mind how many exhausts they have. Aboyne rd is in fact already under a 7.5 tonne restriction. And you would not be able to turn in to the majority of roads leading from Burntwood lane in an articulated lorry because of the chicanes in the road. Everybody wants food in the shops and lorries deliver these goods. How many vans would clog up the roads if we used them instead of lorries? Quite simply if you don't like lorries then stop buying stuff.
david morgan
3 March 2019
I'm passionately opposed. All it will do is displace more traffic onto roads with more residents loving on them i.e. Burntwoood Lane and Earlsfield Road. Burntwood Lane in particular is already very busy and will become more busy with Springfield building traffic and then when complete residential traffic. Burntwood Lane has two schools on it vs one on Magdalan Rd. Magdalen Rd is wide enough to handle the HGVs and is wider than Burntwood. There is no justification in making other roads that are already busier and have more residents even more congested, polluted and noiser. This is a ridiculous idea.
Nike Bielby
3 March 2019
Feel all HGV's should be banned from inside the South Circular. Saw 2 of the largest HGVs starting to drive down Heathfield Road (off Magdalen Road) yesterday (1/3/2019) - must have been the width of the railway bridge - one turning left into Magdalen Road, didn't seen to know that drivers coming up Magdalen Rd had 'right of way' - another earlier turning left into Heathfield off Magdalen Rd. Never used to be lorries this size - and the smaller one managed. Feel all these larger vehicles - are getting out of hand - don't fit into parking spaces and have double exhausts - whats the point of these huge vehicles in 'congested' London - just selfish.
Liz Denton
2 March 2019
Great for those living there but I feel this may bring even more heavy traffic down Swaffield Road. There has been a marked increase in lorries coming up and down the road especially skip lorries both laden and empty. They start very early in the morning and hit the speed bumps so all there chains rattle and bang. Please can we have a look into this area as well thank you.
Jan Shand
1 March 2019
PLEASE EXPAND TO ABOYNE ROAD AS THIS SIDE ROAD IS CONSTANTLY BEING DESTROYED PAVEMENTS KERBS TRAFFIC ISLANDS NOISE AND THE EXSESSIVE SPEED. THIS ROAD IS SUPPOSED TO BE 20 MPH WHICH IS IGNORED BY ALL DRIVERS AND IS THE SHORT CUT TO WANDSWORTH COMMON
Amanda Peachey
1 March 2019
I think lorries should be able to use Fieldview to pass between the 2 roads as there is very little housing on that road being sports grounds on one side and it is a wide road with good visibility.
josephine parker
1 March 2019