The average council tax bill in Wandsworth is set to remain one of the lowest in the country.
Published: Thursday 14th February 19
The Finance and Corporate Resources Committee has supported the recommendations in the annual budget setting report, including vital additional funding for social care.
The report will now be considered at the next Council meeting on March 6 where the Council will be asked to consider a council tax increase of 2.99 per cent, plus a further 2 per cent targeted for social care.
This means an average extra charge of £21.38 a year, with Wandsworth residents still continuing to benefit from one of the lowest council tax bills in the country.
In contrast, the Mayor of London, Sadiq Khan, is proposing to increase his share of council tax by 8.9 per cent (compared with the council increase of 4.99 per cent), meaning his precept will rise by £26.28 a year.
This takes Wandsworth's overall average Band D council tax bill for the entire year to £770.31 - of which £320.51 is payable to the Mayor.
However, this overall Wandsworth total is still expected to be around half the London average.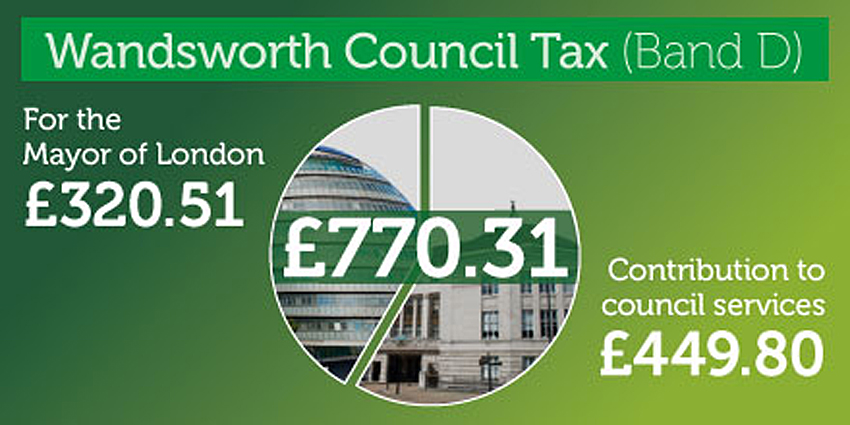 "For decades we have worked hard to make sure that our residents have paid one of the lowest council taxes in London and yet benefited from record investment in roads, libraries and housing" said Councillor Guy Senior, Cabinet member for Finance and Corporate Resources.
"We have managed to keep Council Tax low and at the same time deliver some of the best-run local government services in the country.
"We pledge to continue to offer our residents fantastic services and value for money.
"We are also making sure we protect the vital social care services that many of our elderly residents, or those who are sick or vulnerable, rely on so heavily.
"This increase also supports our local carers who are important to our communities. We want to make a real difference to the quality of life for our residents and those people who need a bit of extra support."
The report also shows that the council benefited from a record £12.932 million new homes bonus payment in 2018/19 in reward for supporting new housing delivery in the borough. And this funding is expected to go up to £12.953 million in 2019/20 – the second highest in the country.
Cllr Senior added: "This money is a result of Wandsworth's strong record on delivering new homes and another example of how we are working hard to keep Council Tax low."
Make and view comments on this article
You must carefully read and then agree to the Terms and Conditions before accessing the message board and posting a comment. If you do not wish to be bound by these Terms and Conditions, you may not access or use the message board.
If you wish to complain about a comment, contact us at press@wandsworth.gov.uk.
Recent comments
Is my council tax rise to pay for the mayors beach party last summer this country is nothing to be proud of anymore
Lesley hughes
23 March 2019
Why am I paying £1689 for a band d and Wandsworth is £770 for a band d ? I am a pensioner struggling to pay my rent and council tax because I saved a little bit of money ,pocket money compared to what the major lives on . Do you not think it fairer if he brought Wandsworth in line with the rest of us you are bleeding us dry I won't be able to eat and heat this winter at this rate I just want to cry when I think how am I to live?
Lesley hughes
23 March 2019
The sooner that London is rid of the grandstanding, poisonous waste of space that is Sadiq Khan, the better. Under his watch, knife crime has gone through the roof, as has his grab of the GLA precept on our council tax. That said, Ravi and company need to listen to what WBC residents are concerned about, then stop their high-handed "We know better than you" ideology before they hand the council to Labour, on a plate decorated with a salad. Try listening to us, we know better than you!
Mr John Gallagher
15 February 2019
Having lived in other nearby boroughs with inferior services and more than double the council tax, I really appreciate how well this council is run. Thanks.
Graham Stanton
15 February 2019
Great value for money in Wandsworth. The Council continues to deliver the greats bangs for our bucks. Keep it up!
Mary Spillane
15 February 2019
So, looks like a considerable increase this year. Wandsworth's share is up slightly and the Mayor's share massively increased. Of course he needs it now doesn't he with the shortfall in TFL budgets. No more giveaways from him just to win an election as he can't afford them now.
GEORGE LOBLEY
15 February 2019
So 5% for wandsworth and a bigger increase for Khan to waste on spending we don't have a clue about. I know his staff wages are out of control though! We only get 2% pay rises in the real world. Get a grip wandsworth and please don't compare to the other badly run london boroughs - you are way better run than them.
Simon
15 February 2019
I look forward to receiving it
Louise Fletcher
15 February 2019
Very helpful information, thank you for posting and sharing this article. <a href="https://stickerprintingco.co.uk">where to print custom stickers</a>
Mark John
14 February 2019