New homes for vulnerable local people
Published: Thursday 7th September 17
Two new supported housing schemes for people with learning and physical disabilities are on the way.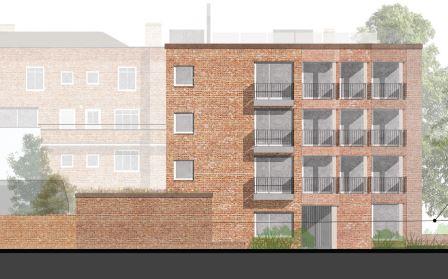 Architect's impression of the Stag Lane development
The developments in Melody Road, near Wandsworth Common, and Stag Lane, Roehampton, will provide nine and ten self-contained homes respectively, staffed 24 hours a day.
A specialist provider of care and support services is being sought by the council for the two schemes, according to a report going before the Adult Care and Health Overview and Scrutiny Committee and to the Executive on 12 and 18 September.
The schemes are thought to be among the only supported living schemes being built in London by a council, and are expected to be completed from late 2018.
Wandsworth Council, in partnership with housing associations, has supported four supported housing developments in the past five years including providing land and grant funding to support an extra care housing scheme in Tooting for 45 homes for older people.
Cllr Paul Ellis, Cabinet Member for Adult Care and Health, said: "I'm proud to say that Wandsworth is one of only a few authorities that builds its own supported housing for vulnerable residents.
"Supported housing not only enables residents to live more independently, it also relieves pressure on the NHS, and other councils should certainly follow suit."
The council's supported housing programme, running since 2009 in Wandsworth, has seen four such developments built so far, helping to promote independent living for vulnerable residents and local alternatives instead of placements in residential care facilities that may be outside of the borough.
The council has built more than 250 homes on under-used spaces on its own land, with hundreds more on the way within the next few years.
More about how Wandsworth Council leads the way on delivering new homes:
Construction of 1,742 more shared ownership and low cost rent homes is forecast over the next few years, at sites including Wandsworth town centre and Nine Elms, Battersea
Cllr Ravi Govindia, Leader of Wandsworth Council, is a member of the Mayor of London's Homes for Londoners Board
Mayor of London, Sadiq Khan, referred to Wandsworth Council as a 'fantastic example' of local authority housebuilding during the Mayor's Question Time of 19 October, 2016
Through the council's housing building programme, construction is under way all over Wandsworth including in Tooting, and near Wimbledon Common, and at three sites in Battersea, with hundreds more on the way
More than 3,000 new homes for shared ownership, social renting, low cost rent, market rent and for sale are to be built by the council and partners at two major estate regeneration schemes in Battersea and Roehampton which guarantee newly built homes for all council tenants, leaseholders and freeholders on their estates
The council's housing strategy target is to ensure a minimum of 18,000 homes are built in Wandsworth during the next ten years
View comments on this article
Comments on this news item have been closed.
If you wish to complain about a comment, contact us at press@wandsworth.gov.uk.
Recent comments
But still the eyesore on Earlsfield Road - site owned by Viridian now - remains there as testament to lots of WBC and Viridian mistakes. Painting the boarding that surrounds it is all they have done in the last decade. People need homes not abandoned building plots.
Celia Blair
7 September 2017