Dates announced for James Capper walking ship performances on Thames
Published: Tuesday 16th April 19
British artist James Capper is set to unveil his new large-scale mobile sculpture MUDSKIPPER in Battersea on 16 May 2019.
As this year's Powerhouse Commission, an annual commission at Battersea Power Station, MUDSKIPPER is a fully-mobile sculpture (9.2 metres in length and 12 tons in weight) which has the ability to move across water and land on-shore through the use of two step-type propulsion legs.
The walking ship will take up residency at Battersea Power Station Pier directly in front of the iconic riverside building from Thursday 16 May. It will make special performances throughout May and June, when it travels down the River Thames and walks out of the water at certain points of low tide.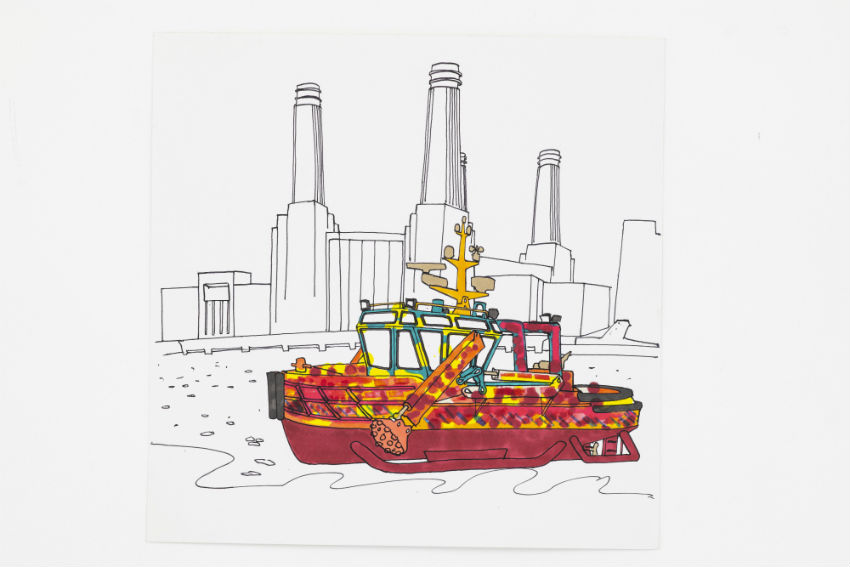 The first public performance will start from 6.15pm on Thursday 16 May on the river path at the Peace Pagoda in Battersea Park.
See performances of James Capper's MUDSKIPPER sculpture:
Thursday 16 May, 6pm-7pm - Thames path near London Peace Pagoda Battersea Park, SW11 3NJ
Saturday 25 May, 11.45am - Thames path near London Peace Pagoda Battersea Park, SW11 3NJ
Thursday 30 May, 5pm - Thames path near The Riverside, Hamilton House, 5 St George Wharf, SW8 2LE
Sunday 9 June, 12pm - Thames path near The Riverside, Hamilton House, 5 St George Wharf, SW8 2LE
Monday 10 June, 1pm - Thames path near Nine Elms Pavilion (opp US Embassy), Riverside Walk, SW8 5DF
Inspired by early invertebrates, and echoing the brave leaps made by those into a new and unknown world, MUDSKIPPER challenges the definitions of engineering and art and the interconnections between the two.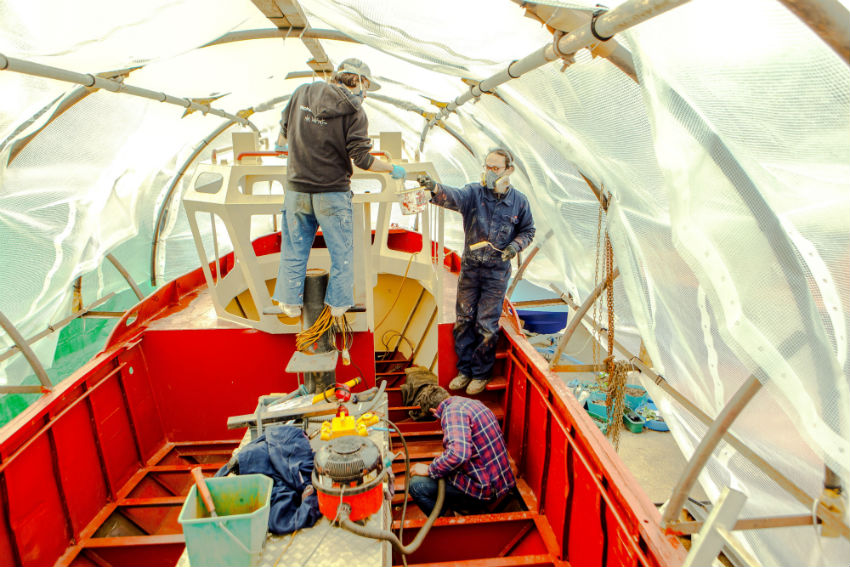 James Capper and artists converting the Thames boat into a walking ship
To find out how the sculpture evolved to become an amphibious sculpture, don't miss the last weekend of the Walking Ship exhibition at StudioRCA over Easter, supported by Nine Elms on the South Bank and Royal College of Art, and in conjunction with the 2018 Year of Engineering.
More about MUDSKIPPER
James Capper's mobile public sculpture MUDSKIPPER is the Battersea Power Station Powerhouse Commission for 2019. MUDSKIPPER is co-commissioned in 2019 in partnership with Battersea Power Station, Nine Elms on the South Bank and The Royal Docks; it is produced by Illuminate Productions. Albion Barn acquired the original workboat with James Capper and published the MUDSKIPPER maquette. The project is also supported by Arts Council England, Hannah Barry Gallery, Perkins Engines and Thames Clippers, with additional support from the Science Museum Group. MUDSKIPPER. The mobile public sculpture will engage and integrate with the life of the River Thames, undertaking a series of tests and demonstrations on the River and its foreshores in May and June 2019.
Visit nineelmslondon.com or follow @NineElmsTeam to keep up with events and activities throughout Nine Elms.