MyWandsworth poster competition winners announced
Published: Friday 8th March 19
Comment
To mark World Book Day, the winners of the Council's MyWandsworth poster competition, were presented with book tokens at a special prize giving ceremony with the Mayor of Wandsworth, Councillor Piers McCausland.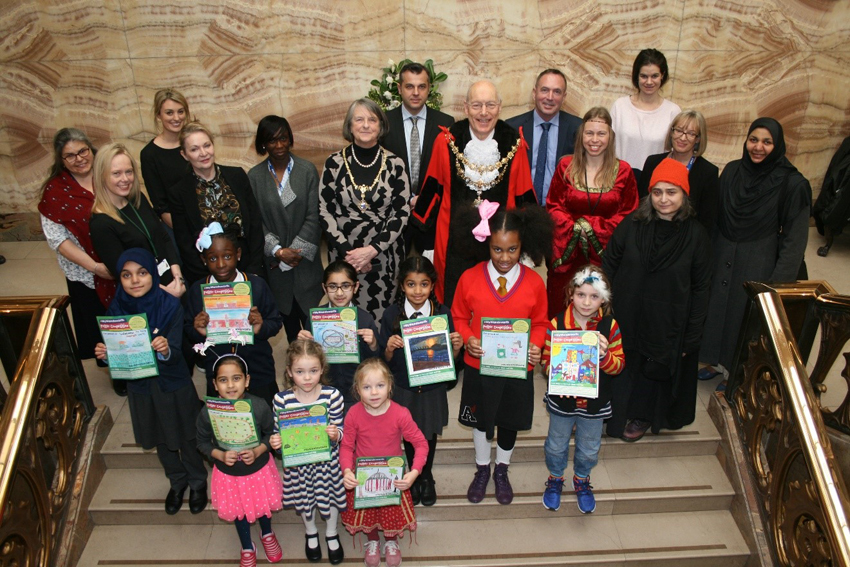 The nine winners and runners-up attended a special prize giving ceremony on World Book Day at Wandsworth Town Hall
Nearly 250 school children across Wandsworth got stuck into the poster competition; to draw a picture of their favourite part of the borough celebrating what's great about where we all live, with an emphasis on promoting keeping the borough clean and tidy.
The winners and runners-up were presented with book vouchers, on World Book Day, the world's biggest campaign to provide every child and young person in the country with a book of their own.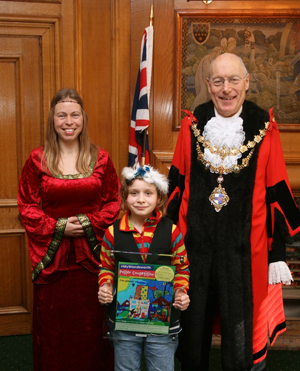 Ulu Perna with class teacher Sarah Parr and the Mayor.
Prizes for the competition, which include £200 for each of the winning schools to spend on activity that helps children take pride in the local area, were kindly donated by Continental Landscapes, the borough's street cleaning contractor.
4-6 age category
Penny Mountford, Honeywell Infant School (first prize winner)
Sidra Bano, Trinity St Mary's Primary School (runner up)
Ana Hulls, Honeywell Infant School (runner up)

7-9 age category
Ulu Perna, Swaffield Primary School (first prize winner)
Shasmeen Mahomed, Falconbrook Primary School (runner up)
Iqra Malik, Falconbrook Primary School (runner up)
10-11 age category
Sarai Albert, Trinity St Mary's Primary School (first prize winner)
Mercy Mondhlani, Falconbrook Primary School (runner up)
Noor Zahid, West Hill Primary School (runner up)
All the winning entries can be viewed online.
Councillors Steffi Sutters, Cabinet Member for Community Services and Open Spaces, who led the judging panel said: "It was great to see so many children take part in the competition. With so many strong entries, we had a really difficult choice to pick the winners. What came through loud and clear is the real pride that all the children have in our borough."
The poster competition is the latest part of the council's ongoing campaign to tackle litter and flytipping. The town hall is determined to clamp down on those who behave irresponsibly - punishing those who commit this type of environmental crime.
To keep the borough looking at its best, the council's street cleaners, roadsweepers, rubbish collectors and enforcement officers work 24/7 to make sure our neighbourhoods are clean and litter free:
More than £4.3 million a year is spent on cleaning your streets

Our busy town centres are cleaned up to five times-a-day

We clean more than 400km of streets every week.
More than 10,800 fines were issued between April 2017 to February 2019 for fly-tipping and littering offences.
Make and view comments on this article
You must carefully read and then agree to the Terms and Conditions before accessing the message board and posting a comment. If you do not wish to be bound by these Terms and Conditions, you may not access or use the message board.
If you wish to complain about a comment, contact us at press@wandsworth.gov.uk.
Recent comments
There have been no comments made on this news item.