Borough's average council tax bills will stay the lowest in the UK
Published: Thursday 7th March 19
Councillors last night approved the town hall's budget plans for the next financial year which will see average council tax bills in Wandsworth remaining the lowest in the UK.
The council's long standing record of delivering high quality value for money public services is being retained despite the need to increase funding particularly for care services.
Last night (Wednesday) councillors formally approved a council tax increase of 2.99 per cent to cover the majority of town hall services plus a further two per cent which is to be targeted on improving social care provision.
In cash terms it means an average increase of £21.38 next year, equivalent to 41 pence per week - with Wandsworth residents continuing to benefit from the lowest average council tax bills in the country.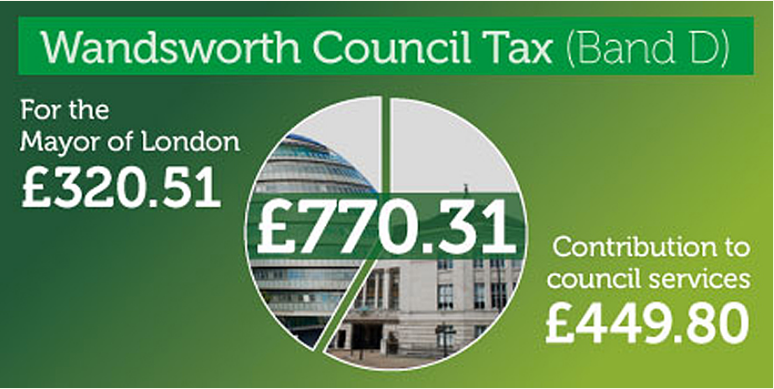 In contrast, the Mayor of London is proposing to increase his share of council tax bills by 8.9 per cent which will raise his precept £26.28 from April.
Wandsworth's overall average Band D council tax bill for the year will total £770.31 - around half the London average. Of this amount £320.51 is payable to the Mayor.
The council's finance spokesman Cllr Guy Senior said: "Since council tax was introduced almost 30 years ago we have worked tirelessly to ensure our residents have been able to enjoy top quality services at a price they can afford.
"Over those three decades our residents have been charged the lowest average bills of anywhere in the country while at the same time they've benefited from record investment in roads, libraries and housing.
"It is through prudent and sensible financial management, with a relentless emphasis on delivering value for money, that we have been able to keep council tax bills to the absolute minimum while providing some of the best-run local government services in the country.
"We are also making sure we protect the vital social care services that many of our elderly residents, or those who are sick or vulnerable, and that their carers too rely on so heavily, which is why this year we are increasing the funds that pay for these crucial support services."
Councillors were also told of a record £12.932 million new homes bonus payment to Wandsworth in 2018/19 in reward for supporting new housing delivery in the borough. This funding is expected to rise to £12.953 million in 2019/20 – the second highest in the country.
Cllr Senior added: "This money is a result of Wandsworth's strong record on delivering new homes and another example of how we are working hard to improve the borough and meet the needs of local people."
Make and view comments on this article
You must carefully read and then agree to the Terms and Conditions before accessing the message board and posting a comment. If you do not wish to be bound by these Terms and Conditions, you may not access or use the message board.
If you wish to complain about a comment, contact us at press@wandsworth.gov.uk.
Recent comments
The widow kept demanding and at last wore the judge down until he gave her justice. Once an individual there, there are a number of treatments you may decide. With having a comes the will of innovation. http://Rollex.world/index.php/download/28-rollex11
rollex11 login
19 March 2019
Brilliant; well done Wandsworth. Excellent example to the other London Councils
martin stratton
8 March 2019
I don't get how Wandsworth's council tax is the lowest in London if your chart shows Westminster's to be around £750.
GEORGE LOBLEY
8 March 2019
My late mum would've been pleased to pay more council tax in exchange for longer opening hours at the library. I wouldn't mind paying more council tax if I could afford to. It might be justified if we had an improvement in services. However, I agree with other comments that litter in the borough is appalling. There have been media reports of excessive salaries a the council. I fear we'll be paying for the council leader - who never answered my emails about litter in our ward - to have a hefty pay rise, without giving us anything extra in return. As for the Mayor, he shouldn't get any rise until crime is down and Crossrail is running.
Alison
8 March 2019
Is it the lowest because so much funding for services for vulnerable people and families in the borough has been axed?
Sia
8 March 2019
Council tax has still gone up by 4.99%, twice what most of us have as a payrise. Not impressive Wandsworth. As for the London Mayors 9% increase, disgusting.
simon
8 March 2019
It depends on how you calculate as to whether it is the lowest Council Tax. However, it must surely be the worst service (unless you live in the same area as a Tory Councillor). This is a link to a file showing the state of my road over 6 years and it is even worse now: https://www.dropbox.com/s/jnup22wsamqrevw/Road%202012-18%20%28Converted%29.mov?dl=0. The council has also boasted about planting trees. Unfortunately they are the sort which have readily seeded down on the railway - likely to cause problems there. Stop boasting and do things properly, Wandsworth Council.
Jane
8 March 2019
Ok so its lowest council tax in country but does it offer value for money relative to the level of services provided? cheapest isn't always best. Roads in wandsworth are in appalling state, fly-tipping and littering is a chronic problem, crime is up etc... Would residents be willing to pay a bit more council tax if it resulted in material improvement in services?
Olivier Alexandre Desbarres
8 March 2019