Get to know your library: a lifeline for the isolated
Published: Thursday 7th March 19
Comment
As part of our #gettoknowyourlibrary celebration of Wandsworth libraries we're focusing on the wonderful variety of groups, events, resources and services they have to offer.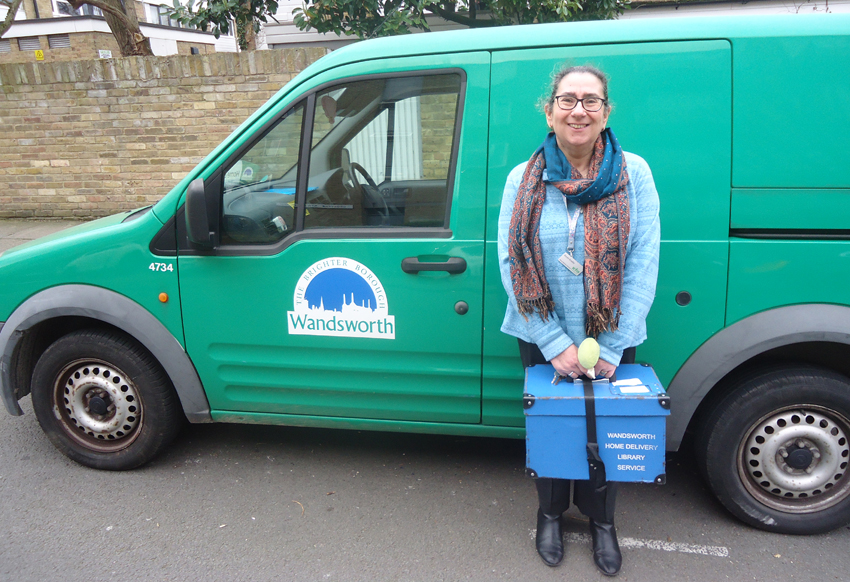 Karen with the mobile library van
"There is such an antiquated notion that libraries are all about books, when they're really about community and sharing."
The quote, by author Terri Nixon, features on Karen Kneller's desk calendar in her department downstairs at Wandsworth Town Library.
It's a great line which can not only be used for the service Karen provides but for our whole campaign.
Karen is the home delivery library assistant for the borough. Last month she helped deliver books to 161 people who find it difficult to get to their local library. But her job isn't just about delivering. She personally selects the books for each of her clients and arranges the visits – once every four weeks to pick up the old books and drop off the new.
But what impressed me most was the fact she doesn't just drop the books off but takes the time and trouble to sit with each of her service users and talk with them about the books, the weather, and anything else they might want to chat about.
"I love everything about my job – the books and the people," she said. "It's a lifeline to a lot of people and they are pleased to see me when I come by. And they become my friends who ask to see pictures of my grandson and want to know if he's walking yet!"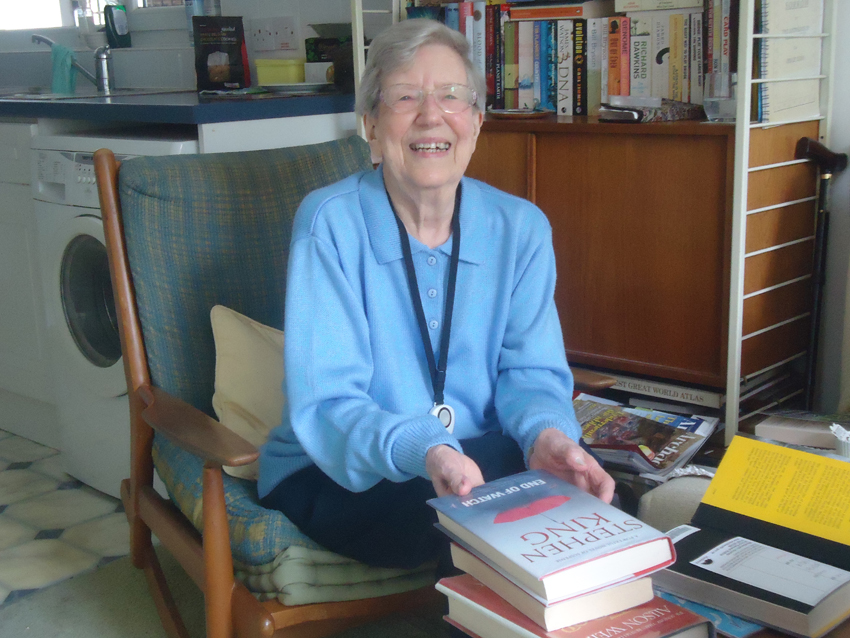 Beryl Shumer
"I also enjoy choosing the books and over time it kind of works by osmosis as you do get to know people and their tastes pretty well."
It's Thursday which means Karen will spend the day in her van driving around Putney. It takes time to load all the books into the back of the van as the amount people read can vary from two books for the month to two full boxes.
"When they sign up I ask them how many books they think they'll read, what type of books they like, and whether they want small or big print," she said. "Some might just say, 'I want ten thrillers' or 'five romances' or 'six big print family sagas' and they are quite happy for you to just choose what you want. We also deliver audio books and books in different languages as well as DVDs and CDs."
Karen's first stop is a first-timer. Beryl Schumer rarely goes out because she can't walk very far and contacted the team telling Karen she liked reading biographies, popular science and thrillers.
"I think this service is going to be lovely," said Beryl. "At the moment I'm just staring at the television and there's not much on that which I haven't seen before. I can't get to the libraries as I used to, and I used to read a lot of books. I like whodunnits – Agatha Christie through to PD James – and I haven't read many biographies but I thought I would ask Karen for one as it's a bit different."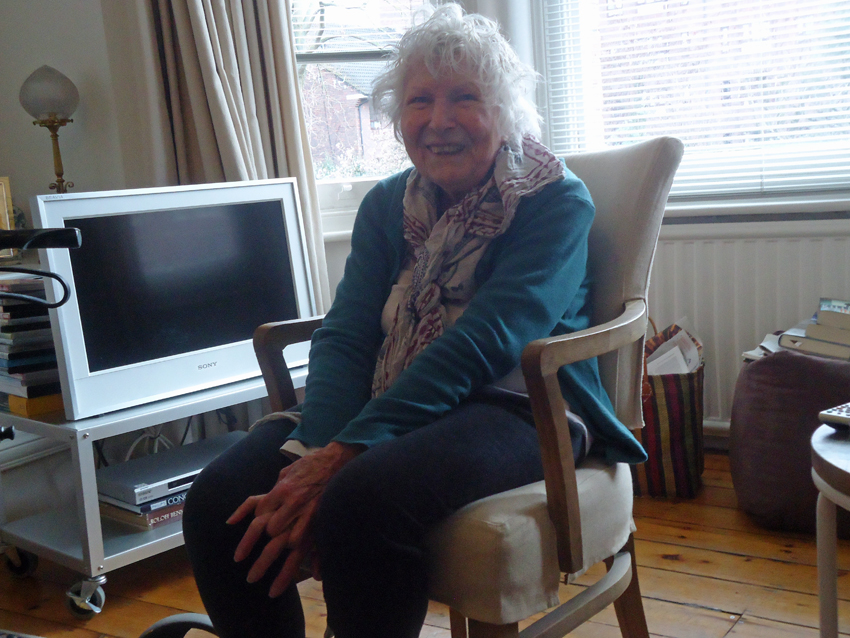 Margot Zutshi
Karen went over some details with Beryl and chatted generally about books. We were then off to one of her regulars, Margot Zutshi, who has been using the housebound service ever since she broke her leg.
"What Karen provides is wonderful and when she comes it makes a very nice change in my day," she said. "We have a good laugh and it's especially good to talk to someone who knows about books. I like to read classics and thrillers and I'm a big advocate for this service and libraries and the excellent work they do."
· If you are interested in using the housebound service just give Karen a call on 020 8877 1742 (option 2) or email her at hdls@gll.org
· We would love to hear about what makes your favourite Wandsworth library. Simply send us and Wandsworth Libraries a tweet to @wandbc & @wandsworthlibs and remember to include the hashtag #gettoknowyourlibrary
· Find out more about the range of activities and groups on offer at: www.wandsworth.gov.uk/libraries
Make and view comments on this article
You must carefully read and then agree to the Terms and Conditions before accessing the message board and posting a comment. If you do not wish to be bound by these Terms and Conditions, you may not access or use the message board.
If you wish to complain about a comment, contact us at press@wandsworth.gov.uk.
Recent comments
There have been no comments made on this news item.