Council staff join police and customs raids on 'dangerous' shisha bars
Published: Wednesday 6th March 19
Officers in the council's environmental health team have taken part in joint raids with police and customs officials investigating activities at two local shisha bars.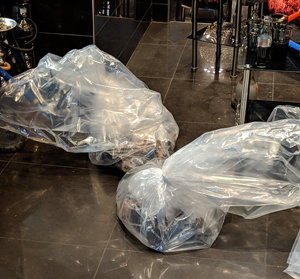 Items seized last Friday
The first raid led to the seizure of 104 kilos of shisha tobacco that had evaded customs duty worth around £500,000.
Charcoal burners used inside the business, which is not being identified for legal reasons, were producing toxic carbon monoxide gases nearly 60 times higher than levels considered safe. This would have put customers and staff inside the bar – and potentially people living in the accommodation above the business at imminent risk of harm.
The shisha bar was immediately closed down and served with prohibition notices preventing its reopening. Further legal action is now being considered by the council's legal team.
The second raid was on Friday, at a second shisha bar where levels of carbon monoxide were found to be nearly 25 times higher than those considered safe. The owners were served with prohibition notices and additional legal action is also being considered. A quantity of shisha paraphernalia including pipes, hoses, mouthpieces and clay tobacco holders were also confiscated.
Two other shisha bars in Wandsworth are also facing legal action as a result of previous investigations by council staff.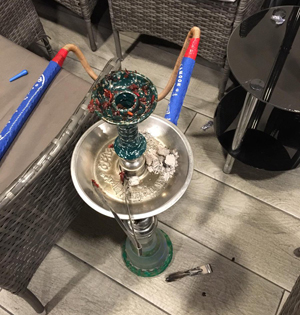 Evidence from the first raid
Last year a newly opened shisha bar in Tooting was shut down after council enforcement officers discovered two families living in flats above it were being poisoned by carbon monoxide fumes.
The business in Tooting High Street was shut after fumes from the burning charcoal used in hookah pipes seeped into the residential properties above.
Two young families with small children were breathing in the gas and suffering the effects of carbon monoxide poisoning - headaches, vomiting and flu-like symptoms. All those affected subsequently made full recoveries and suffered no long-term ill-effects.
The owner of this business was only permitted to reopen when he agreed to cease using charcoal in his premises and switch to vaping products instead.
Make and view comments on this article
You must carefully read and then agree to the Terms and Conditions before accessing the message board and posting a comment. If you do not wish to be bound by these Terms and Conditions, you may not access or use the message board.
If you wish to complain about a comment, contact us at press@wandsworth.gov.uk.
Recent comments
I think shisha bars pose greater health risks than regular tobacco (I'm not condoning the use of tobacco in any way). Not to mention the risk of secondhand exposure. Hookah smoke contains multiple toxic chemicals from the burning of the charcoal, tobacco, and flavourings. I agree with Alison that it's one thing to vape because you're trying not to smoke, but quite another to market them as a lifestyle choice." Many teenagers these days believe it's 'cool' to be vaping. Vape lounge should not be allowed to glamourise these products and should only be sold alongside other tobacco products with the message that it is appropriate for tobacco smokers who are looking to quit or reduce their health risks.
P Maskey
10 March 2019
Good work on all the agencies involved, especially Environmental Health on enforcement action where carbon monoxide was found exceeding the safety levels for residents who live above such places. This enforcement action is a heavy resource issue to all cash strapped agencies taking action on the operator of such a business operating an alleged ice cream coffee parlor. I assume Planning need more awareness prior to granting any future 'usage' applications such as this. The Health Act 2006/Smoke Free Premises Regs relates to fully enclosed premises for any products that are lit, producing smoke i.e. tobacco or used in shisha, vapes are not at this time included, Legislation of vapes is changed by Government on scientific evidence/research.
kef
10 March 2019
Never smoked (nor taken drugs/alcohol) - I'm lucky not to be addicted to anything. (But I do like my food !)
Robert Ash
9 March 2019
@Alison, it isn't "OK to use shisha but not regular tobacco" no one is encouraging anyone to go and smoke, shisha bars are a business and people will decide whether or not going into one of them. The main point is that tests have been carried out and the results were not satisfactory and the places have been rightly shut down. Not sure what is the need to mention middle eastern tobacco?Is that even a thing?
Alana
9 March 2019
I don't understand the rationale behind allowing shops to open up that encourage people to smoke Middle Eastern tobacco or vape nicotine. Doesn't that defeat the purpose of the campaign to get people to give up smoking? In their new role in charge of public health, I don't think the council should allow vape lounges or shisha bars. Why is it OK to use shisha but not regular tobacco? Is this political correctness gone mad? It's one thing to vape because you're trying not to smoke. It's quite another to market these products as a lifestyle choice.
Alison
8 March 2019
Good work Wandsworth Council.
Mr S khan
6 March 2019