Have your say on £300k investment for Battersea pocket park and playground
Published: Tuesday 5th March 19
There's still time for people in Battersea to say how they would like to see more than £300,000 spent on improving a small pocket park and its children's playground.
The borough's open spaces contractor Enable Leisure and Culture is
seeking the public's views
on the best way to spend £316,000, which has been earmarked for a series of improvements at Fred Wells Gardens in Vicarage Crescent.
And the
consultation
runs until Sunday, March 24 so there is still plenty of time for local people to contribute their thoughts and ideas.
As its stands the current set of proposals has two elements.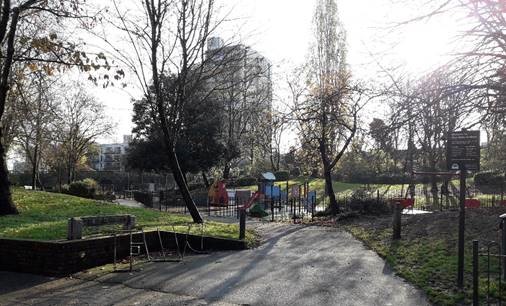 The first set are classed as works that are necessary to ensure the playground and other parts of the park remain safe to use.
This includes replacing some child friendly soft surfacing in the playground, rebuilding walls undermined by tree roots and widening paths and stairways to ensure they are more family friendly for parents with buggies while also improving access for people with disabilities.
The second element includes a range of proposals for new play equipment or improvements and upgrades to what is already there, plus an option to resurface the tennis court, parts of which have sustained tree root damage.
If people would like a paper copy of the consultation questionnaire they can email consult@wandsworth.gov.uk or contact the parks office on (020) 3959 0060.
Make and view comments on this article
You must carefully read and then agree to the Terms and Conditions before accessing the message board and posting a comment. If you do not wish to be bound by these Terms and Conditions, you may not access or use the message board.
If you wish to complain about a comment, contact us at press@wandsworth.gov.uk.
Recent comments
Websites offer beneficial concerning nationally contests, on-line eureka in conjunction with lotto scientific studies. It is possible to also tend to attempt out websites offering you no cost reward bingo codes which you can use to perform for totally free. Unlike other games like craps or blackjack, fat loss to effectively decrease the house edge in roulette. https://www.uricasinogroup.com
퍼스트카지노
13 March 2019
Websites offer beneficial concerning nationally contests, on-line eureka as well as lotto scientific studies. To learn the best way to play lotto using wheeling system, start by causing your own wheels. But some individuals that never normally play in the lottery were also found queueing with the lottery terminals. https://www.uricasinogroup.com
예스카지노
10 March 2019
Fred Wells Park is an invaluable local resource for families with children of all ages and i have used the park since my daughter was able to sit in the baby swing. As she has grown we have moved to different aspects of the play ground and as a teenager, she has taken to playing tennis and making use of the court not only for family fun of light hearted tennis but also with friends during school holidays. It's so important that young people have a sense of inclusion in our community and the tennis court adds not only to their well being but also their place within the community. It is in need of repair and it would be a pity for it to fall into disrepair and lack of use as it is the only 'free' sporting facility for young teenagers.
Frangelica Flook
6 March 2019
Bit of grass would be nice - it's mostly mud at present. took a short cut from Vicarage Crescent to Battersea High St market on Saturday. Tennis court could do with improvement - it's used a lot. We often use it - when practising for matches at our club. I had a bad fall at the end where all the court is cracked up - 2 years later - nothing been done to improve the court & I still have an uneven forehead from the fall. Lovely daffodils in the Fred Wells Gardens at present - just wish folk wouldn't pick them. Wish folk would clear up after their dogs - have watched owners walking all round the FW Gardens - never looking behind them as their dogs do a poo.
LizzieAnne
5 March 2019