Get to know your library: a place of fabulous surprises
Published: Friday 22nd February 19
As part of our #gettoknowyourlibrary celebration of Wandsworth libraries we're focusing on the wonderful variety of groups, events, resources and services they have to offer.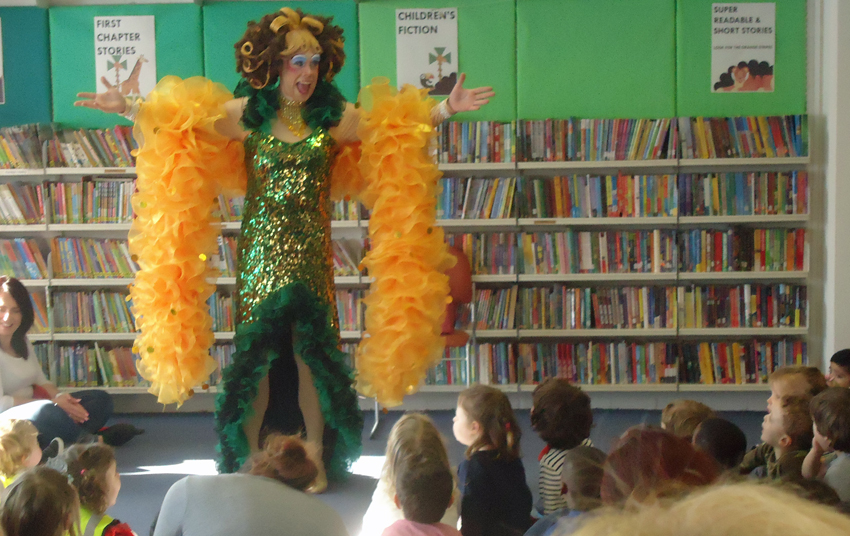 Mama G
Forget the old, fusty image of libraries as rather daunting places where a cough would result in a glare. Nowadays they are some of the most friendly, diverse and welcoming of places to all members of our rich community.
On Valentine's Day, Balham Library hosted Wandsworth Libraries' first ever Drag Queen Story Time! Organised to celebrate LGBT History Month it featured the fabulous, sparkling Mama G telling stories to a packed room full of wide-eyed children and their parents and carers.
"We thought the lovely drag queen was wonderful," said Hope, sitting with her one-year-old daughter, Esmeralda. "I think they should do more things like this to involve all sorts of people so children who aren't the same as everyone else can think it's a bit more normal. It's a great way to celebrate diversity."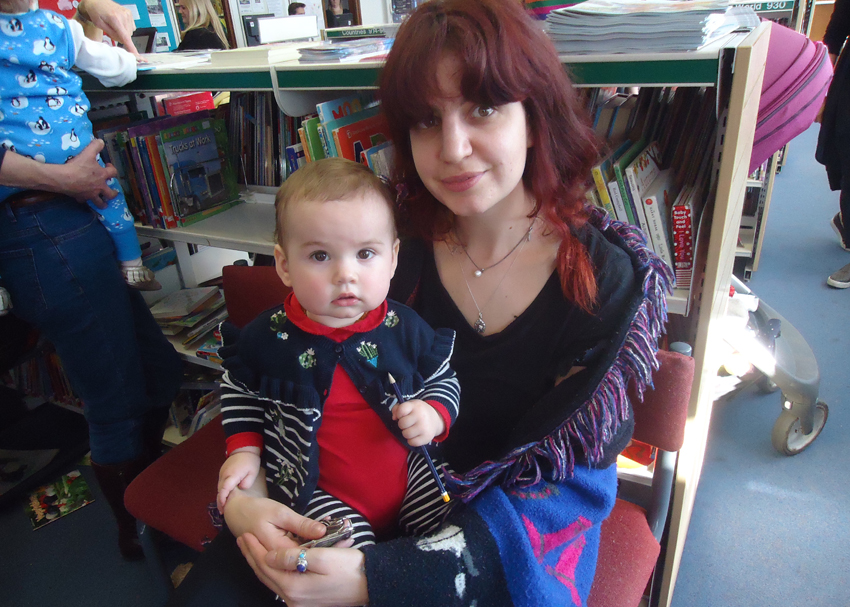 Hope and Esmeralda
In a flurry of sequins and extraordinary hair Mama G told stories about being who you are and loving who you want using props and plenty of audience participation.
"It's been really good for the children and we've found it really funny," said Alba Santa Escolastica from the Balham Rainbow Nursery across the road. "We are doing activities in the nursery about literacy and listening so this does help. We would like to see more of this kind of activity."
"It's been fantastic," agreed Lucinda Murray, the children's librarian who booked Mama G. "We had 81 people in here today including parents, local schools and nurseries. When I started at Balham I wanted to bring more diverse representation and events such as this and I'm so pleased this has happened today. I'm sure it won't be the only one."
Afterwards we spoke to Mama G (aka Robert) about our campaign celebrating Wandsworth libraries and encouraging more people to use them. It quickly became apparent that his enthusiasm was not just saved for his show.
"What I've realised taking Mama G to libraries all around the country is that they are community and cultural hubs," he said. "And in a city like London I think they are essentially the equivalent of the village hall. They are spaces where anybody can go and get any resource; where people can feel comfortable and it's free culture on our doorstep – we are so lucky.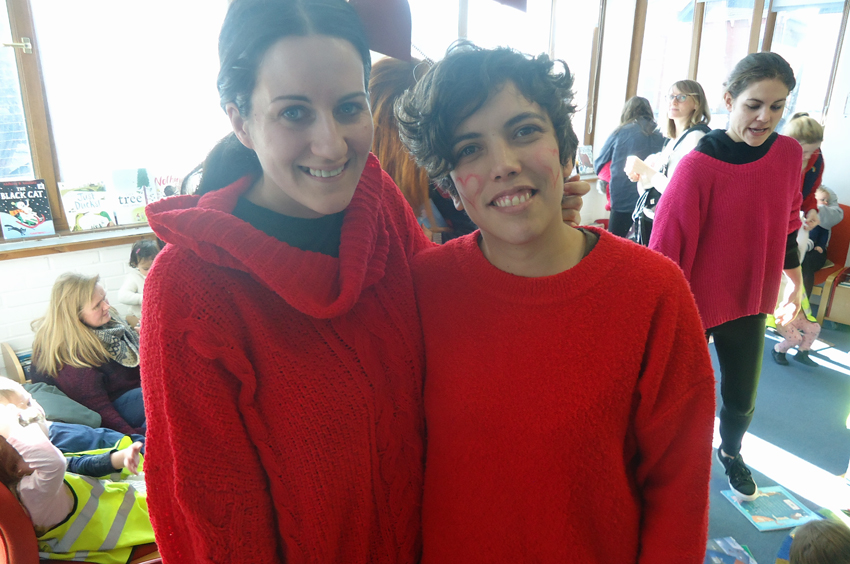 Alba and Sonia
"The library I went to when I was a kid was an old, Victorian building and it was very intimidating and you weren't allowed to make any noise. But people can make noise in libraries these days and it brings the place alive. They should be joyful expressions, and I think that's another way that libraries are making themselves the centres of the community, because knowledge and culture are joyful and there's no way they should be experienced in a silent room."
· We would love to hear about what makes your favourite Wandsworth library. Simply send us and Wandsworth Libraries a tweet to @wandbc & @wandsworthlibs and remember to include the hashtag #gettoknowyourlibrary
· Find out more about the range of activities and groups on offer at: www.wandsworth.gov.uk/libraries


Make and view comments on this article
You must carefully read and then agree to the Terms and Conditions before accessing the message board and posting a comment. If you do not wish to be bound by these Terms and Conditions, you may not access or use the message board.
If you wish to complain about a comment, contact us at press@wandsworth.gov.uk.
Recent comments
Congratulations to Mama G for putting on such a successful show. It sounds as though it was great fun. What a shame people have to post so many negative comments. I think the libraries ought to set up their own cafes or rent a space to a cafe. It seems to me that there's no amount of money people won't pay for coffee, wireless internet and a place to chat. Considering there's no food or drink in the library and the weather isn't always conducive to a picnic on the front step, I expect lots of patrons of the library would really appreciate somewhere to nip in and have a snack. Furthermore, I was told there's no drinking water in Putney Library - surely even the staff would appreciate somewhere to get a glass of water!
Alison
24 February 2019
The world has gone completely mad. Leave our kids alone from your political messages that this stuff is normal, it will just confuse the 99.99% that are normal!
Jo
23 February 2019
As long as children understand the importance of respecting the law and one anothers rights I see no harm in this whatsoever. You can't help being born straight or gay etc ..(and this does seem to be biologically per-determined) .. probably better we teach that to kids too .. where it gets murky is prescribing hormone treatment or surgical intervention to minors ... overall though good to challenge Adults and childrens attitudes .. tradition benefits and guides society but can also be cruel and marginalizing .. but as I say, parents need to be supported in bringing up kids that respect the law and one anothers rights .. thats the important thing in my view.
Kufu
23 February 2019
As a huge supporter of public libraries I am struggling to understand why you need drag queens involved. Is this some sort of "indoctrination technique"? I bet if Jimmy Saville was still alive you politically correct crack pots would have a "reading with uncle Jim" session for 3 year olds.
Mark
23 February 2019
Lovely! My kids were fascinated by drag queens when they were small -- probably the sequins! Doesn't seem terribly political to me -- unless traditional kids' entertainment like panto is political?
Huw
22 February 2019
I wouldn't take my kids anywhere near this sort of nonsense. Who comes up with this political rubbish ?
Simon
22 February 2019