Air pollution falls again
Published: Monday 18th February 19
Wandsworth's air pollution levels fell again in 2018, new figures suggest.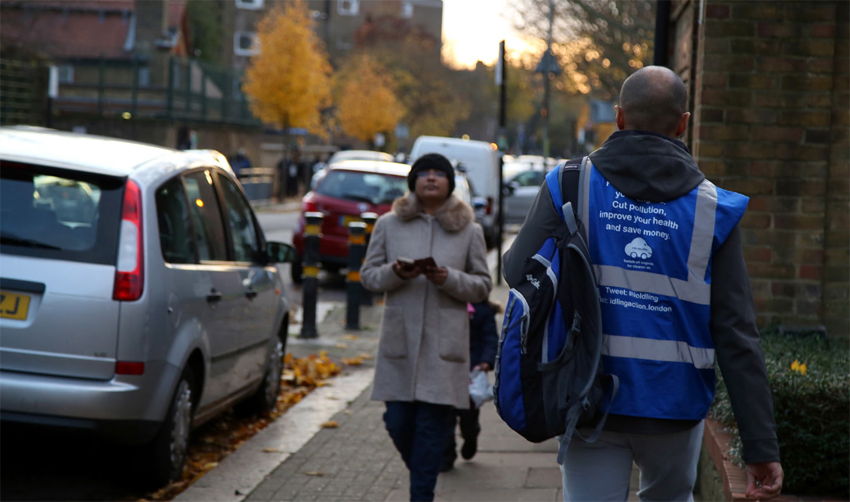 Enforcement officers have clamped down on engine idling outside schools
Initial results from the council's air quality monitoring stations at seven sites across the borough show a drop in harmful pollutants.
In Putney mean levels of nitrogen dioxide (NO2) measured on the High Street kerbside monitoring station were 66 micrograms per cubic metre. In 2017 the figure was 76.
There was also a fall in the number of hours NO2 levels breached EU guidelines, from 76 to 25. The fall is even starker when compared to 2016, when there were 1271 breaches. The majority of these breaches occurred during the morning rush hour.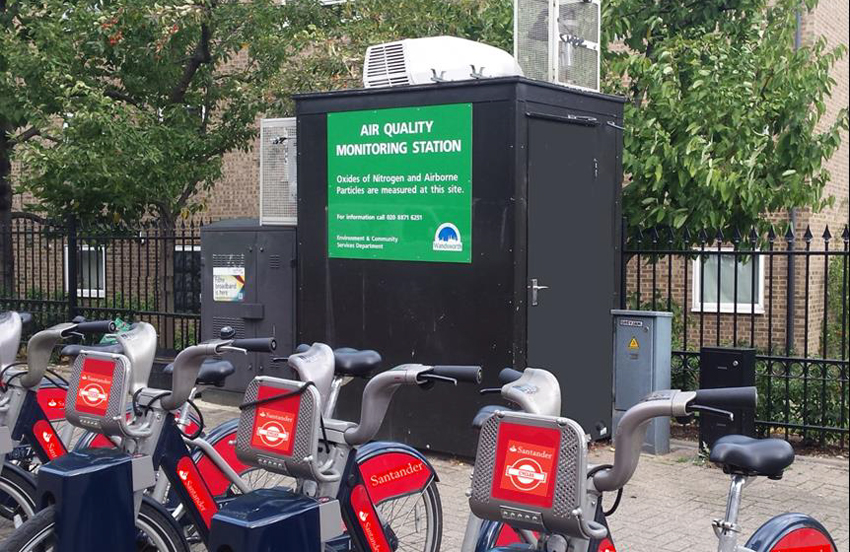 An air quality monitoring station in Putney
Previous research carried out by the council showed that buses were a large contributor to pollution in Putney. The council lobbied TfL for cleaner buses and last year Putney became the capital's first low-emission bus zone. The council also introduced a daytime delivery ban for lorries and is currently working with TfL to improve traffic flow down Putney High Street.
Elsewhere in the borough, levels of PM10, which is small particles of pollution carried in the air, fell across the board. The number of days that levels exceeded EU limits halved in Nine Elms (from 16 to 8) and Lavender Hill (4 to 2) and fell from 11 to three in Tooting High Street.
These figures will now be sent for checking by independent auditors and will form part of the council's annual report on air quality submitted to the Greater London Authority later this year.
Last year Wandsworth revised its five year Air Quality Action Plan, with a further 50 actions to reduce pollution levels, including measures to reduce pollution from council vehicles and buildings, promoting greener travel to staff and embedding air quality in all aspects of the council's work, including procurement and planning.
Wandsworth is working with Transport for London (TfL) to bring in cleaner buses across the borough, with an additional low-emission bus zone established in August between Wandsworth and St John's Hill. TfL estimate an NO2 reduction of 91 per cent along this route. Read TfL's evaluation of both routes.
The council is also working closely with the construction industry to reduce pollution from building sites. It has a dedicated construction site compliance officer inspecting sites, and an air quality officers working with the whole Nine Elms community, including schools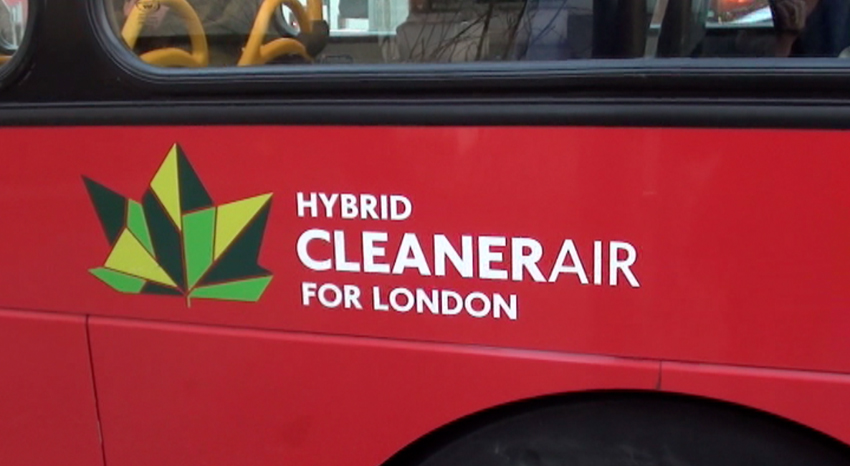 The council has lobbied for cleaner buses
Reducing pollution around schools is a key aim. Enforcement officers have been trained to issue fixed penalty notices to drivers who leave their
car engines idling
and officers have visited schools and talked to parents to persuade them not to leave engines running at pick-up and drop-off time.
Three Idling Action Days are planned for later this month and in March, and Wandsworth is seeking volunteers willing to help out. You will need to spare around two hours on each day. If you can help visit https://idlingaction.london/volunteers/
The council's transport and air quality spokesman Jonathan Cook said: "I'm delighted that for a third year running air pollution levels appear to have dropped dramatically, especially in Putney. Our close and increasingly joined-up focus on this issue, together with effective working with partners such as TfL, has certainly paid off. We will also continue to make it easier for people to choose greener travel, such as electric cars and would encourage people to use more active methods of travel such as walking and cycling whenever they can.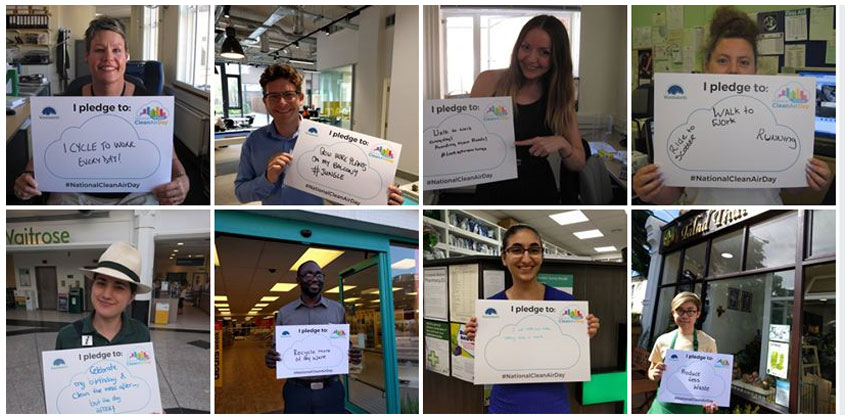 Wandsworth supports Clean Air Day
"We will continue to work hard to reduce pollution levels still further, and are keen to work with the local community to help achieve this. Please get in touch if you can help with our anti-idling work outside schools."
Measures taken to improve air quality include
Find out more at www.wandsworth.gov.uk/airquality.
Make and view comments on this article
You must carefully read and then agree to the Terms and Conditions before accessing the message board and posting a comment. If you do not wish to be bound by these Terms and Conditions, you may not access or use the message board.
If you wish to complain about a comment, contact us at press@wandsworth.gov.uk.
Recent comments
I agree more needs to be done on vehicle idling. At any time I walk down our street there are at least 3-5 diesel vehicles sitting with engines running - wholly unnecessary pollution . I have sometimes asked a driver to switch off if close to my house (on the grounds that I can't open my windows) and sometimes they do, but I nearly always get abuse. Notices on lamp posts and at street entrances would make it so much easier to ask.
Hugh
26 February 2019
This is really good news - as a local, I always suspected that buses were a large part of the problem but the true extent is amazing. Still some work to be done (as you recognise) but really well done so far - it must be really gratifying to see the difference you have made: it makes a real difference for me and my family (and especially my two boys).
rob wood
25 February 2019
Taxis on the rank outside Clapham Junction Station sit with their engines running most days in full view of the Compliance Officers. Why?
Edward Mcmahon
24 February 2019
Taxis on the rank outside Clapham Junction Station sit with their engines running most days in full view of the Compliance Officers. Why?
Edward Mcmahon
24 February 2019
Sounds like good news but much more needs to be done to deter idling. 'No idling' signs on lampposts like they have in Chelsea would be good.
Nick
22 February 2019
Wandsworth Council have not improved air quality in SW12 at all. They have taken no action to enforce the new Clean Air Act 2012 that they put in place. People continue to use log fires and wood burning stoves, therefore, the air around here is foul. When will Wandsworth take action?
Annabel Richings
22 February 2019
Once again this report focuses on the number of times EU regulations were breached. Reducing this number sounds great, but doesn't tell us anything about how much emissions actually fell by in absolute terms. The only usable comparison given of an actual pollution measurement is the level of NO2 measured on Putney High Street, which appears to have fallen by 13% since 2017. Cllr Cook says "pollution levels appear to have dropped dramatically, especially in Putney" - have they really??
Let's keep it in perspective
22 February 2019
Great. But what about PM2.5??
Asif
22 February 2019