Fewer accidents and lower speeds in in first year of 20mph limit
Published: Friday 15th February 19
The borough-wide 20mph speed limit on residential roads has led to a nine per cent reduction in accidents, figures suggest.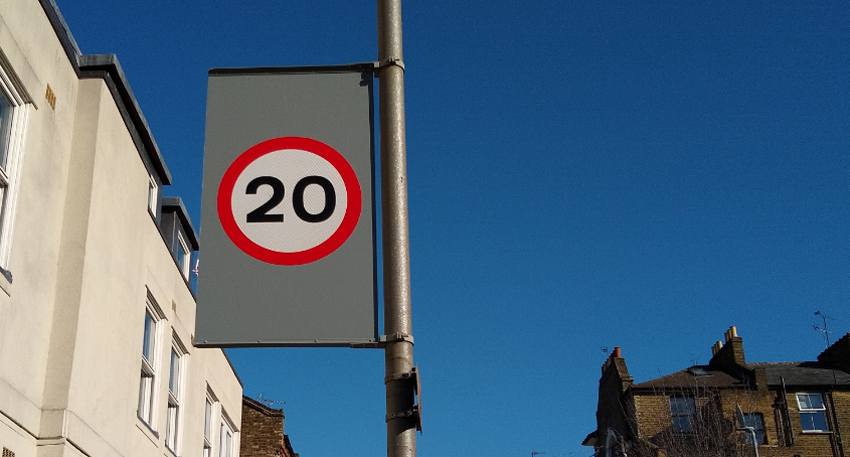 Now, following the success of the scheme, councillors this week agreed to consider extending it to some main roads, subject to the support of local people.
The 20mph limit was introduced in June 2017 following public consultation that showed the majority of local residents were in favour. Automatic traffic counters were installed at 88 sites which showed that traffic speeds in some roads went down by as much as six miles per hour.
An analysis of accident data showed that the total number of accidents on roads that had the lower speed limit fell from 195 in 2017 to 187. Accidents involving pedestrians, bikes and motorbikes fell by 19 per cent.
Accidents involving collisions between pedestrians and vehicles are three times less likely to be fatal if the speed of the impact is 20mph compared to 30mph. Studies have shown that at 30mph, 55 per cent of collisions result in pedestrian fatalities while at 20mph this figure drops dramatically to just 17 per cent.
Research carried out at Community Roadwatch events, at which police, the council and residents work together to use speedguns to check the speed of thousands of vehicles, found that more than 80 per cent of motorists are sticking to lower speed limits.
As well as being safer and encouraging other healthier modes of transport, slowing vehicle speeds reduces noise levels and helps improve air quality.
Since the 20mph limit was introduced on residential roads, there have been several requests made to the council to include main roads. At a meeting of the Strategic Planning and Transportation Overview and Scrutiny Committee on Tuesday, councillors agreed to consider introducing the limit to Northcote Road, Bolingbroke Grove, Bellevue Road, Putney High Street, Rectory Lane and Silverthorne Road if they meet certain criteria.
These criteria include whether traffic travels at an average of 24mph or more, if no additional traffic calming measures are required, if there is an additional benefit, such as improving safety on a busy shopping street, and if the proposal has local ward councillor and resident support.
The council has also bought some speed indicator signs which it will deploy on roads where speeding is perceived to be a problem to remind drivers of the 20mph limit. It will continue to work closely with the police on the Community Roadwatch programme and further measures, such as more enforcement and speed awareness courses, are also being explored.
The council's transport spokesman Cllr Jonathan Cook said: "It's good news that the rollout of 20mph speed limits have helped reduce accidents. I'm especially pleased that accidents involving bikes and pedestrians have fallen so much, because one of the aims of the scheme was to make more active forms of travel safer so that local people are more likely to use them.
"We will continue to work with the local community and the police to keep an eye on traffic speeds and will consider extending the scheme to other roads that could benefit."
Make and view comments on this article
You must carefully read and then agree to the Terms and Conditions before accessing the message board and posting a comment. If you do not wish to be bound by these Terms and Conditions, you may not access or use the message board.
If you wish to complain about a comment, contact us at press@wandsworth.gov.uk.
Recent comments
Please restore the 30mph speed limit for urban roads and just teach everyone the "Green Cross Code" . Stop persecuting motorists!!!
Steely
18 February 2019
I welcome the proposed extension of the 20 mph speed limit to Putney High Street, where traffic seldom reaches 10 mph most of the time anyway. However, I live on a 20 mph road and I know that the speed limit is routinely flouted. Very briefly, we had sensors on lampposts that measured the speed of approaching vehicles. About 9 in 10 were going faster than 20. I expect motorists suddenly play by the rules when they see locals wearing high viz jackets up ahead! Instead of us relying on Community Roadwatch, why can't we have some police patrolling and enforcing the speed limits? They could fine some rogue cyclists at the same time. Is it legal to ride a bicycle with a phone in one hand? What about a pole in one hand? (Yes, seen it.)
Alison
18 February 2019
Still no action on the potential accident spot with cars going the wrong way up Southfilelds Road from Merton Road ... and at speed. Very dangerous indeed and likelihood of head on collision as you don't expect any cars going that way when you turn out of Ringford Road into Southfields Road. Haven't even repainted the No Entry Sign. Just warning everyone not to do it. It's One Way only.
Carol Tibbs
16 February 2019
Vehicles travel way faster than 20mph down Vicarage Crescent, Battersea - and the wrong way down one part of Vicarage Crescent which is 'one way'. One of these new very large cars came out of a turning in Shuttleworth Road very fast - causing us to take evasive action. Personally I don't see the point of the 20mph speed limit - surely the crime should be pedestrians crossing roads other than at a pedestrian crossing (I now get off the 170 bus a stop earlier to be able to use a pedestrian crossing - have requested a pedestrian crossing at 170 bus stops by my home) - and cyclists running red lights, on pavements, going wrong way in one way streets.
LizzieAnne
16 February 2019
I absolutely agree with Anthony Voller and Grahame Rees. 20 mph limits can be justified outside schools when pupils arriving and leaving and some residential streets but the wholesale implementation is ridiculous.
David Forcey
15 February 2019
If the total number of accidents on roads that had the lower speed limit fell from 195 in 2017 to 187, then that's a 4.2% reduction, not 9%. You say accidents involving pedestrians, bikes and motorbikes fell by 19%, but the actual figures aren't provided. Also, where's your evidence that slowing vehicle speeds does anything to improve air quality?
Tom Stewart
15 February 2019
Read comments regarding 20mph with interest. My family and I live on Chartfield Avenue. Please can some signs be put on Chartfield Avenue. There are a lot of vehicles being driven in excess of 40mph on a regular basis. Skip lorrys are regular offenders. Although signs are ignored it can represent a reminder for some motorists. With thanks
Anthony Voller
15 February 2019
Sorry I don't get it. If total accidents fell from 195 to 187 then that's a five percent or so reduction. Cool, but if accidents involving pedestrians, bike and motor bikes fell by 19% then other types of accidents must have increased or the total number of accidents involving pedestrians, bikes and motor bike must be a very small proportion of the 195. Why do I feel there's more to the stats that the council aren't sharing?
George Martins
15 February 2019
Whereas I welcome the 20mph restriction I find that the worst offenders in these zones are buses and mini cabs. Conditions should be imposed on the licences of of these vehicles to force compliance. I find it intimidating to be driving at 20mph with a double decker bus tailgating me and trying to get me to go faster,
Michael Churchill
15 February 2019
I live on Augustus Road Sw196lw and the 20mph speed limit is ignored by drivers here, i see motorists driving 30,40 and some motorcycle going 50 mph up and down this road(who drive in the middle of the road to avoid the traffic humps). It won't be long before there's a very bad accident
Grahame Rees
15 February 2019
Really ? Does anyone take notice of 20mph zones, if you did you would spend all your time looking at your speedometer rather than out of the window. they have cost millions to implement, what a waste of tax money.
Simon
15 February 2019