Are you prepared for launch of new Ultra Low Emission Zone?
Published: Wednesday 13th February 19
With less than two months to go before a new charge will begin to be levied on some motorists in central London, residents are being urged to familiarise themselves with the new rules.
On April 8, the Mayor's new Ultra Low Emission Zone (ULEZ) will come into effect and will apply to all vehicles entering the area of central London covered by the existing congestion charge zone.
On that day new exhaust emission standards will come into force affecting all vehicles that enter the zone. Those that don't will need to pay a daily charge - £12.50 for cars, vans and motorcycles and £100 for buses, coaches and lorries.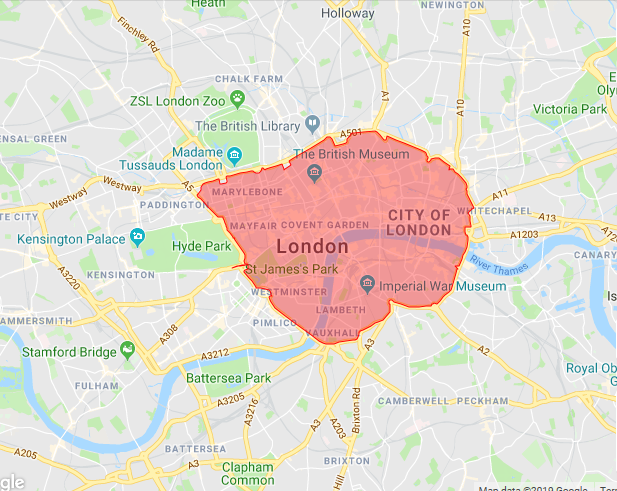 From April drivers of non-compliant vehicles will need to pay more to drive within this zone
The congestion charge will be unchanged by the introduction of ULEZ and will continue to operate. The daily fee for non-exempt vehicles entering the charge zone will remain at £11.50.
Unlike the congestion charge which will continue Monday to Friday 7am to 6pm, the ULEZ will apply 24 hours a day, seven days a week.
To discourage the use of the most polluting vehicles, drivers travelling within the zone and using non-compliant vehicles will need to pay the daily ULEZ charge as well as the congestion charge.
Non-compliant vehicles include:
• Motorbikes that do not meet Euro 3 standards (roughly the equivalent of not being more than 12 years old in 2019).
• Petrol cars and vans that do not meet Euro 4 standards (roughly the equivalent of not being more than 13 years old in 2019).
• Diesel cars and vans that do not meet Euro 6 standards (roughly the equivalent of not being more than four years old in 2019).
• Buses, coaches and lorries will need to meet or exceed the Euro VI standard or pay £100 a day.
Drivers can use TFL's online checking tool to see if their vehicle will meet the ULEZ's emissions standards.

The introduction of ULEZ is a central part of the Mayor's plan to tackle London's toxic air and address the severe health impact of poor air quality.
• The introduction of the ULEZ in central London is set to be followed in 2021 when the Mayor plans to roll out the zone to cover a much larger part of the capital – including much of Wandsworth.
Under the Mayor's proposals the zone will expand in October 2021 to form a new boundary with the South Circular Road. This means half the borough will be within the zone and half outside it.
This would affect anyone driving within a zone whose southernmost boundary was marked by the Upper Richmond Road, Wandsworth High Street, East Hill, Wandsworth Common Northside, Battersea Rise, The Avenue Clapham Common West Side and Clapham Common Southside. Anyone driving north of these roads would need to comply with the new ULEZ regulations. The northern boundary of the ULEZ would be the North Circular Road.
In 2021 the Mayor plans to extend the ULEZ to cover this area of London
Make and view comments on this article
You must carefully read and then agree to the Terms and Conditions before accessing the message board and posting a comment. If you do not wish to be bound by these Terms and Conditions, you may not access or use the message board.
If you wish to complain about a comment, contact us at press@wandsworth.gov.uk.
Recent comments
I think it's a great idea and all those moaning need to wake up to the modern world. We are way behind Europe ref pollution and it's about time we caught up with Norway that now sells more EV than dirty Deisel or Petrol.
Ada
7 April 2019
Agree with those who ask whether there will be another Wandsworth waste disposal site outside the ULEZ zone (or an exception for residents who wish to use it with an older car). I own a car that will be caught by the charge but live outside the South Circular and am not happy to have to pay £12.50 just to drive a mile into the zone to drop off my recycling and other items that cannot be collected. Please can the council outline what it intends to do to help those of us who do not wish to replace a perfectly good, well maintained older vehicle, but need to dispose of household items from time to time? Can an exception be granted and/or will the council compensate residents who have to pay the ULEZ charge just to use this facility?
Caroline
26 February 2019
In 2021 when the ULEZ one moves to the South Circular this will mean that the Council recycling site at Smugglers Wharf will be inside the zone while the majority of the Borough will be outside. This will mean that most people who use it will have to pay the charge which I would imagine not many will be prepared to do so I can see an increase in fly tipping. Is the Council going to try and see if the site can be an exception and the charge not apply in that area? This is a concern as I already see more and more rubbish dumped on our streets and want to see it reduce not increase.
Paul Willson
18 February 2019
I have no plans to buy a new car to replace my existing (and fully functional) 18 year old vehicle - will there be reductions/exemptions for residents of these zones?
Michael H
18 February 2019
So what to do with my perfectly good diesel car, bought in 2008 and chosen because the then government wanted us all to buy diesel?
Simon
16 February 2019
The expansion in 2021 to the South Circular will mean the Waste Disposal site will be inside the Zone. Are there any plans to have that as an exception or to have another site outside the Zone.
Jack McDowall
15 February 2019
If it was really all about cleaning up London's air quality 'TFL Steve', why has your glorious leader Khan given a convenient exemption to all the Riverbus, which are only affordable as regular transport to the rich and privileged anyway !? [and TFL staff and their families of course, who are given free london-wide transport passess]. Let's tell it how it is TFL Steve - TFL has a massive shortfall and Khan needs a new income stream [tax] to fiil it........The motorist......again. Pity you don't turn your wrath on the real culprits like the expanding Heathrow !
D Spring
15 February 2019
Totally disagree with the introduction of the 2021 expansion of the low emission zone, this is in my opinion totally unnecessary, and is just a move by the present Mayor to gain income once again from the hard hit motorist, it is descrimitary and will hit the low income families and pensioners who rely on their MOT passed vehicles effectively making their perfectly roadworthy vehicles worth nothing, while the rich will think nothing of having to purchase a new vehicle, completely wrong.
PETER FRENCH
15 February 2019
Re Jo: Because people who live in this borough are dying as a result of the filth these vehicles are filling our air with. You wouldn't put a gun to someone's head and shoot them. Yet is it ok to damage someone's lungs just so that you can get around? It's time to stop pretending and take responsibility. Accept the science that driving a filthy vehicle damages other people's health. It's been widely known for some time that diesel emissions in particular are terrible for humans health. If people choose to ignore that when they bought a diesel then this is their comeuppance. Let's's bring forward the expansion of the ulez to late 2019! Why should we wait 2 more years when millions are breathing in illegally toxic air daily.
Steve
15 February 2019
Why are wandsworth residents not up in arms about the 2021 zone changes - it's going to cost most of us with pre2016 cars c.£12.50 a day to drive inside the south circular. Can you afford a new car? Only way to stop this new zone is to get a new mayor I guess ?
Jo
15 February 2019