Preferred location identified for Nine Elms Pimlico Bridge
Published: Wednesday 6th February 19
A new walking and cycling bridge will provide Londoners with access to the homes, jobs and leisure facilities being created in central London's newest town centre at Nine Elms.
The bridge design team appointed by Wandsworth Council has identified a preferred location for a new Thames bridge linking Nine Elms and Pimlico. The recommendation is being considered by the Council's Finance and Corporate Resources Overview and Scrutiny Committee, which is meeting on 13 February.
The recommended location crosses the river between Grosvenor Road riverbank (west of Claverton Street) on the north side of the Thames at Pimlico and Kirtling Street, near Battersea Power Station in Nine Elms on the south side.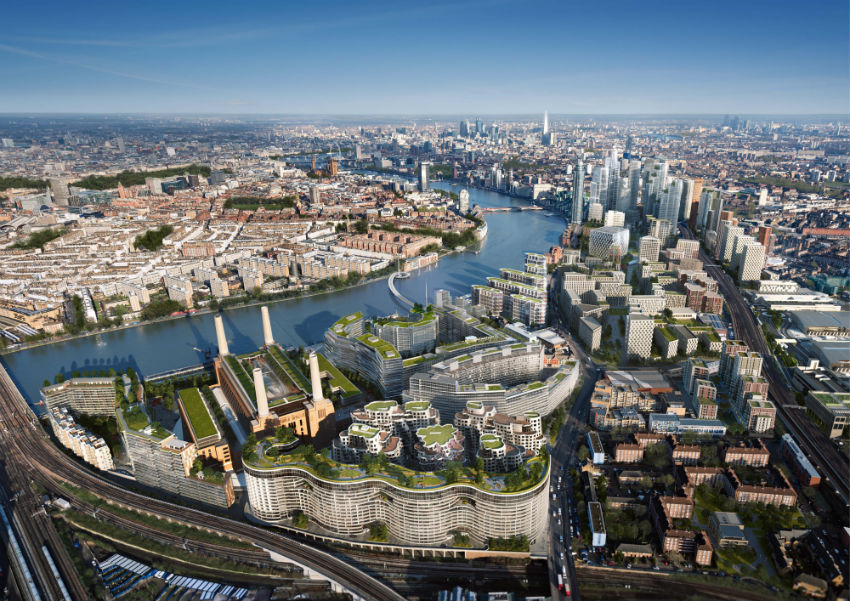 Aerial visualisation of Nine Elms Pimlico Bridge preferred location
Over the next decade Nine Elms is set to become a major new commercial hub in London, providing new culture, leisure and retail facilities alongside new office space attracting major, international occupiers, such as Apple. The proposal for the Nine Elms Pimlico Bridge is part of a package of measures required to support the growth of the Vauxhall Nine Elms Battersea Opportunity Area, as identified in the Mayor's London Plan alongside other infrastructure needed for the Capital. By 2030, 20,000 new homes and 25,000 new jobs will be created in the Area, creating a whole new district on the south bank of the River Thames.
The recommendation concludes an extensive consultation process with the public and stakeholders, alongside technical investigation into three feasible location options.
Whilst all three locations were deemed to be deliverable, the identified location is recommended as providing the best opportunity to create new, sustainable transport links connecting the Vauxhall Nine Elms Battersea (VNEB) Opportunity Area with local neighbourhoods and communities, and the rest of London beyond.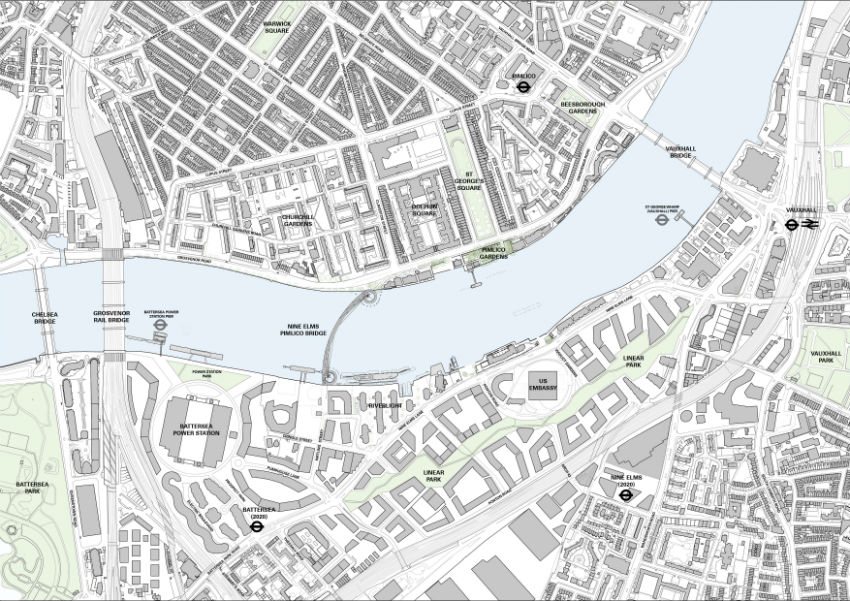 Map showing preferred location of Nine Elms Pimlico Bridge
The recommendation reflects extensive technical analysis into aspects such as environmental impacts, navigational constraints and underground utilities. It also reflects input from stakeholders and local communities, especially regarding the potential impact of a crossing on trees in Pimlico Gardens.
The preferred location also presents an opportunity for the Bridge design to positively shape the riverside public realm on both sides of the river and also takes into account any potential negative impacts identified through the consultation and technical investigations.
Robin Snell of Robin Snell and Partners and project team lead, said: "After an extensive consultation and technical evaluation process we are delighted to be able to recommend a preferred location for the Nine Elms Pimlico Bridge to Wandsworth Council."
"The new Bridge will be designed for pedestrians and cyclists to provide a safe, sustainable access route for all Londoners to access the new homes, jobs, leisure facilities and shops that are being created in Nine Elms and around Battersea Power Station."
"If approved by the Scrutiny Committee we look forward to progressing to the next stage of the Design process, continuing to talk to Londoners about our plans and helping to deliver what will be a landmark new Bridge for London."
Visualisation of Nine Elms Pimlico Bridge looking westbound
Peter Murray, Chairman of New London Architecture, said: "This is an important step in the delivery of the new bridge and the infrastructure necessary to improve conditions for pedestrians and cyclists in this part of London. We need to increase the numbers of people using methods of active travel - walking, cycling and public transport - to move around the city and the Nine Elms Pimlico Bridge will help do that. It is also a very elegant design which will enhance this stretch of the river."
The Finance and Corporate Resources Overview and Scrutiny Committee is being asked to approve the recommendation of the project team before any further stages can be considered.
Read the Finance and Corporate Resources Overview and Scrutiny Committee paper
Find out more about the proposed bridge on the Nine Elms Pimlico Bridge website
Make and view comments on this article
You must carefully read and then agree to the Terms and Conditions before accessing the message board and posting a comment. If you do not wish to be bound by these Terms and Conditions, you may not access or use the message board.
If you wish to complain about a comment, contact us at press@wandsworth.gov.uk.
Recent comments
As someone who did indeed live in Westminster and and occasionally work in Wandsworth and, some years later, lives in Battersea and occasionally works in Westminster, it was not a chore to use Chelsea or Wandsworth Bridge.
susan lofthouse
10 February 2019
What on earth does it mean when the bridge is described as "safe and sustainable"? I bet it won't feel pleasant on a dark winter's night when the floor is wet and slippery, the wind and rain are blowing down the Thames and the lighting is too dim to see properly. How about a covered bridge? If you want to see a badly specified floor surface, visit the new V & A courtyard on a wet day. So slippery it's like walking on ice.
A
9 February 2019
Would be interesting to see what the south side bike approaches to the bridge actually are. Eg cycling through northern carriage drive at Battersea Park, how does one actually reach the bridge? It is unclear what cycling will be allowed on the apparently private land on approach, for example.
Mr T Rizolli
8 February 2019
As someone who lives in Wandsworth and works in Westminster I think the bridge is a great idea. I cannot see how any reasonable person living in Pimlico could object to this new location.
Yola
8 February 2019
This is good news. Are there any plans to manage cyclists who will use the bridge to access Battersea park via the thames path. It may need a link within Battersea park to the road from the path?
Peter Noble
8 February 2019
On Mars. The last thing existing Battersea residents need is one of Ravi's vanity projects. We do not need a bridge which will be for those who occupy the bloated and over-priced homes on the Power Station development. This money would be better spent on local services and upkeep of existing homes for often ignored real residents of battersea.
Mr John Gallagher
8 February 2019
Obviously not the best location for the bridge but I assume it is a good compromise to see if the nimbies from Pimlico keep quiet (or quieter) as the reality is they don't want us - people from south of the river as they think they are better.
Marco
7 February 2019
What we could do with is a new bridge - built strong - to convey all these ever increasing in size HGVs. Am fully expecting one of our very old Central London bridges to collapse under the weight of some of these lorries I see. Hope if this 'vanity project' is ever built that the users will have to pay to cross.
Liz D
7 February 2019
Wonderful design and great location. Don't listen to the nimbys we need a decent traffic free river crossing.
Mike
6 February 2019
Reading between the lines of this article and of the little puff from the Nine Elms Pimlico Design Team sent to a resident of Westminster, it would appear that this is not just a footbridge, but a move to encourage excessive new commercial enterprises. So many people both sides of the river do not want this bridge, this "vanity" project, as they have nicknamed it. The similarity of phrases in both texts do rather make it look as if the NEPDT is, in fact, some offshoot of Wandsworth Council. I hope not.
susan lofthouse
6 February 2019