Work begins installing another 250 electric vehicle chargers in lamp-posts
Published: Friday 1st February 19
Work is now underway on a major project to install new electric vehicle charging sockets in around 250 street lights across the borough.
Wandsworth's goal of becoming the best place in London to own an electric vehicle (EV) has been boosted by the signing of a contract with electronics giant Siemens to install this charging infrastructure as part of a £400,000 deal.
The Siemens equipment ties in with leading EV charging provider ubitricity which has already been tried and tested in the borough.
This will give EV owners two options in terms of connection. They can either use a ubitricity cable which also brings the customer's own electricity tariff, or they can use a standard cable, scan the QR code at the charge point with their mobile phone or tablet and charge via DirectAccess, the pay-as-you-go-option.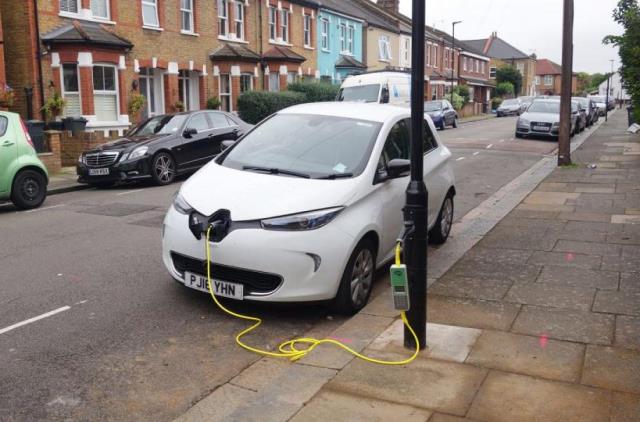 The council has plans for 900 on-street charging points
This latest investment is helping the council meet its target of delivering nearly 900 on-street charging points in total. Nowhere else in London is delivering EV infrastructure on such a scale.
Sockets have already been installed in the first wave of street lamps where residents have requested them. This latest investment of £400,000, funded mainly via the Government's Go Ultra Low City Scheme (GULCS), will pay for around 250 additional ones.
On top of this the council is to install around 400 charging plugs in every suitable lamp-post inside two pilot zones in parts of Putney and Battersea immediately adjacent to the proposed extension of the Mayor's Ultra Low Emission Zone (ULEZ). The results from these trial schemes could see lamppost charging extended to other residential areas.
This means that approximately 650 street lights in Wandsworth will be having sockets fitted to them. Using street lights as chargers doesn't impact on parking provision because there are no restrictions on the types of vehicle allowed to use adjacent parking spaces - so they can be used by both electric and non-electric vehicles.
Source London is providing 200 charging points in the borough
Another EV charging company Source London is providing a further 100 charging points at various locations across the borough, adding to the 100 already installed across Wandsworth.
And for those who don't need to own a vehicle but want to enjoy occasional eco-friendly motoring, two new e-car clubs are now operating in Wandsworth – offering a convenient and eco-friendly alternative to car ownership, providing electric vehicles to hire by the hour, day or week.
These car club EV's will use the Source London charging points and allow residents to hire an electric car by the hour, day or week. Wandsworth already has one of the highest take-up rates of car club membership in London with 15,000 members and this will give local people a more eco-friendly option.
The £400,000 GULCS funding is on top of the £3m the council has agreed to invest to encourage residents to switch to this more environmentally-friendly form of motoring.
Tooting resident Matthew Paterson with Cllr Cook. Mr Paterson said lamp-post chargers in his street were "a game changer"
The number of electric vehicles bought by people living in the borough has grown from 127 at the end of 2015 to around 600 today – with numbers rising by around ten per cent every three months.
Current projections indicate that around 6,000 electric vehicles will be registered in the borough by 2025 – but with enhanced infrastructure and more charging points that number could rise to nearer 10,000. Existing analysis indicates that Wandsworth already has one of London's the highest EV take up rates in London.
The council's own fleet of cars and vans is gradually being replaced by electric versions. All will eventually go electric as suitable vehicles become available.
Earlier this year Matthew Paterson became the first resident in Wandsworth to have lamp-post sockets in his street switched on.
The computer software developer from Mandrake Road in Tooting uses a plugin-hybrid to make short journeys powered solely by an electric motor. He said having lamp-post sockets in his street was "a game changer".
He added: "Having local charging points virtually on our doorsteps makes owning an EV practical for everyone who lacks off-street parking; I'm sure this new infrastructure will encourage others nearby to follow suit and 'go electric'."
Cllr Cook: We're determined to be
ahead of the game
Transport and environment spokesman Cllr Jonathan Cook said: "It's vitally important that all levels of government, including city mayors and local councils start providing the infrastructure that will be needed to keep people on the move.
"Here in Wandsworth we are determined to be well ahead of the game in supporting our residents and businesses who choose to make the switch to electric. By creating such an extensive network of charging points we aim to remove one of the biggest hurdles facing people thinking about the feasibility of changing from petrol and diesel to electric.
"Ours is an ambitious programme which has the potential to achieve a real improvement in air quality. We've already done a lot to tackle pollution in Wandsworth and this investment will help us do even more."
Chris Beadsworth, Director at Siemens Energy Management, said: "Siemens and ubitricity are working closely to provide people with electric vehicle charging infrastructure which is available at the most convenient location for them to help accelerate the increase in privately owned electric vehicles. We are delighted that Wandsworth have come together to offer this service for their residents.
"By making charging convenient for people across the borough, it will help accelerate the uptake of electric vehicles, driving a cleaner and greener city. Under the GULCS framework, we expect to see over a thousand sockets installed across London for its residents over the coming months."
Make and view comments on this article
You must carefully read and then agree to the Terms and Conditions before accessing the message board and posting a comment. If you do not wish to be bound by these Terms and Conditions, you may not access or use the message board.
If you wish to complain about a comment, contact us at press@wandsworth.gov.uk.
Recent comments
Where can I see a map of planned rollout? I would like to know if / when charge points will be installed on Rowfant Road or nearby.
Kevin Watson
15 April 2019
This is great. We are holding off buying an EV until we have a charging point in our street, but we want to change as soon as possible. When can we expect one or more in Granard Road? Is there a map of your roll out plans?
Terry Hunt
6 February 2019
There have been 3 electric charging points in Cabul Road for almost (?) a year now - these are three parking spaces which are not available any more to local residents. I have only ever seen 3 cars charging at these points since they were installed (i.e. 3 occurences of cars using them to charge) - waste of time, money and resident parking spaces. Incidentally I have seen one car being charged in Little India - but not from any of the charging points - from the owners home electricity supply - don't blame him as it is probably cheaper!
S Campbell
2 February 2019
We have had an electric car for more than 4 years - how do we request a charging point?
Jan Helle
1 February 2019
We have had an electric car for more than 4 years - how do we request a charging point?
Jan Helle
1 February 2019
Still waiting for over a year. Can't come soon enough. Using the 'customer's own electricity tariff' is additional good news. Source London as we all know is a rip off, once you do the maths no one is going to use Source London. It remain's shocking that the council and greater London has wasted time, money and parking spaces on a relationship with that company.
Paul Gregory-Cullen
1 February 2019
We require information such as how many KW these lamp post chargers will offer. And whether AC or DC Please advise Thanks
Jayant Krishnan
1 February 2019
I agree with the comment about Source London. Expensive ! Roll on the Wandsworth roll out !
suzanna hopwood
1 February 2019
Well done Wandsworth! Setting a great example for the rest of London. It's a shame the Source London points are such a rip off and no one is using them, but the lamppost scheme is what we need!
James White
1 February 2019