Have your say on how best to spend £300k on improvements at Fred Wells Gardens
Published: Friday 25th January 19
A public consultation will begin next week to gauge people's priorities for how best to spend more than £300,000 on improving a small park in Battersea along with its children's playground.
The council's open spaces contractor Enable Leisure and Culture will be seeking the public's views on the best way to spend £316,000, which has been earmarked for a series of improvements at Fred Wells Gardens in Vicarage Crescent.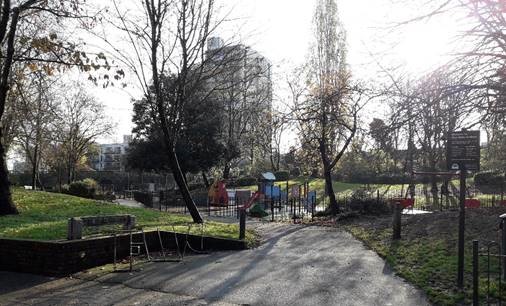 Fred Wells Gardens
The consultation will begin this coming Monday – February 28 – and to help explain the proposals in more detail staff from Enable are holding two drop-in sessions next week where people can ask questions and find out more about the plans. These face-to-face sessions will be held at the Katherine Low Settlement, 108 Battersea High Street at the following times:
• Wednesday, January 30 - 11am to 2pm
• Saturday, February 2 – 12noon to 3pm
There are two elements to the proposals. The first set are classed as works that are necessary to ensure the playground and other parts of the park remain properly maintained.
This includes replacing some child friendly soft surfacing in the playground, rebuilding walls undermined by tree roots and widening paths and stairways to ensure they are more family friendly for parents with buggies while also improving access for people with disabilities.
The second element includes a range of proposals for new play equipment or improvements and upgrades to what is already there, plus an option to resurface the tennis court, parts of which have sustained tree root damage.
The aim of the consultation is to identify any areas that have been missed in the first set of proposals and to then identify which among the second set are viewed as priorities by local people.
People can view the options and take part in the consultation by visiting https://haveyoursay.citizenspace.com/wandsworthecs/fred-wells-gardens-19
If people would like a paper copy of the consultation questionnaire they can email consult@wandsworth.gov.uk or contact the parks office on (020) 3959 0060.
The consultation will close on Sunday, March 24.
Make and view comments on this article
You must carefully read and then agree to the Terms and Conditions before accessing the message board and posting a comment. If you do not wish to be bound by these Terms and Conditions, you may not access or use the message board.
If you wish to complain about a comment, contact us at press@wandsworth.gov.uk.
Recent comments
Thank you to Wandsworth for trying so hard. There are always irresponsible people and responsibility people for picking up there dog poo. How about putting cameras and catching the irresponsible ones !? The grass is always muddy, the water drainage is not right. Otherwise it is a fantastic place, also for good and responsible dog owners. Thank you.
C. Panis
26 January 2019
£300,000 K - seems a lot of money I live over the road to Fred Wells Gardens. Seems perfectly OK to me. Although the tennis court which is well used could do with re surfacing - I had a very bad fall on the uneven bits at the south end a few years ago. Childrens play grounds could maybe be spruced up a bit as they are well used. Not too happy about the fact the Fred Wells Gardens is used as a dogs lavatory by all and sundry - I've often seen dog owners + dog walk all round the garden and then out - with the owner never looking behind them as their dog does a poo.
Elizabeth Denton
26 January 2019