Smart bins coming to Wandsworth
Published: Wednesday 23rd January 19
Wandsworth Council is trialing smart bin technology to help keep the borough's streets clean.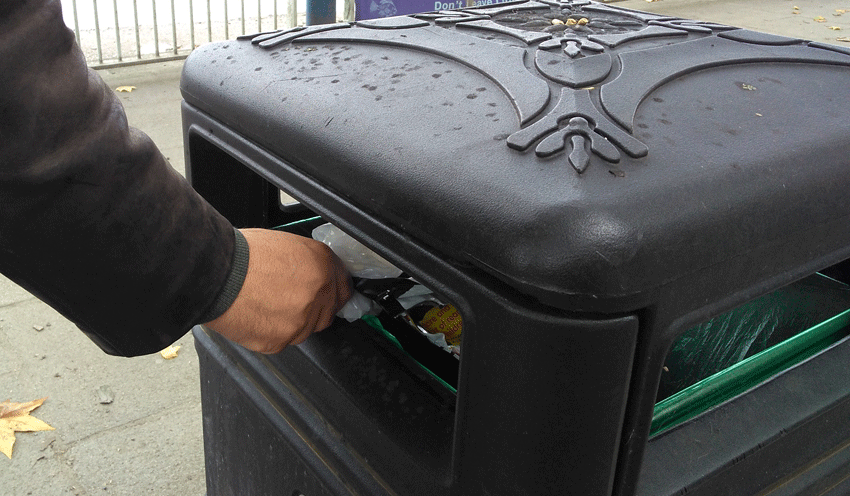 The technology will be put into existing litter bins
Smart bins technology consists of a sensor that alerts the council's waste team when the bins are full. This means collection teams can focus on bins that need emptying.
The council is planning a pilot scheme at around ten locations around the borough, with the technology installed in existing bins.
The trial is part of a range of measures being taken by the council to reduce litter and flytipping. It is planning to trial special bins that recycle chewing gum, and has launched the #MyWandsworth campaign to send a clear message that flytipping is unacceptable. Alongside this, it will continue to fine litterbugs, and prosecute the most serious flytippers.
The council spends around £4m a year on its street cleaning service – all streets are swept at least once a week and busier streets are swept up to six times a day. There is also a rapid response team dealing with issues such as flytips, dead animals and broken glass.
The MyWandsworth campaign is helping to fight flytipping and littering
The council's environment spokesman Cllr Steffi Sutters said: "Keeping Wandsworth's streets amongst the cleanest in London is a priority for the council, because our residents have told us it's important to them. We will continue to do all we can to keep on top of litter and flytipping, and this smart technology could be a good way to evaluate new solutions and use our resources effectively.
"We will search for more locations and hope to have the pilot scheme up and running soon. If it's a success, we will roll it out across the borough."
Find out more about street cleaning, including when your street is cleaned and how to request a street clean or report a flytip, at www.wandsworth.gov.uk/streetcleaning.
Make and view comments on this article
You must carefully read and then agree to the Terms and Conditions before accessing the message board and posting a comment. If you do not wish to be bound by these Terms and Conditions, you may not access or use the message board.
If you wish to complain about a comment, contact us at press@wandsworth.gov.uk.
Recent comments
Please consider increasing awareness regarding fly-tipping through campaigns and early years educations. A uneducated adult was most likely an uneducated child. Please consider making all primary and secondary school children watching the documentary "a plastic ocean" available on Netflix. Also, as many before me already pointed out, one of the primary problems is that there are not enough bins around London in the first place. Consider significantly increasing, particularly at bus stops, tube stations, traffic lights.
Laura Omero
29 January 2019
I get fed up reporting flying tipping, but nothing gets done the last report was Monday about a low fridge dumped in Longmead Road a sof Friday, not yet removed!
Debbie Maddock
26 January 2019
Why are our streets and public spaces still littered with the ugly sight of cigarette butts. It is 2019 and they are still a blight. They are everywhere along Balham High Rd and adjacent streets and public spaces there. Why do smokers think this is acceptable and why is there not a zero tolerant approach to dealing with this. It is unacceptable that the public has to experience this day in day out, year after year. If smokers won't change their behaviour then it is time the smokers pay for the cleanup by adding this onto the cost of a packet of cigarettes.
Gill Allen
26 January 2019
Great idea but there are not enough bins on Vicarage Walk and what about the green bins and the poo bins.?? Vicarage Walk is always dirty, putting some cameras would catch the people who do not pick up behind their big dogs. Thank you for trying so hard
C. Panis
26 January 2019
A better way to ensure clean street would be to replace the litter bins that you have taken away from bus stops, especially those along Putney Heath.
Agnes Blair
26 January 2019
I think the bin sensors sound like a great idea and a step in the right direction. I live close to East Putney Station, where the litter bins overflow into the road on a daily basis. If the council could empty them more often, before they pollute the rest of the street, that would save their roadsweepers a lot of work and keep the area looking tidy. Considering how much of the litter in the bins consists of free newspapers and takeaway food packaging, perhaps the companies that generate the litter could pay towards the cost of clearing it up? Perhaps Costa Coffee and McDonalds and other big takeaway firms could provide their own (branded) street litter bins? (Or more people could try cooking at home/eating out WITHIN THE RESTAURANT.)
Alison
25 January 2019
Christine Fremantle, I totally agree with you!!! On my road, there has been a sofa in a front garden for about a year, with weeds out of control. The house next door has litter piling up on top of the shed where they keep their bins. Both houses consist of a number of rented flats. I can't believe that not a single tenant has enough self-respect to go out once in a blue moon and CLEAR IT UP!!! I pick up litter from my own communal front garden and front wall every day. I even picked up litter down the road this week. Yet it seems that most of the people we have living on our road don't have the breeding or self-respect or whatever it is that you need to keep your own home neat and tidy. They live like they were raised in a barn.
Alison
25 January 2019
Douglas Brewster, the Borough of Richmond provide recycling bins alongside general rubbish bins in several open spaces. I find them useful. However, the sad fact is that these recycling bins are all too often abused by people who have no idea which is which, nor what to put where. It's not surprising, really, when you consider how many people can't even work out whether to leave their rubbish on a wall or in the gutter. I can't imagine it's much use to the tip if the recycling comes in strewn with rotting food, etc. It might be more practical to leave the recycling to those of us with enough intelligence to take our rubbish home in the first place.
Alison
25 January 2019
Gill Thumwood, I have previously had success reporting that a street needs cleaning by using the council's website: https://wasteservices.wandsworth.gov.uk/live/public-access/ You might prefer to telephone the council's waste dept: 020 8871 8558 Or write them a letter: Wandsworth Council Environment and Community Services Department, Waste and Street Cleansing Services Ground Floor Tadmore House, Frogmore Depot, Frogmore, London, SW18 1EY Good luck!
Alison
25 January 2019
Let's hope we see more of these at locations OTHER than just bus stops
C Jones
25 January 2019
Despite the fact we pay council tax and get our rubbish collected, our road Groom Crescent is never cleaned. It is also completely ignored by gritters too.
Gill Thumwood
25 January 2019
Why are these new bins not compartmentalised so recyclables can be seperated from ordinary waste? It seems ridiculous that these bins are treating metal can, plastics and glass as ordinary waste. This is 2019 not 2000!!!
Douglas Brewster
25 January 2019
Smart bins are all very well, but every hedge, grassy area and flower bed are used for rubbish. Have a look at Falcon Lane and the road up the back of Clapham Junction. The litter in the streets is also very depressing, especially ear bus stops. The population seems blind to the degraded look of their borough. Even the front garden of the handsome Salesian school is full of discarded fast food packaging.
Christine Fremantle
25 January 2019
We are very grateful to Queenstown Ward Councillor Paula Walker who has been campaigning on this for a very long time. Congratulations.
susan lofthouse
24 January 2019