Dame Darcey Bussell sets the stage for new Royal Academy of Dance headquarters in Battersea
Published: Wednesday 23rd January 19
President of the Royal Academy of Dance Dame Darcey Bussell and the leader of Wandsworth Council Ravi Govindia launched the first stage of development for the new global headquarters of the Royal Academy of Dance (RAD) in Battersea today (Jan 23).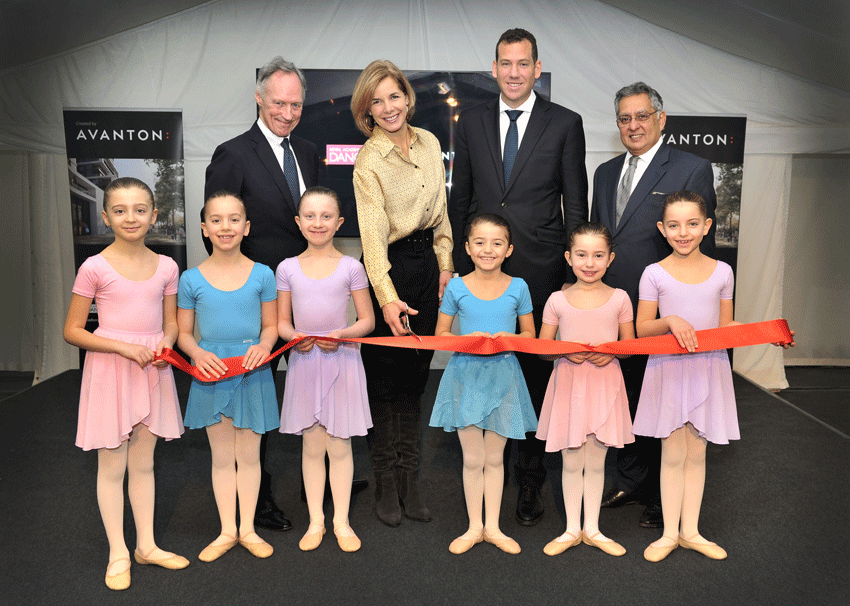 Dame Darcey Bussell, President of the Royal Academy of Dance, was joined by (from left-right) Luke Rittner, Chief Executive of the Royal Academy of Dance, Omer Weinberger, Managing Partner of Avanton, Cllr Ravi Govindia, Leader of Wandsworth Council, and dance students today to mark the first milestone in the development of the new Royal Academy of Dance headquarters at Avanton: Battersea.
They both attended the topping out ceremony at Avanton: Battersea. The new building will be completed in 2020 – the Academy's centenary.
Dame Darcey Bussell was joined on site by Luke Rittner, Chief Executive of the Royal Academy of Dance, Avanton's Managing Partner, Omer Weinberger and Cllr Govindia, along with students of the Academy to mark the occasion.
In a special dance display a group of six RAD dance students unveiled a 10-metre long ribbon, cut by Dame Darcey to mark the first stage of this new development.
The ceremony marks an exciting new chapter in the Royal Academy of Dance's future as a world-class leader in dance education and training. The new 60,000 sq.ft building provides almost double the footprint for the Academy, and will enable the Royal Academy of Dance to meet increasing demand for dance classes and workshops for people of all ages and abilities. Working closely with Wandsworth Council, the Royal Academy of Dance will be delivering a cultural engagement strategy for the local community.
The fully accessible new headquarters will include:
Eight full-size dance studios with sprung floors and high specification sound equipment
A performance theatre (178 capacity) with full lighting rig and sound desk
A library and archive that will house and display many of its original costume and dance artefacts
A new retail space and large café for members, visitors and tourists
Dame Darcey Bussell said: "Today marks an exciting new chapter for the Academy as we approach our centenary in 2020. This building symbolises a new 'home' of dance, that will benefit our worldwide members, staff and partners, and will also enable us to strengthen our links to the local community. As President I am proud of the work the RAD does to promote a love of dance in everyone, regardless of ability or background, and to nurture future generations of talented teachers and dancers."
Cllr Ravi Govindia said: "The Royal Academy of Dance is a Wandsworth institution who have been in the borough for almost 50 years. It was critical to us that they stayed in Battersea, a part of London which is ever evolving, and continued to add to our exciting range of cultural venues and organisations.
"The new venue marks the next stage in their journey and is an important addition to the local area, with the local community continuing to benefit from their presence as a world class institution and the wonderful work they do. I wish them every success in their new home."
Make and view comments on this article
You must carefully read and then agree to the Terms and Conditions before accessing the message board and posting a comment. If you do not wish to be bound by these Terms and Conditions, you may not access or use the message board.
If you wish to complain about a comment, contact us at press@wandsworth.gov.uk.
Recent comments
You made some clear points there. I did a search on the subject matter and found most people will consent with your website. https://www.inc.com/justin-bariso/amazon-wikimedia-wikipedia-donation-1-million-emotional-intelligence.html
Wikipedia
26 January 2019
Royal Academy of Dance - moved from a part of Battersea - 2 minutes away from Thomass School to an area of Battersea - which is mostly Council estates hope the young dancers will be safe - good move Wandsworth (NOT).
LizzieAnne
23 January 2019