Motorists warned to beware of parking conmen
Published: Friday 18th January 19
People parking their cars are warned that fraudsters pretending to be council parking enforcement officers are conning people out of money.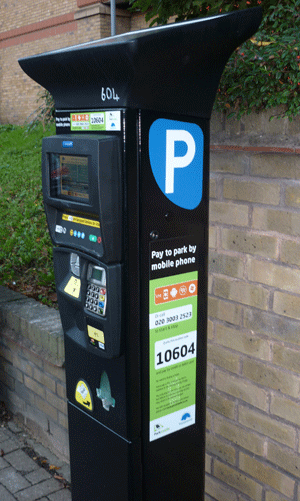 Most machines accept contactless
The council's parking and community safety teams have had several reports that the thieves are stealing people's cards and PINS and withdrawing cash. One victim had £3000 syphoned out of her bank account following the fraud.
In some cases blue badge holders are told there is a new council policy that means they must register their vehicle at a parking machine. This is completely false. On other occasions a couple who pretend not to be able to speak English ask to use the victim's card in a parking machine in exchange for money.
Some of the thieves, although not all of them, dress in the manner of a real parking attendant. The couple are described as having a middle-eastern appearance.
The motorist is told to put their card into the machine and enter their PIN in front of the thieves. The thief or thieves then say the card has been 'swallowed' and encourage the victim to leave – leaving them in possession of both the card and its PIN. Often the theft happens at a machine located near a bank, so that the scammers can quickly withdraw cash.
The council's deputy leader Cllr Jonathan Cook said: "Our civil enforcement officers will be keeping a close eye out for these conmen, and we have alerted the local Safer Neighbourhood Teams so that the police can help us track them down.
"In the meantime I would urge everyone to be on their guard. Never enter your PIN into any cash or payment machine in view of anyone else, and be aware that once you have entered your PIN, it is not possible for the machine to 'swallow' your card. All our parking machines that accept cards also accept contactless payment, so we would encourage people to pay that way.
If you are concerned you have been conned, contact your bank immediately so that your card can be cancelled."
Further information on this and other recent scams has been published by Age UK. If you would like to speak to a member of the council's community safety team, call 020 8871 8895 or email communitysafety@wandsworth.gov.uk.
Make and view comments on this article
You must carefully read and then agree to the Terms and Conditions before accessing the message board and posting a comment. If you do not wish to be bound by these Terms and Conditions, you may not access or use the message board.
If you wish to complain about a comment, contact us at press@wandsworth.gov.uk.
Recent comments
Visiting a friend in Wiseley Road SW11 yesterday I tried 3 different parking meters and all 3 failed to accept by credit and bank card.My friend rang council who told her to ring park mobile which I did who advised me any problems with parking meters is the responsibility of the Council.After reading about these dreadful scams I hope my cards have not been cloned.One of the meters I tried was number 10377.Surely the Council should be more proactive in checking meters work
Rosemary Holland
5 April 2019
I wish to see other comments
Sarah
7 February 2019
Reports of this sort of scam were in the Ham and High last Summer. Informed my SN Panel members some time back.
susan lofthouse
23 January 2019
Thank you very much for this warning, as a disabled blue badge holder I would have totally not thought twince as I always check parking meters as some a free and some not, and there are various timings.
Angela Stroud
21 January 2019
Dear me - we can't have the council losing money - now can we.
Liz D
18 January 2019