Reprieve for Lavender Hill police station
Published: Thursday 17th January 19
Wandsworth Council has welcomed the news that Lavender Hill Police station is to remain open.
Chief Superintendent Sally Benatar, Commander of the Metropolitan Police Service's South West Basic Command Unit, confirmed the news at a council finance and corporate resources overview and scrutiny meeting last night (Wednesday), telling the committee that the police station would remain open with a continuing 24/7 front counter service.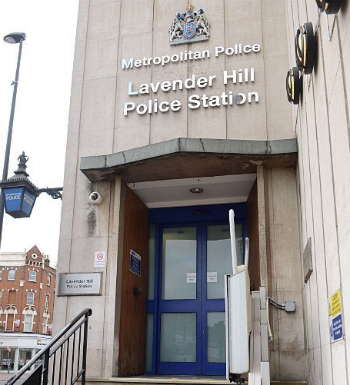 Police station reprieved
The Lavender Hill station, which is the borough's only 24 hour police station, had been earmarked for closure as part of proposals by the London Mayor which were part of a public consultation exercise.
The council had opposed the plans and campaigned to keep it open.
Cllr Guy Senior, Wandsworth Council's cabinet member for finance and corporate resources, said: "Lavender Hill is the only 24-hour police station that serves Wandsworth's 320,000 residents and is the only one that people can go to at any time of the day or night if they need police assistance.
"We were very concerned about these plans and very much welcome the news that Lavender Hill is to remain open as it is very important that officers are able to have a face-to-face dialogue with our residents."
He added: "Wandsworth Council has an excellent working relationship with the police and has maintained a close dialogue with our borough commander to make sure she understands local priorities and local concerns."
Make and view comments on this article
You must carefully read and then agree to the Terms and Conditions before accessing the message board and posting a comment. If you do not wish to be bound by these Terms and Conditions, you may not access or use the message board.
If you wish to complain about a comment, contact us at press@wandsworth.gov.uk.
Recent comments
It seems that it is national policy to get rid of police stations entirely. A lot of them, particularly the one in Battersea Bridge Road, are seen as too valuable as real estate to be allowed to remain serving a public need. If it is assumed that in future we will only communicate with plod via our smartphones how do we report their theft? And has anyone tried ringing the police recently?
Terence McSweeney
23 January 2019
Further indictment of mayor Khan's priorities - clobber motorists again with a hypercritical emissions zone to fund TFL's fares shortfall, but to hell with London's violent crimewave... Who voted for this fool...??
D.S.
18 January 2019
Bravo everyone who campaigned ... at last sense has prevailed!
Kathy Leppard
18 January 2019
Totally agree with the previous comment that congratulations and thanks should go to everyone who campaigned against this closure which was not just achieved by Wandsworth Borough Council...although they deserve credit where it is due, the campaign to keep Lavender Hill station open was across the political spectrum not just a result of action from WBC.
JOHN OSBALDESTON
18 January 2019
After a long campaign, many thanks to all our local groups, SN Panels, local NW Reps who campaigned for this. May we now hope thqt the Government will allocate extra funding?
susan lofthouse
18 January 2019