Tens of millions of pounds more earmarked for housing improvements
Published: Thursday 17th January 19
Council estate residents in Wandsworth are set to benefit from a series of major improvements to their homes and neighbourhoods worth more than £450m over the next four years.
An additional £93m is poised to be added to the borough's existing £361m housing estate improvement and house building programme between now and April 2023.
Councillors will be asked to approve this additional funding when they discuss future housing estate budgets at a meeting on Thursday night.
If approved, this enhanced programme of investment would mean an extra £33m to be spent on day to day repairs and improvements to homes, while an additional £57m is earmarked for estate regeneration and for building 1,000 new homes.
Cllr Caddy: A long and sustained record
of investing heavily in local housing estates
This extra money means that a number of projects can be brought forward including new windows at Denmead and Dunbridge Houses on the Alton estate, new windows at blocks in Augustus Road, Southfields, a new roof and windows at Melrose Court in east Putney, new heating and hot water boilers at the Orchard and Southmead estates in West Hill and at Totterdown Fields in Tooting.
It means upgrades to lifts will happen sooner at Caistor House, Ivanhoe House and Rokeby House on Balham's Lochinvar estate, at All Saints Court on the Lurline Gardens estate in Battersea, at Newtown Court and Rollo Court on Battersea's Rollo estate and at Bembridge House and Binstead House
on Wandsworth's Wendlesworth estate.
It also means that CCTV and entrycall security systems can be upgraded earlier in parts of Roehampton's Alton estate, Battersea's Surrey Lane estate and also at the Cunliffe estate in Tooting.
This enhanced level of funding means that between now and April 2023 at least £112m will be spent on major refurbishment projects, £14m on new lift systems, £12m on heating and hot water upgrades and repairs, £3.6m on sheltered housing improvements, and £4.5m on adaptations for disabled residents.
In addition the council will continue with its ambitious plans for major regeneration and new build schemes in the borough, regenerating local estates to provide better quality homes and neighbourhoods and also on building new affordable homes for rent and shared ownership.
The total level of housing investment in future years is also likely to increase as additional projects are added to the capital programme in forthcoming budgets.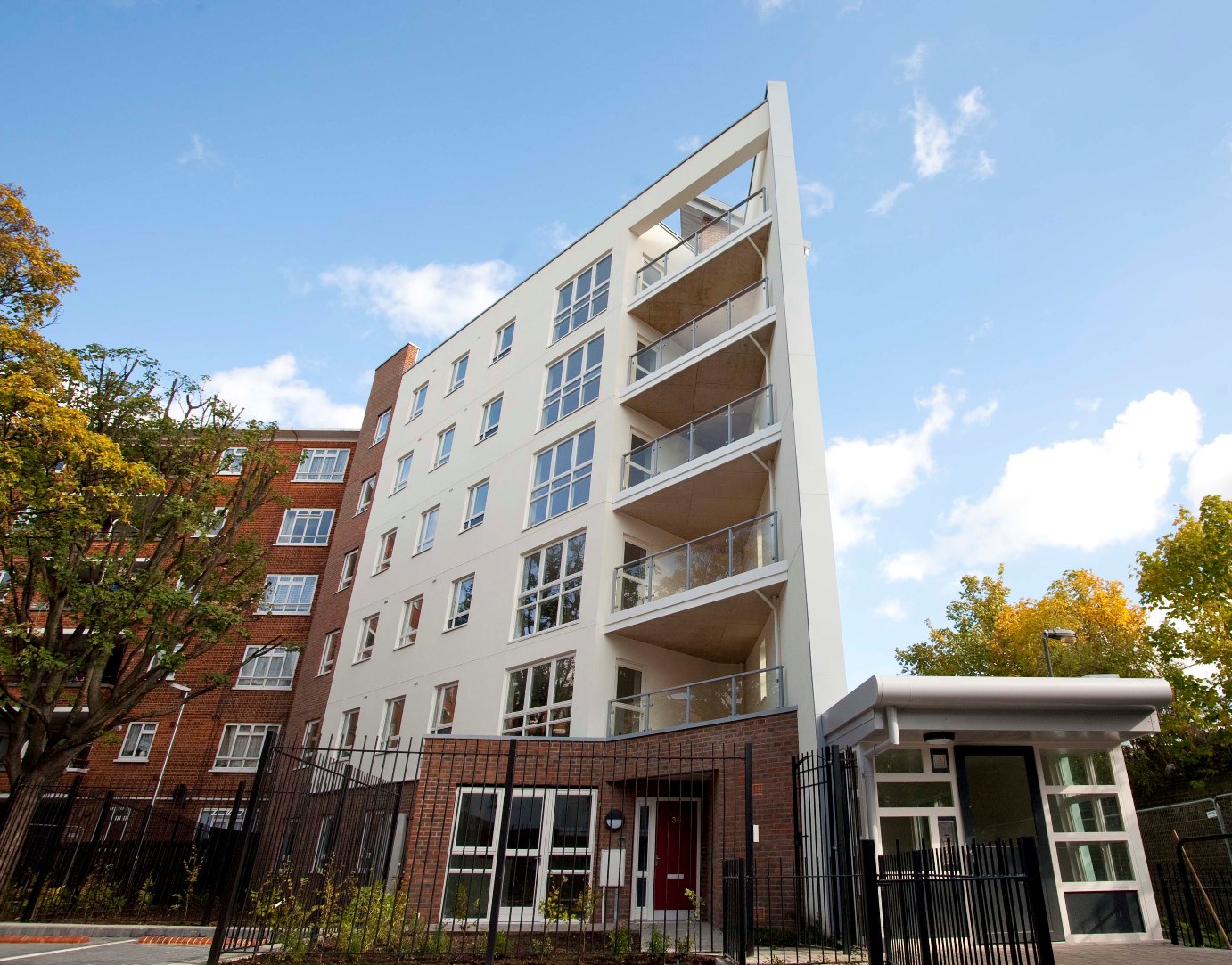 High quality new council built homes on Battersea's Rollo Estate
At the same time as approving this extra capital investment councillors at Thursday's meeting will also be asked to approve plans to reduce council rents by a minimum of one per cent from April this year.
For the average weekly council rent across the borough of £125, this represents a reduction of at least £1.25 a week. This compares to an average rent in the private sector in Wandsworth of £216.
Wandsworth's cabinet member for housing Cllr Kim Caddy said: "We have unveiled a huge programme of improvements to the borough's council estates. This investment will make a big difference to the daily lives of tens of thousands of people.
"People living on our estates will benefit from major upgrades to lighting, heating and security around their homes. Many blocks will also get brand new roofs, windows and lifts and there will be new boilers plus kitchens and bathrooms fitted in a large number of properties.
"And at the same time as these improvements are being rolled out, we are also reducing rents for our tenants on low incomes in our affordable and social rent properties.
"The council has a long and sustained record of investing heavily in local housing estates to ensure that our residents live in good quality accommodation. These plans for the next four years show that picture continuing."
Make and view comments on this article
You must carefully read and then agree to the Terms and Conditions before accessing the message board and posting a comment. If you do not wish to be bound by these Terms and Conditions, you may not access or use the message board.
If you wish to complain about a comment, contact us at press@wandsworth.gov.uk.
Recent comments
Lenny, I'm sure it's a big bill, yet every leaseholder in every private building has an extra bill, on top of service charge, for big building projects like roofs and windows. This is despite private service charges typically costing £2,000 per quarter/£8,000 per year. You are very lucky to be able to own your own home at all, especially in Inner London. I am private tenant, purely because I did the right thing and got a job not a baby. My rent is £820 per month/£189 per week for a one-room studio flat. I will never be able to afford a home of my own. I understand that your bill is large. However, I don't see why I should be subsidising people like you through my council tax.
Alison
19 January 2019
Yet the council cannot even afford to keep the streets clean.
Alison
19 January 2019
Housing improvements?// Improvements shouldn't be charged to leaseholders because the councel is the landlord and the leaseholders are the tenants . Leaseholders shoud be charged for the maintenance through yearly service charge but not for improvements, this jobs never happened until new major job is on plan and we have to pay again for the jobs that should be dealt with under maintenance.Simple the council is a profit making private corporate.
lenny
19 January 2019
Good morning. This news is so fantastic. I hope Potterne Close is included in the New Windows. We have upvc on our balcony it is time the rest was done. Not sure why. The noise the wind condensation that causes mold isn't great. Do clean everyday and window left open. Kitchen and bathroom ones have to stay open at night as it's dripping with water in the morning. The place is cold and a wast of heating. Our lifts are always having problems so I hope that's included to. Regards
Anne Pearson
19 January 2019
Leaseholders on a North Battersea ERstate have seen no repairs to roof or common parts, or buildings for 29 years. They are now being faced with a bill of £26,000. Previous works on Stage 1 on that estate were so bad, they al;l had to be done again, leading to a cost to the Council of £700,000 plus. I have recently heard that another estate is facing the same problems.
susan lofthouse
18 January 2019
While this extra funding is excellent news for council tenants, it would be nice to also see more money allocated to the repair and maintenance of roads and pavements, as well as the policing of graffiti, littering and other anti-social behaviour, including the dreaded cycling on the pavement that is so prevalent across the borough. A zero-tolerance approach and consistent enforcement action in these areas would probably also deter criminals, who don't like to operate in areas that are known to be monitored.
Christian Swalmius-Dato
18 January 2019
Good news for tenants with the redunction in rent but bad news for leaseholders who have to fork out for these works.
anne kearns
18 January 2019