Three months to go before new Ultra Low Emission Zone launches in central London
Published: Friday 11th January 19
With just under three months to go until the launch of the Mayor's Ultra Low Emission Zone (ULEZ) in central London, motorists are being urged to plan ahead and check whether or not they will need to pay extra if they drive into town.
From April 8, the ULEZ will be introduced in the area covered by the existing central London congestion charge zone.
New exhaust emission standards will come into force affecting all vehicles that enter the zone. Those that don't will need to pay a daily charge - £12.50 for cars, vans and motorcycles and £100 for buses, coaches and lorries.
The congestion charge will be unchanged by the introduction of ULEZ and will continue to operate. The daily fee for non-exempt vehicles entering the charge zone will remain at £11.50.
Unlike the congestion charge which will continue Monday to Friday 7am to 6pm, the ULEZ will apply 24 hours a day, seven days a week.
The ULEZ will apply in the congestion charge zone from April
To discourage the use of the most polluting vehicles, drivers travelling within the zone and using non-compliant vehicles will need to pay the daily ULEZ charge as well as the congestion charge.
Non-compliant vehicles include:
• Motorbikes that do not meet Euro 3 standards (roughly the equivalent of not being more than 12 years old in 2019).
• Petrol cars and vans that do not meet Euro 4 standards (roughly the equivalent of not being more than 13 years old in 2019).
• Diesel cars and vans that do not meet Euro 6 standards (roughly the equivalent of not being more than four years old in 2019).
• Buses, coaches and lorries will need to meet or exceed the Euro VI standard or pay £100 a day.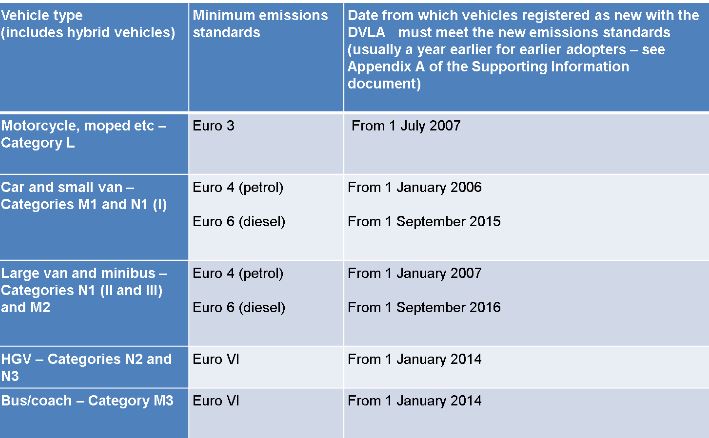 Vehicle classifications and exemptions
Drivers can use TFL's online checking tool to see if their vehicle will meet the ULEZ's emissions standards.

The introduction of ULEZ is a central part of the Mayor's plan to tackle London's toxic air and address the severe health impact of poor air quality.
A major awareness campaign is underway by Transport for London (TfL) to ensure drivers are prepared for the introduction of ULEZ. This includes contacting more than 2.5 million registered Congestion Charge users whose vehicles do not meet the ULEZ standards, to remind them the new zone begins in April. TfL is also contacting other drivers it identifies in central London whose vehicles are not currently ULEZ-compliant.
• The introduction of the ULEZ in central London is set to be followed in 2021 when the Mayor plans to roll out the zone to cover a much larger part of the capital – including much of Wandsworth.
Under the Mayor's proposals the zone is to expand in October 2021 to form a new boundary with the South Circular Road. This means half the borough will be within the zone and half outside it.
How the zone will expand in October 2021
This would affect anyone driving within a zone whose southernmost boundary was marked by the Upper Richmond Road, Wandsworth High Street, East Hill, Wandsworth Common Northside, Battersea Rise, The Avenue Clapham Common West Side and Clapham Common Southside. Anyone driving north of these roads would need to comply with the new ULEZ regulations. The northern boundary of the ULEZ would be the North Circular Road.
Make and view comments on this article
You must carefully read and then agree to the Terms and Conditions before accessing the message board and posting a comment. If you do not wish to be bound by these Terms and Conditions, you may not access or use the message board.
If you wish to complain about a comment, contact us at press@wandsworth.gov.uk.
Recent comments
From Green-Mopeds perspective, this is a perfect opportunity to embrace low carbon transport. As far as two wheeled vehicles are concerned, it appears that Central & Local Governments focus is on push-bikes but clearly that doesnt cover all the requirements out there. Motorcycle, moped & road-legal scooter riders could be affected by ULEZ too & this should be the opportunity to move from I.C.E powered vehicles to electric. Due to the ever decreasing cost of electric motorcycles now, the savings purely on avoiding the daily charge could mean recouping the investing in a new environmentally friendly motorcycle in under 6 months & there are many options to suit different requirements & budgets such as commuting and delivery tasks
Anthony Smith
9 February 2019
I am not against emission charges per se but I do hope the Mayor (whether Khan or someone else after 2020) changes the expanded ULEZ scheme so that it charges per mile on all cars not just old ones. Why should someone running a Euro 3 car doing half a mile in the zone once per week end up paying hundreds of pounds per year whereas someone with a Euro 4 car that may only be a few months newer doing 50 miles per day pay precisely £0? It is clearly NOT about tackling emissions as it is clear that the older car is polluting less in this circumstance. I wish people had been more aware of this during the consultation period and said so in the consultations but the message did not get through and we are now stuck with an extremely unfair system.
Caroline
5 February 2019
This will create a north-south divide in Wandsworth borough, so much for community cohesion; what about black cabs with their inferior old polluting diesel engines (they have a far longer grace period - up to 15 years!). Go past any black cab taxi rank and you see them lined up all with engines running. One rule for the ordinary motorist and one for black-cabs. Is this really about cutting pollution or raising cash, meanwhile red route repairs and maintenance is drastically cut!
Kaleem
23 January 2019
I am self employed delivery driver. Few years ago I had to pay £3500 for a Filter fitted to my van to be LEZ (Low Emission Zone within M25) compliant and now this ULEZ (Ultra Low Emission Zone) charge £12.50 a day will cost me £4500 a year. Other option is to buy a new van at a cost of £35000. Just thought of all this is depressing for me. Like France, Londoners must protest or face a bleak future.
Jabyz
12 January 2019
The ULEZ restrictions that come into force in April 2018 will be an annoying inconvenience to me as my diesel car is nine years old and will not comply. But the plan to extend the ULEZ to everywhere within the North and South Circular Roads will make life very difficult for large numbers of Londoners and will give rise to considerable protest. I doubt whether the Mayor in office in 2020/2021 will go through with it.
Stephen
12 January 2019
Khan is just another sensationalist politician imposing their gimik pet projects on the people they govern whilst the real problems go ignored. If his purpose is genuinely to improve air quality for Londoners why does he ignore the the tube - up to 13 times worse than any roads ! Why also give convenient ULEZ exemption to his Riverbus !? Who voted for this hypercyt ??
DS
12 January 2019
Do people not realise what Sadie Khan is doing to London. Almost every diesel Pre 2015 is affected, that's only 4yr old cars. Very soon (2021) we will have to pay £12 ish to drive around our own borough - why is there not more anger over this ? It has to be overturned.
Simon
12 January 2019
I went to a school on Westhill - the A3 - in the 1950s - and - inspite of the huge increase in population - there has been no improvement to Wandsworth Roads. All this will do with folk giving up their cars will cause huge unemployment - no petrol bought, no insurance needed - no MOTs and so on. Surely this mayor of London should do more to stop the rampant knife crime in London - it is unsafe to travel on public transport in London - apart from the fact it is always on Strike - changing its destination and going slow to regulate the service. Lets hope we get rid of the man come the next mayoral election - and cut all postal voting.
Liz D
12 January 2019
Another cash cow aimed at fleecing the motorist.
Tony Ashford
11 January 2019
Let's hope Sadiq gets kicked out soon then as this will kill business inside London for this who prefer to use a car. Not everyone wants to slum it on the bus!
John Cross
11 January 2019