MyWandsworth campaign launches with poster competition
Published: Friday 11th January 19
We are calling on all young, budding artists in Wandsworth to enter a borough-wide poster competition, as part of our new MyWandsworth campaign.

MyWandsworth is all about taking pride in the local area; something that the vast majority of us do. Sadly, an inconsiderate minority think they can get away with spoiling our borough.
Councillor Steffi Sutters, cabinet member for community services and open spaces said: "We want to send a message to litter louts that what they do is unacceptable. This is all about celebrating what's best about Wandsworth.
"I encourage young people across the whole borough to get behind our campaign and am really looking forward to seeing their poster competition entries."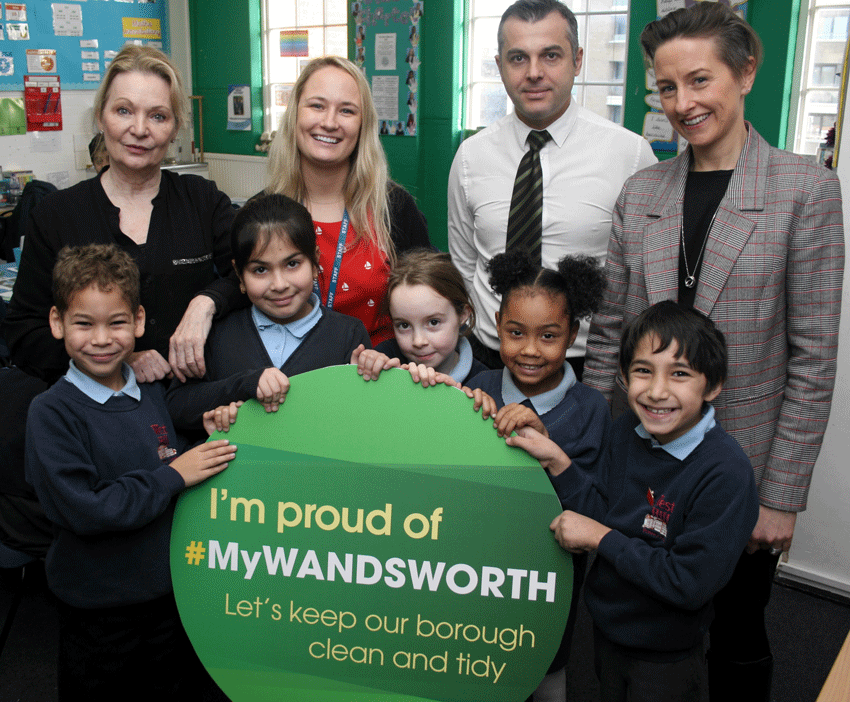 Cllr Steffi Sutters (far left) and Niko Mardushaj, from competition sponsors Continental Landscapes (second from right), join staff and pupils at West Hill primary school to launch the campaign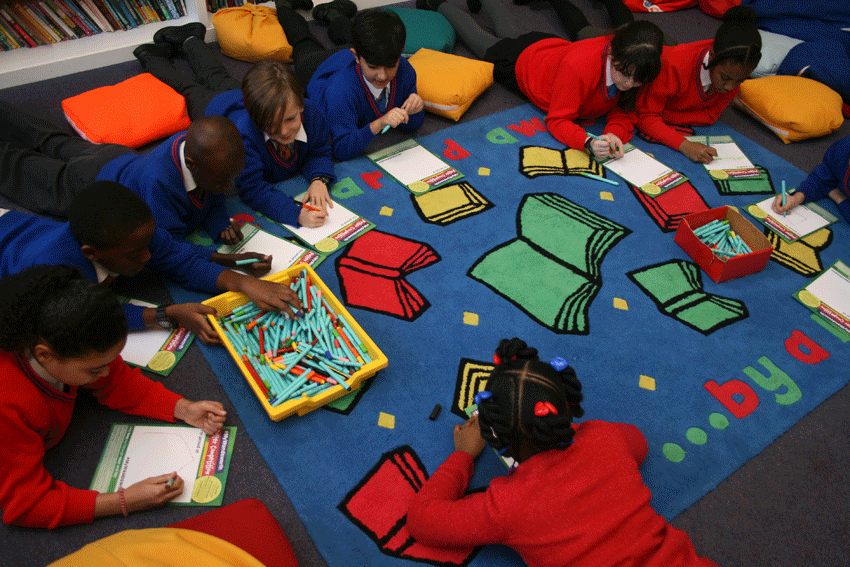 Pupils at Trinity St Mary's primary school drawing their entries
About the poster competition
All primary-aged school children are invited to design a poster showing their favourite part of the borough - this could be a park, their favourite street or the place they most like - as long as it's in Wandsworth, is outdoors, and is somewhere they are really proud of.
The aim is to celebrate what's great about the area; highlighting that any littering, even if it's dropping a sweet wrapper, is unacceptable.
The competition is open to three age categories, 4-6, 7-9 and 10-11 years old, with prizes kindly donated by Continental Landscapes:

First prize: £20 book voucher (in each age category)
Second and third prizes: £10 book voucher (in each age category)
Winning school: £200 for the winning pupil's school (in each age category)
The winning entries will be turned into posters and displayed across the whole borough, as well as appearing in Brightside, the Council's magazine.
Entering the competition
Young people can enter the competition via their school (if your child's school is taking part), otherwise entries can be submitted online.
Find out more and enter via our competition webpage.
Schools wanting to take part in the competition can email mywandsworth@wandsworth.gov.uk and we will provide entry forms for all your pupils.
Get involved
To find out more about the MyWandsworth campaign; how you can report fly-tipping and get involved in keeping the borough clean and tidy, please visit the MyWandsworth webpage: www.wandsworth.gov.uk/mywandsworth
Make and view comments on this article
You must carefully read and then agree to the Terms and Conditions before accessing the message board and posting a comment. If you do not wish to be bound by these Terms and Conditions, you may not access or use the message board.
If you wish to complain about a comment, contact us at press@wandsworth.gov.uk.
Recent comments
A good initiative but cannot be a substitute for Wandsworth Council doing far more to prevent fly-tipping by enforcing existing laws. This won't happen until councils have greater enforcement powers. Council also needs to make sure there are adequate number of bins which are more regularly emptied in high-traffic areas, such as Battersea Park. It also doesn't help that refuse drop-off points have been cut back over the years, encouraging people to simply illegally dump their big items.
Olivier Desbarres
12 January 2019