New plans show 'no escape' from Heathrow noise
Published: Friday 11th January 19
Noise from an expanded Heathrow is likely to affect communities in all parts of the borough with many set to experience significant annoyance from aircraft for the first time.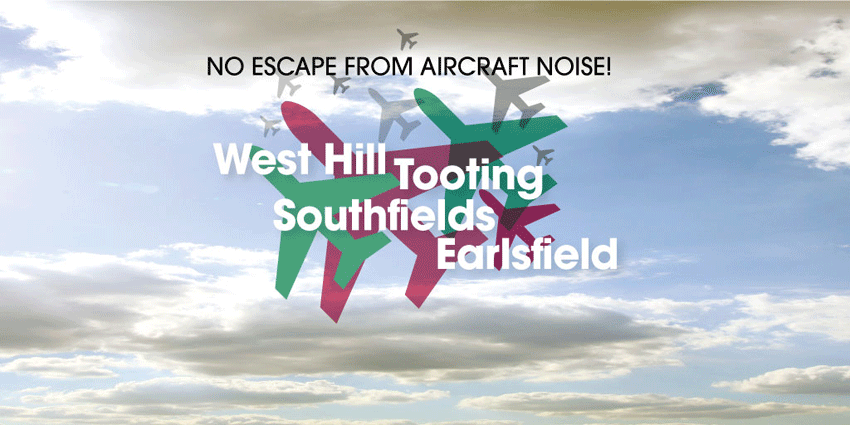 The impact from additional flights would be felt most keenly in West Hill, Southfields, Earlsfield and Tooting.
Currently most aircraft noise from approaching aircraft is concentrated over the north of the borough including Putney, Wandsworth and Battersea.
Now, as part of the airport's announcement of plans for an additional 25,000 flights a year in advance of a third runway opening, new 'design envelopes' show just where the new flight paths needed to accommodate expansion could go.
The potential routes depend on the introduction of new 'curved' approaches which would allow aircraft to join the final approach at a point closer to the airport than is currently possible.
Although the airport says it is not consulting at this stage on the specific means to achieve the extra flights it does invite views on the general airspace change proposals.
The consultation document is available online at www.heathrowconsultation.com. The material includes a post-code checker which enables residents to see whether their home is likely to experience noise from arrivals or departures from an expanded airport.
Wandsworth Council leader Ravi Govindia is urging anyone concerned by noise from additional flights to respond to the current consultation.
He said: "The council repeatedly called for information on noise impacts to be made available before Parliament voted on whether to give policy support for a third runway.
"This 25,000 per year is just the start. A third runway will mean an extra 260,000 flights a year yet the people most likely to be affected were kept in the dark while the decision was going through Parliament.
"Now people on all sides of the airport will be able to see what could be in store for them from the proposed new airspace principles
"I've done my own post code check for my own borough and it looks like there will be no escape for residents from aircraft noise - wherever they live.
"I would urge any resident who is concerned about the impact from an expanded Heathrow to check their own postcode and then let Heathrow know just how unacceptable it is that they should face the risk of additional noise.
The extra 25,000 flights that Heathrow are trying to squeeze in now will be a taste of things to come - more early morning arrivals and more people affected. The council will oppose this quick fix and continue to challenge the false prospectus on which the third runway is based."
The airport's current annual capacity limit is set at 480,000 movements. The proposal to add 25,000 flights on existing runways before the third runway is open would breach this limit and would require a new planning consent as part of the permission for a third runway. Most of the additional movements are expected to occur before 6am and 7am with up to 25 extra arrivals in this period.
A third runway is projected to increase the number of movements by more than half to 740,000 per annum.
The 'Airspace and Future Operations' consultation closes on March 4.
Wandsworth is one of a coalition of councils seeking judicial review of the Government's decision to give policy support for a third Heathrow runway. The group is challenging the Government on the grounds of including air pollution, climate change, noise and surface access impacts.
The hearing is set to begin in the High Court on March 11.
The group comprises the London Boroughs of Hillingdon, Wandsworth, Richmond, Windsor and Maidenhead, and Hammersmith & Fulham, as well as the Mayor of London, and Greenpeace.
Make and view comments on this article
You must carefully read and then agree to the Terms and Conditions before accessing the message board and posting a comment. If you do not wish to be bound by these Terms and Conditions, you may not access or use the message board.
If you wish to complain about a comment, contact us at press@wandsworth.gov.uk.
Recent comments
We moved from Clapham precisely because of the aircraft noise which, contrary to the supposed rules, started every morning, including weekends, at about 4.45am and then continued every 10-15 minutes until the 6am rush hour, after which is became more constant. It's worst in summer with the windows open. People who have a higher tolerance for noise, sleep more deeply or who don't work as long hours as me can exist more contently under a flight path. For the rest of us, we must be able to accept higher house prices, longer commutes, worse schools, whatever in order to get some sleep. The new 'curved' flight paths mean no one escapes. The only area in the UK where productivity is still rowing is London/SE. Now even that is at risk. Disaster!
J. Ferguson
22 January 2019
Airplanes wake me up in the mornings from 6am which is bad enough, 4am is simply not acceptable. I don't even understand how the lower flight paths are considered legal, it's way too noisy already!
Christopher Hughes
19 January 2019
Just to add to my comments below. I have now rechecked the postcode tracker and all of West Putney, including Putney Heath, all of East Putney, all of West Hill and most of Earlsfield and Southfields will have planes coming in on arrival at 1600 FEET (not metres - my mistake). Currently (using FlightRadar) planes travel along the Thames to the Northern end of Putney only at a height of about 2500-3500 feet. This is a HUGE change to us in the south of Putney and it means we will have a LOT more noise than we currently get as well as planes flying directly over our homes at low altitude. With the recent drone attacks at Heathrow and Gatwick it also exposes our homes to the risk of terror attacks directly as well. It's simply not acceptable.
Caroline
16 January 2019
Marcel - the issue is that the planes coming over the south of Putney, Southfields and Earlsfield will (as far as I can tell) be MUCH lower than they are currently. I think 1600m instead of over 2500m. This will make a HUGE difference to the amount of noise residents in the South of Putney, Southfields and Earlsfield suffer from. They also intend I think to reduce the current respite too. It's absolutely appalling. I bought my flat at the southern end of Putney specifically to avoid the worst of the aircraft noise but now it seems my home will be one of the worst affected by noise in this area. I'm disgusted and right behind all efforts the Council makes to force this scheme to be abandoned.
Caroline
15 January 2019
I am very confused as to this alarmist article. We do have planes over Southfields quite often. They are ALWAYS too high to be of any real bother and not that loud. As Tooting and Earlsfield are even further away from Heathrow surely they will have even less noise. I have sat in a garden in Putney and you cannot carry on a conversation while planes are going over. In Southfields this is NOT the case.......or are the planes aiming to go lower just to annoy?!? It does not pay to exaggerate.
Marcel Bancroft
13 January 2019
Although planes may not be able to land until 6:00 am they can start circling as early as 4:30 - 5:00. I live close to Wandsworth Common and especially in the summer time when windows are open you hear a loud drone from planes turning. Where we live in Wandsworth is miles from the airport but I suspect due to the number of planes in the air they fly some planes very low making ti very noisy late at night and in the early morning. I wish someone would take a reading of the noise pollution created during the early hours before 6:00 am.
Barbara
13 January 2019
I don't have any sympathy for people who have nothing better to complain about than aeroplane noise. Haven't they got any noisy neighbours? Haven't they got a job to go to in the morning? It can't be THAT noisy or house prices would fall! However, we are told that we are leaving the EU and immigration is supposed to be falling. Businesses are supposed to be switching to more environmentally-friendly practices, instead of lobbying to maintain the status quo. We have too much air pollution already. I don't see how it could be safe for planes to land side by side - surely they will crash! I think Heathrow Airport needs to focus on reducing drone disruption and accept that air travel to/from the UK is not going to expand any further.
Alison
12 January 2019
I take it airports/airlines will be paying for double glazing for us residents blighted by the noise of an extra 25,000 flights a year. Already I am frequently woken at 4.30 am by flights - I thought 6.30 was the earliest they could fly over Central London.
Elizabeth Denton
12 January 2019
Shows how dishonest Heathrow are. We coud argue that 25,000 extra flights really are enough therefore no expansion needed and save the disruption and waste of money? They have a profit warning currently so where will the money come from for expansion? I have noticed strange flight paths curving over my house already. On the plus side, the more people are affected,hopefully the more will object. Trouble is Failing Grayling disregards everything.
Carol Tibbs
11 January 2019
I live in SW London due to proximity of LHR and pay my taxes as well as anyone else. We live in London. This was always going to happen and having lived in Chiswick close to the approach path it really wasn't ever a major issue.
Earlsfield Resident
11 January 2019
Where do you get the idea Tooting doesn't suffer aircraft noise now? For years we here in Tooting have been subjected to planes taking off and flying over Amen Corner whilst others are turning to come into Heathrow, Battersea Heleport, St George's Helepad. We have made this known throughout your previous surveys but from this article it proves you don't take any notice and have not a clue about whats happening despite pretending you care. FOR ONCE TAKE NOTICE OF LOCAL RESIDENTS AND REPRESENT ALL OF THEM.
Tony Ashford
11 January 2019