Cleaner air for Wandsworth
Published: Friday 16th November 18
Air pollution has fallen across the borough, Wandsworth Council's annual report into air quality shows.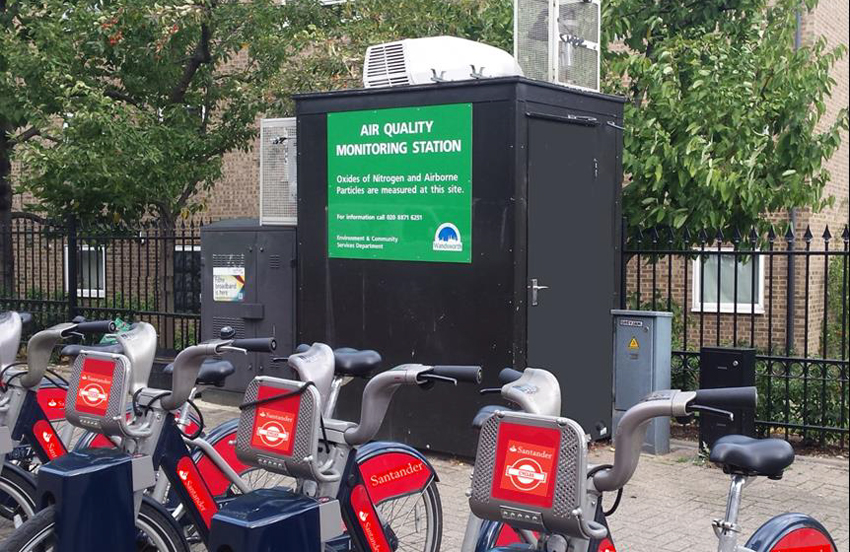 An air quality monitoring station in Putney
There was a general decline in air pollutant concentrations across Wandsworth in 2017, according to the report discussed by the council's transport committee this week.
Putney High Street has seen one of the sharpest declines in air pollution levels of any of London's pollution 'hot spots' and pollution has also fallen sharply in Nine Elms.
Now the council has set out how it will reduce pollution even further everywhere in the borough. It has revised its five year Air Quality Action Plan, with a further 50 actions to reduce pollution levels, and set up a special management group to bring together key council officers responsible for transport, high streets, schools, planning and communications and engagement.
Actions will focus on areas that research shows local people care about the most, such as schools.
All London boroughs have to submit an annual report on air quality to the Greater London Authority (GLA). In Wandsworth air quality is measured at seven sites across the borough.
This year's report says a sharp reduction in nitrogen dioxide levels in Putney is largely due to the introduction of cleaner buses. Putney has the borough's first Low Emission Bus Zone after a 2009 council research project exposed buses as the primary source of nitrogen dioxide build up.
The council will continue to lobby TfL to introduce Low Emission Bus Zones elsewhere in the borough. This week Transport for London officially announced a new Low Emission Bus Zone between Wandsworth and St John Hill following council lobbying. This means more than 200 buses using this busy route are now low emission vehicles. Read more about the new zone.
Traffic flow improvements and a ban on delivery vehicles have also contributed to the fall in Putney pollution levels.
In Battersea and Nine Elms the improvement to air quality has been largely attributed to working more effectively with the construction industry to reduce pollution from building sites. A dedicated construction site compliance officer inspects sites, and an air quality officers works with the whole Nine Elms community, including schools
Other successes over the past yea include training to enable enforcement officers to issue fixed penalty notices to drivers who leave their car engines idling. The council has also been visiting schools and talking to parents to persuade them not to leave engines running at pick-up and drop-off time.
Other successes include
The revised Air Quality Action Plan includes fifty actions, including measures to reduce pollution from council vehicles and buildings, promoting greener travel to staff and embedding air quality in all aspects of the council's work, including procurement.
Wandsworth will work with partners such as GPs and local businesses and will continue to lobby the Mayor of London, Transport for London and the Government. More air quality audits will be done outside schools, clean tech companies will be invited to pilot new ideas and a dashboard of pollution levels will be developed using data from monitoring stations. See the full list of actions.
The council's transport and air quality spokesman Jonathan Cook said: "This report shows that our hard work in cleaning up Wandsworth's air is paying off, but we must not be complacent as it is still too high. Tackling air pollution is a priority across London, and we are determined to do all we can.
"We have always pushed for other parts of the borough to benefit from lower emission buses, and I'm pleased that TfL has listened. We will also continue to work with the construction industry and local businesses, community groups and residents on this issue, and will continue to lobby for cleaner public transport options. Together as a borough we can make our air cleaner and safer."
For more information about the work being carried out locally to improve air quality, visit www.wandsworth.gov.uk/airquality.
View comments on this article
Comments on this news item have been closed.
If you wish to complain about a comment, contact us at press@wandsworth.gov.uk.
Recent comments
All very positive, Yet this council would not invest in segragated cycle lanes for adults and children to safely cycle to work and school. What's that saying again, put your money where your mouth is?
Jeremy
22 November 2018
Interesting that the council still promote the Riverbus to help reduce pollution when the engines they use would not be allowed on London's roads, and yet have a convenient exemption from TFL !? What hypocrisy from our authorities as usual...
D
16 November 2018
This is very good news. Congratulations to everyone who did their bit. I'm sure the clean buses made a big difference, as well as the rise in electric minicabs, which weren't mentioned in the article. The three electric charging points on my road are always heavily used. Still, I wonder if we could get away with blaming this one on Brexit? Alex, I've heard that the Port of London Authority consider the Thames to be getting "overcrowded" with boats, posing a risk to the good old health and safety.
Alison
16 November 2018
How is it when street pollution has become such a critical issue that the vast potential of the Thames as a highway for commuters is virtually untapped? Thames Clippers are a joke they are expensive, infrequent and don't even attempt to offer connectivity. We need a real river taxi service.
Alex
16 November 2018