Crackdown on dangerous parking outside schools
Published: Friday 2nd November 18
Parents who park dangerously outside schools are to be targeted in a council crackdown.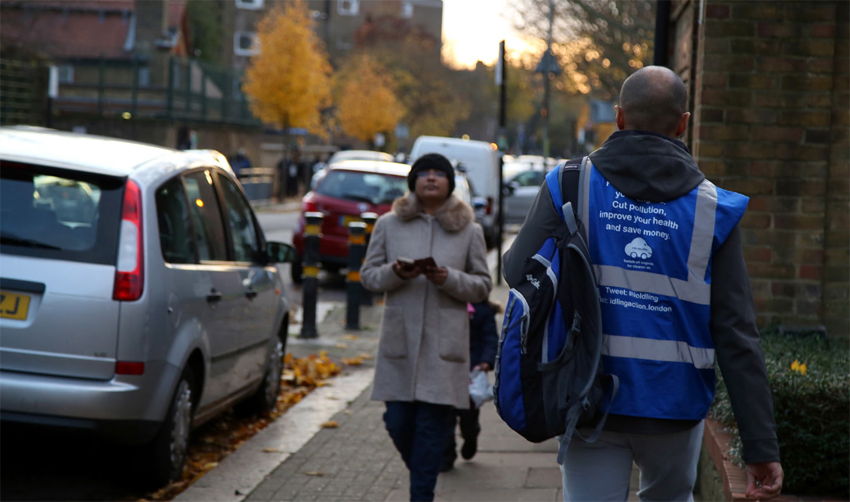 Watch out for enforcement officers outside schools
Enforcement officers will be patrolling schools at drop-off and pick-up time between now and Christmas, reminding people that they must keep off keep clear markings.
They will also hand out penalty tickets to drivers who double park or who park on junctions or across vehicle access points. The action is in response to complaints from schools, parents, neighbours and other residents about dangerous parking.
Parents on the school run are given a five minute grace period to park on yellow lines or parking bays whilst dropping off their children. Sometimes people think the grace period means they can park anywhere for five minutes but this is not the case – they can only park in a safe location, not at junctions, across dropped footways or on a cycle path. They must also not stay longer than five minutes.
No Idling rules will also be enforced
A different school will be visited each day, and teachers have been asked to remind parents of the rules beforehand.
All enforcement officers have also been trained to enforce no idling rules outside schools. Parents will be reminded not to leave engines running while they pick up or drop-off their children. Preventing motorists from leaving engines idling for no reason is one way the council is working to improve local air quality levels, especially outside schools.
The council's transport spokesman Cllr Jonathan Cook said: "We understand the busy lives that parents have but the safety of schoolchildren must be paramount. We do give a grace period as long as parents are sensible, but anyone parking dangerously will get a ticket."
Make and view comments on this article
You must carefully read and then agree to the Terms and Conditions before accessing the message board and posting a comment. If you do not wish to be bound by these Terms and Conditions, you may not access or use the message board.
If you wish to complain about a comment, contact us at press@wandsworth.gov.uk.
Recent comments
Please ask the enforcement officers at Clapham Junction to speak to the taxi drivers who leave their engines running outside the station
Edward
16 November 2018
Please ask the enforcement officers at Clapham Junction to speak to the taxi drivers who leave their engines running outside the station
Edward
16 November 2018
Is engine idling actually a fineable offence now? I see it all over the place not just in front of schools. Frequently the driver is just sitting scrolling through their phone. Much more robust action is needed as has already been said here. If we still had enough community officers it would help to crack down on this.
Leonie Noble
5 November 2018
Excellent - and not a moment before time! I hope private schools will be included in this initiative, particularly with regard to idling. They're probably the worst offenders!
Gander Swadling
4 November 2018
This is the right blog for everyone who really wants to understand this topic. You realize a whole lot its almost hard to argue with you (not that I really will need to...HaHa). You definitely put a new spin on a subject that's been written about for ages. Excellent stuff, just excellent! https://energyalldayketo.net/
Energy All Day Keto Review
3 November 2018
Apart from cars outside schools with engines 'idling' - in Vicarage Crescent we have vans and lorries stopping for ages with engines running + the parents waiting for their children from the private Thomas's School - also with engines running - whilst surprise, surprise - all the children from the state school walking to the bus stops. Last year saw notices up in Chelsea off Royal Hospital Road - re 'idling cars/lorries' being fined - but they seem to have now gone.
Liz
3 November 2018
Idling should be stopped all over London. I used to live in Westminster and the drivers/chauffeurs sit in the cars for 15 - 30 minutes with the engine idling to keep the AC on or the heater. Sometimes there was no one in the cars in the early morning and the engines idling away to heat up the car. The added pollution must be massive.
Ann Hudson
3 November 2018
Agree with Peter Armstrong. This is all a bit lame, as often the case with Wandsworth council. Lot of talk, little bite. And if we're talking safety when will transport for london repaint the yellow markings in the box junction between Battersea Park Road and Chelsea bridge road? Hundreds of school children and their parents use this crossing every day. I've written to TFL many times and they tell me they are waiting for funds!! Scary. Maybe Wandsworth council could put pressure on TFL to pull their finger out.
Olivier Desbarres
2 November 2018
Perhaps if London were safer - and children had good schools within walking distance - parents wouldn't have to go pick their children up from school. When I went to Burdett Coutts Primary in the mid 50s - my mother walked me there once - the length of Warwick Way & Rochester Row - and that was it - did the journey solo for ever after.
Anne
2 November 2018
The Council would do better to improve road marking , signage and SCP provision and actually spend some money on school area safety. Speeding in Wandsworth is still a very real problem and the 20 mph limit is still exceeded regularly in areas beside schools. Parking at school times is a real problem - don't warn them - ticket them immediately and watch how quickly things improve. Come back in three months and tell us how many contraventions result in financial penalty ........
Peter Armstrong
2 November 2018
This is an oddly worded press notice which I hope is just down to poor drafting. There's mixed messages about what behaviour will get a reminder and what will get a fine. Warning parents about enforcement before action is crazy - no road user will be unaware of the rules - ignorance of the law is no defence etc. And why only one school per day and why only this half term? Enforcement should be all the time at each school. In theory, the action sounds great, I'm worried that's all it will be, with no action on the ground.
David Knight
2 November 2018
My son goes to tooting primary school on Franciscan road . It's very dangerous and tehre is no zebra crossing . Please Wandsworth do something about at before someone gets seriously hurt . Thank you
Lindita Hyseni
2 November 2018