Junior history buffs win prizes for their school
Published: Thursday 17th May 18
View comments
Pupils at four borough schools have won cash prizes after winning the 2018 Wandsworth/GLL Heritage Awards for Schools competition.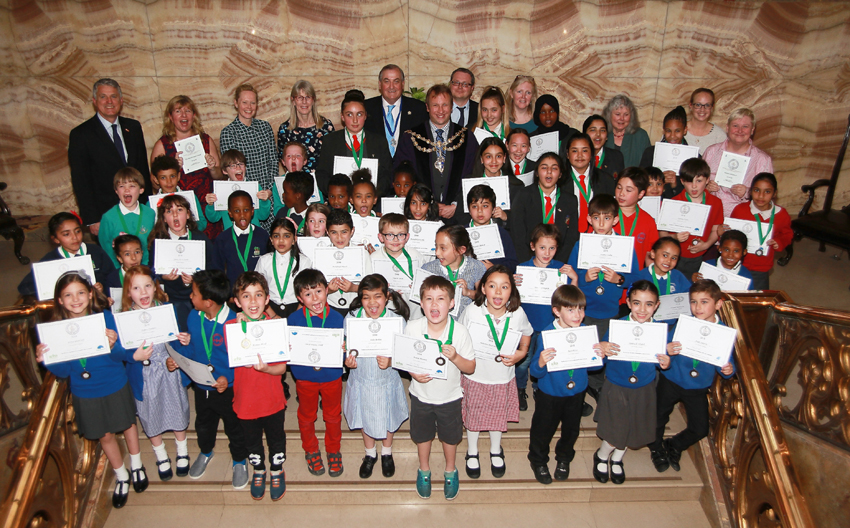 All the winners at the town hall ceremony
The winners were announced by the former Deputy Mayor of Wandsworth Ian Lewer at a special town hall awards ceremony on May 10
Two schools jointly won the Key Stage 1 competition. Granard Primary School students explored the sports played on Putney Heath through the ages, and Riversdale Primary School imagined what local sights children would see if they travelled back in time. They both won £500.
Riversdale's 'Time Travellers' land in old-time Southfields
The winner of the Key Stage 2 competition was The Alton Primary School, who looked at the history of the Alton Estate. The young historians won £1000 for their school. Penwortham Primary School was highly commended for their projects on how local shops have changed. Brandlehow School was commended in this category with their look at how the school was rebuilt after the war.
In Key Stage 3 Burntwood School picked up the prize with a project on the historical Ice House in the school grounds. They picked up £1000. Putney High School was commended with a look at Wandsworth in the time of the Putney Debates.
The winning and commended students were all given medals and plaques. The winners received their cash prizes, donated by Greenwich Leisure Limited, which runs the borough's library and heritage service on behalf of the council.
Alton School pupils researched their neighbourhood
Councillor Sarah McDermott, cabinet member for children's services, attended the ceremony, along with the judges: Ishbel Murray, Assistant Director of Environment and Community Services, Caroline Staples, Primary Teaching and Learning Consultant – English, Pamela Greenwood, Wandsworth Historical Society and Daniel Andrews, Partnership Manager for Wandsworth Libraries, from GLL. The founder of the competition, Cllr Richard Field, was chairman of the judging panel.
Cllr McDermott said: The entries for this competition get better every year, and I know the judges had a difficult task to choose the winners this year. We have an abundance of rich history here in Wandsworth, and this competition gives our children the chance to really engage with the past and learn more about their neighbourhood."
View comments on this article
Comments on this news item have been closed.
If you wish to complain about a comment, contact us at press@wandsworth.gov.uk.
Recent comments
There have been no comments made on this news item.